The UFC might be heading towards another clash of two world champions as the middleweight king 'Poatan' Alex Pereira wants a battle against Jamahal Hill.
At UFC 283, 'Sweet Dreams' Jamahal Hill was able to capture the UFC light heavyweight world championship with a dominant five-round decision against the MMA veteran Glover Teixeira. Brazil's Teixeira is a former UFC titleholder in addition to being a training partner for the middleweight champion Alex Pereira.
In 2022, Jiří Procházka vacated the UFC light heavyweight title, due to injury, leaving the division in flux. In an Instagram video, Hill called out Procházka. In the comment section of that post, 'Poatan' Alex Pereira said:
"I heard prochazka is injured. What about knocking me out ?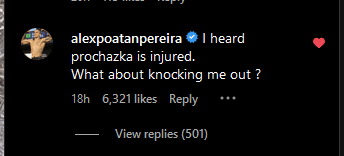 Jamahal Hill vs Alex Pereira?
Jamahal Hill outlines that he does want a match against the former champ Jiří Procházka. However, Procházka's shoulder injury may need more time to recover and the US-born Hill is not looking to sit on his throne remaining inactive. During the UFC 283 post-fight press conference, he explained:
"It's not a secret, I've been calling for Jiri [Procházka] for years. I've been wanting Jiří for years," Hill said. "Even kind of listening to Glover [Teixeira] talk this week and he references back to Jiří. I want that fight … It depends on how long. He said he could be back as early as six months [in the] Summer. I'll wait for that or next man up. It's next man up."
On facing the middleweight champion, Hill spoke in an interview with Middleasy and said:
"They tell me he (Alex Pereira) might come up [to light heavyweight]. Come on in my boy. Whenever he decides. Oh yeah, I can go up there and fck him up. Come on in my boy, all that smoke. I was there [at UFC 281] – I watched [the fight] live. All respect to Izzy (Israel Adesanya), but I'll knock Pereira the fck out." [Transcribed by MMA Mania]