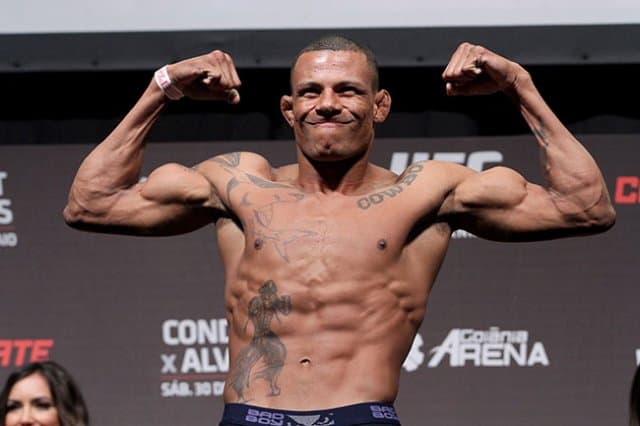 Former Bellator lightweight champion Will Brooks (18-2) earned a spot on the co-main event of UFC Fight Night 96. His opponent was Alex Oliveira (15-4-1).
Oliveira walked away with the biggest win of his career, but his post-fight antics may have overshadowed the accomplishment.
A hard leg kick from "Cowboy" got things started. Brooks went for a takedown, but the strength of Oliveira forced "Ill Will's" back against the cage. Oliveira dropped down, but Brooks defended. Brooks landed a knee to the body. He reversed the position and dumped "Cowboy" to the mat. Oliveira got back up and pushed his opponent against the fence again. Brooks reversed the position, but once again the Brazilian was able to regain control. Oliveira went for a choke, but Brooks moved to mount as the round ended.
Commentator and current light heavyweight title holder Daniel Cormier mentioned that Brooks told his corner he thought he popped his ribs in the first round. "Ill Will" scored a takedown and secured mount early in round two. Brooks landed an elbow. Oliveira stood up, but gave up his back in the process. "Cowboy" got out of a rear-naked choke attempt and took his opponent down. "Cowboy" landed an elbow in full guard. Brooks got to his feet and slammed Oliveira down. He went for another choke, but his opponent broke free. The round ended with "Ill Will" searching for a takedown.
Brooks landed some leg kicks at the start of the final round. A counter right hand dropped Brooks, who went for a leg kick. Brooks continued to battle in the clinch. Oliveira took him down and Brooks grimaced due to his rib injury. "Cowboy" landed a knee to the body and then one to the head. Oliveira went to town on Brooks until referee Herb Dean stopped the fight.
Post-fight, Oliveira taunted Brooks with a crotch chop and flicking under his chin. Brooks responded by throwing his mouthpiece at "Cowboy." The hostility stems from Oliveira missing weight by over five pounds. "Ill Will" called his opponent out on it with a Twitter video.

Final Result: Alex Oliveira def. Will Brooks via TKO (strikes) – R3, 3:30