Israel Adesanya open to trilogy fight with Alex Pereira on one condition: 'If he wins the belt at 205, I'll do it again'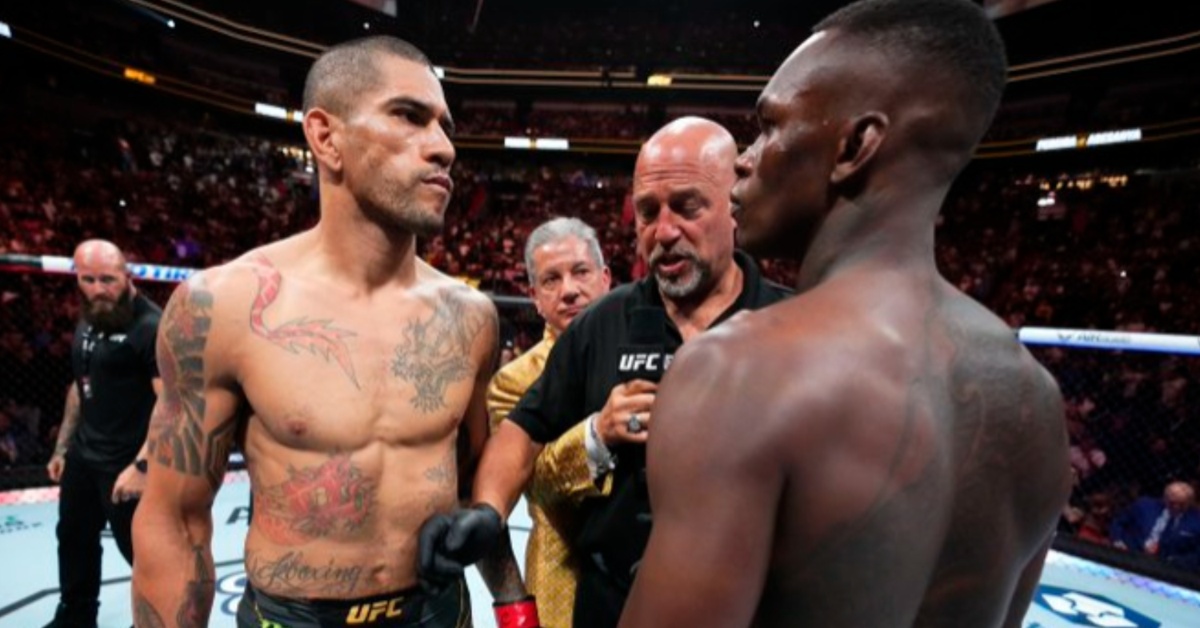 For the time being, Israel Adesanya and Alex Pereira appear to be done with one another. But 'The Last Stylebender' is more than willing to run it back with his Brazilian boogeyman should Pereira succeed in capturing the light heavyweight title.
Pereira shocked the world at UFC 281 last year, scoring a stunning fifth-round knockout against Israel Adesanya to capture the middleweight world championship. Five months later, 'Poatan' handed the title back to Adesanya, suffering a second-round KO in their UFC 287 rematch. While fans have expressed interest in seeing the two men complete their trilogy inside the Octagon, neither Pereira nor Adesanya is chomping at the bit to meet for an unprecedented fifth time in their respective careers.
However, there is one circumstance that would likely bring the two men back together for a third outing under the UFC banner.
"If he wins the belt at 205, I'll do it again," Adesanya told Ariel Helwani on The MMA Hour. "If not, I think he's done with it, I'm done with it, everyone else wants to see it, but we're moved on. It's life."
Alex Pereira is scheduled to make his light heavyweight debut later this month when the promotion returns to Salt Lake City for UFC 291. 'Poatan' will square off with former 205-pound titleholder Jan Blachowicz in the co-main event of the evening with the winner likely lining themselves up for a title opportunity.
Having shared the Octagon with Blachowicz in 2021, Israel Adesanya had some words of advice for his former GLORY Kickboxing foe.
"I think [Pereira] might knock him out. … We talked for about a good two minutes or so and I gave him some advice on how to handle Jan," Adesanya said. "We had the same idea, like, he's going to knock him out, but I warned him, 'Look, just be careful because he knows your striking is really good so he's going to be patient with you like he was with me.' What we expected him to do, he didn't do, because he's a great striker. He had the same idea, but I feel like if Jan doesn't take him out, [Pereira] is going to knock him out."
Despite Being Down in the Series, Israel Adesanya is Perfectly Happy Taking His One Win Against Alex Pereira and Going Home
Despite being down 1-3 against Alex Pereira, 'The Last Stylebender' is more than happy to put the rivalry behind him after proving to himself that he could get the job done against the former two-division GLORY world champion.
"We've still got more to go, but definitely," Adesanya said when asked if his UFC 287 win was one of the most gratifying moments of his career. "I've already said this, if we fight another 10 times and he beats me all 10 times, I don't care. It's not about that. I just have to prove to myself that I can beat this guy because every time I fought him—The first time I won that fight, the judges got it wrong.
"The second time, I was beating him and he got me. The third time, again, MSG, I was beating him, then he got me. I'm like, we know we can beat this guy, but he just has that spirit. He's a great fighter. He's a cool guy, I like his story, even in Brazil when he knocked me out, that's a cool story for him. It's a really cool story for him, but I just knew I could beat this guy.
"I just had to put it on myself. I put so much pressure on myself that last camp … I really had to go to some dark places and I did that for myself. I went in my hole and I just did my thing and I had to do that because I knew this was my shot. I put that pressure on myself because I was like, I'm never going to let my story be written like this, like 'He's the greatest ever, but he could never beat that guy.' So I made sure I put it on myself to beat this guy and I did."
Adesanya truly believes that his story with Alex Pereira has come to a close. But if 'Poatan' manages to capture the 205-pound crown, an opportunity too big to be ignored will likely bring them together inside the Octagon for one final clash.
"If I'm going to bet money on it, no," Adesanya said. "205, I've been there, it's hard. It's not an easy task. If he wins the 205 belt though and they might give him a fast track like they did with me, then they're going to have a magic, crazy, f*cking epic fight at 205 with me and him. And that will be us for the fifth time. Isn't that wild?"