Brash and outspoken former Strikeforce welterweight champion Nick Diaz is currently serving out a ludicrous and simply unfair five year suspension handed down by the ultra-powerful Nevada State Athletic Commission (NSAC).
After dropping a unanimous decision loss to legendary former middleweight champion Anderson Silva last January, it was reported that Diaz had tested positive for Marijuana metabolites. Despite it being the Stockton native's third offense, no one was expecting the type of punishment he received and the MMA community was thrown into an uproar.
With quite the stellar defense the first time around, Diaz and his team made it clear that they would be appealing the decision and a settlement agreement was proposed. That agreement will be discussed at this week's (January 12, 2016) NSAC hearing.
That being said, if the settlement is agreed on, we could see the Stockton Bad Boy back in the Octagon sometime soon, albeit we don't know the fine details of the deal.
With the possibility looming large on the horizon, it's interesting to discuss just who might fit the bill for Diaz's potential return bout. While fighting his last fight at middleweight, the former champion is a natural welterweight and there could be some intriguing bouts awaiting him at 170 pounds.
While the possibilities we will discuss may not seem the most logical or the most fair, let's face it, if Diaz does indeed return it will be for a massive fight.
Let's take a deeper look:

Demian Maia
While this may not seem like the most lucrative bout to Diaz, a slight tune up fight may be best, and with Maia's current form, this wouldn't even necessarily be a tune up fight.
The Brazilian is currently ranked No. 5 in the 170 pound division, putting together an impressive four fight win streak. Maia is currently looking to cement himself as a true title contender, and adding a name like Diaz to his resume would do wonders.
The same goes for the Stockton native, as taking out a top five contender would vault him right back near the top of the welterweight rankings.
Pairing these two off would also be very intriguing stylistically, as the two men are simply two of the best submission artists that the division has to offer.
Maia, a fourth degree black belt in Brazilian jiu-jitsu, has 10 submission victories to his credit, while Diaz, also a black belt, has eight wins by way of submission.
The grappling factor along with Diaz's potent boxing, and Maia's ever improving striking could make for a very well matched clash of contenders.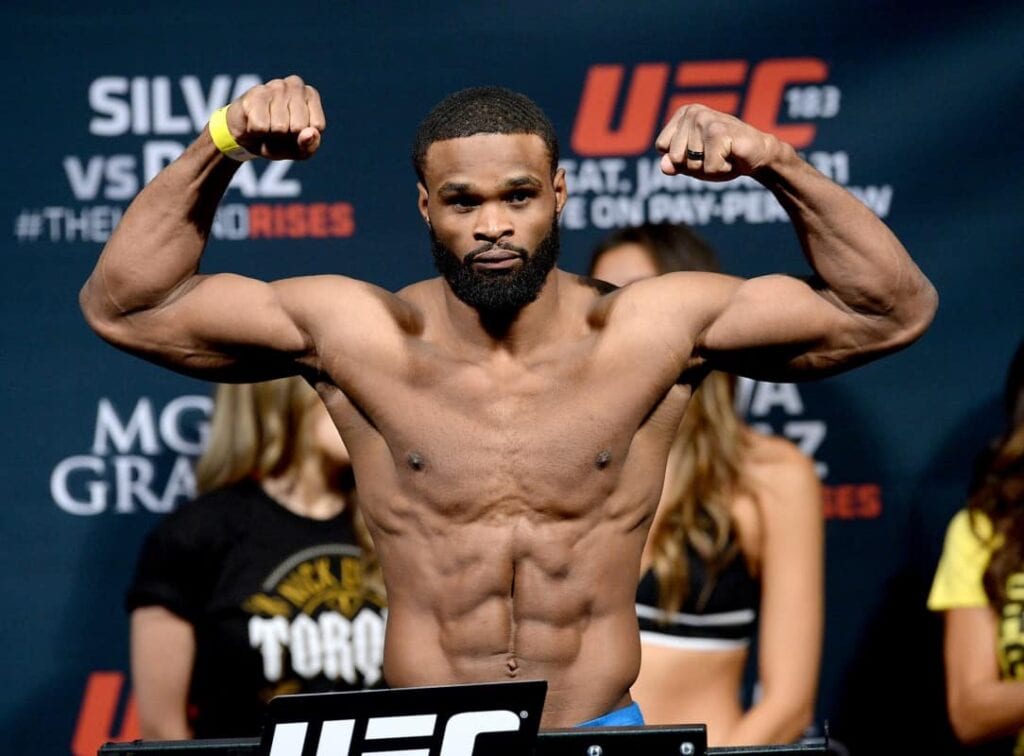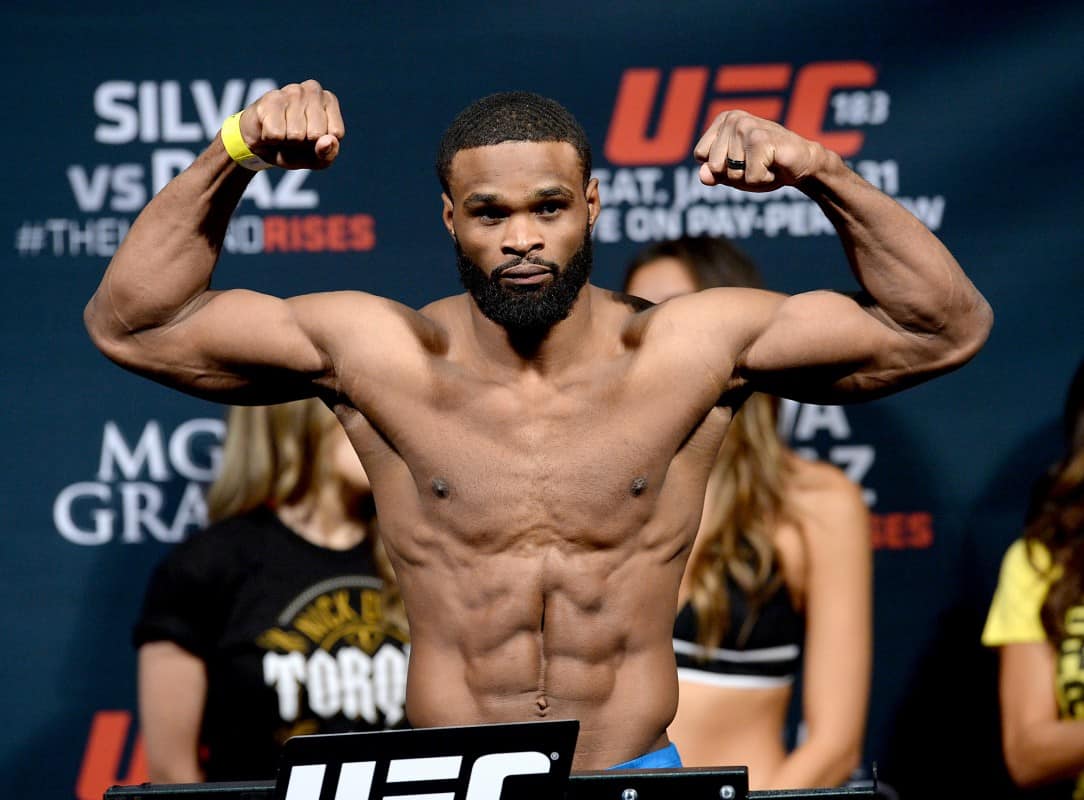 Tyron Woodley
Tyron "The Chosen One" Woodley currently sits at No. 2 in the divisional rankings, and was promised by UFC president Dana White the next shot at the throne.
However, we all know how quickly things can change in MMA and the looming possibility of a title rematch could potentially leave Woodley on the outskirts looking for a fight.
That being said, Diaz could slide right back into a title eliminator bout if the UFC wanted to book him with T-Wood, a man who has won four out of his last five.
Woodley is an extremely powerful striker, and a strong wrestler which would make for an exciting matchup with Diaz's volume striking and slick ground game.
For Diaz, a bout with "The Chosen One" could be the big fight he's looking for before a title shot. Woodley, on the other hand, may not be too pleased with the idea of fighting an unranked contender who hasn't fought in over a year, but a name like Diaz presents much more.
If Woodley is passed over yet again for a title shot, a win over the Stockton Bad Boy would be the final stamp on his run to the top.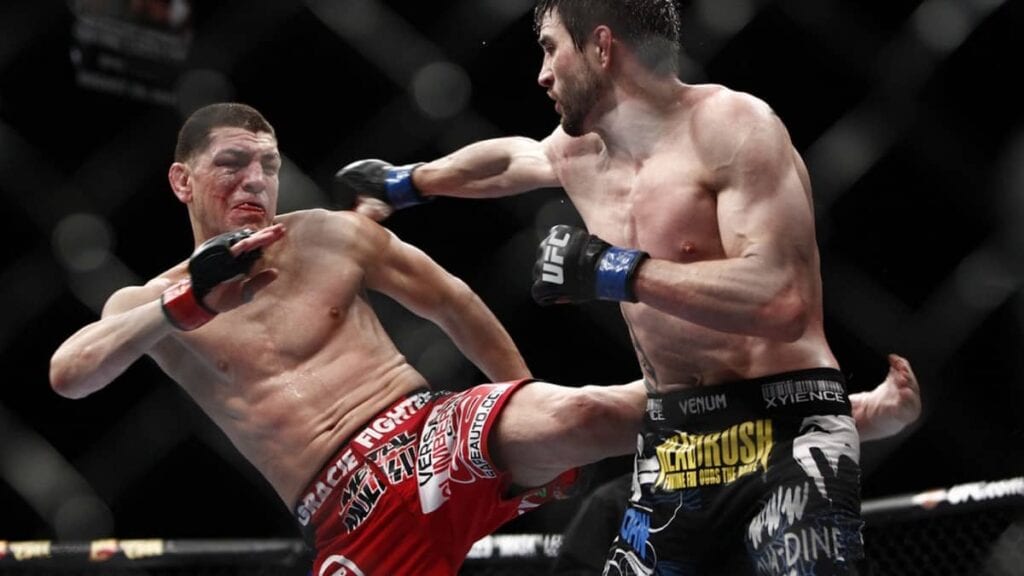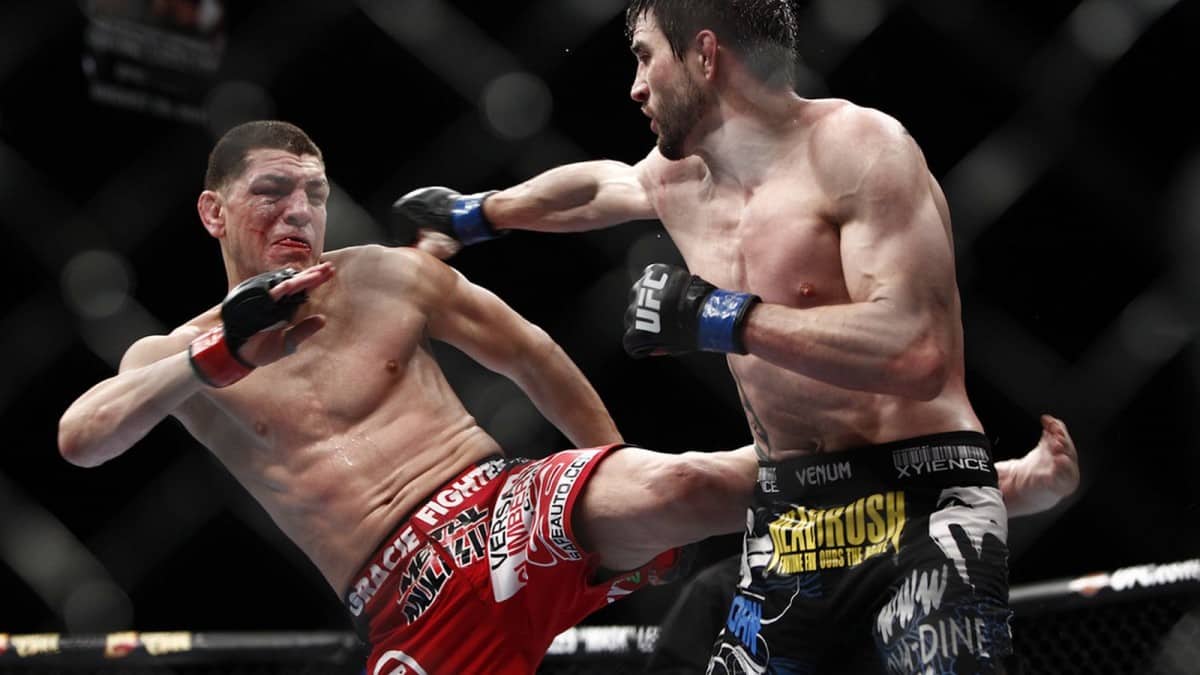 Carlos Condit
Former interim UFC champion and former WEC champion Carlos "The Natural Born Killer" Condit presents the first of two potentially blockbuster rematches for Diaz.
Diaz and Condit did battle back at UFC 143 in February 2012 for the interim welterweight title. The two men went back and forth for five rounds in an extremely exciting affair that saw Condit walk away with a unanimous decision victory in a bout that Diaz felt as if he had won.
Fast forward to present time and "The Natural Born Killer" is coming off of a split decision loss to current champion Robbie Lawler at January 2's UFC 195. The fight turned out to be a slug fest for the ages, and many felt as if Condit had done enough to get the job down, leading the idea of a rematch to hang in the balance.
To make matters more interesting, Condit has also discussed the idea of retirement. Another shot at the title may be enough to disperse of that thought, but a rematch with Diaz may also be just enough to keep the Jackson-Wink product around.
Condit vs. Diaz presents a highly intriguing stylistic matchup with the backstory to go with it. The scrap would be worthwhile for Diaz in terms of magnitude and title implications and would also give him a chance at redemption.
And be honest, who wouldn't want to see these two warriors go at it again?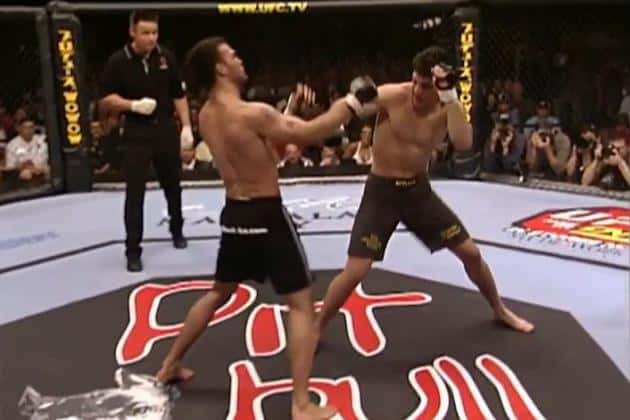 Robbie Lawler
Before I get attacked, I'd like to be the first to say that I don't exactly see this option taking place, but if any man could somehow walk his way into a title shot, it would be Nick Diaz.
That being said, "Ruthless" Robbie Lawler would also represent another mouth-watering rematch for Diaz.
The two combatants actually squared off well over a decade ago back at UFC 47 in 2004, with the Stockton Bad Boy winning the bout via a brutal second round knockout.
Now in 2016, a resurgent Lawler is one of the most feared men in the fight game, and the ruler of the 170 pound division. His fearless, never back down attitude has made him a spectacle to watch, and his last two bouts have ranked amongst the best of all-time.
With a rounded out skillset, the "Ruthless" one has emerged as a force and the man beat.
Diaz was able to take out a version of Lawler nowhere close to the version we have come to adore today, but the two men are both still around, and arguably both at their athletic peak with Lawler improving every day and Diaz only being 32 years old.
Stylistically, it may not get much better than this as each man is known for always moving forward and hunting down their opponents.
Like I said, it may not be too realistic, but Lawler vs. Diaz II would be absolutely massive.
Here's to hoping that the commission dishes out some justice and fans are treated to the return of the Stockton Bad Boy sometime in the near future.
If that does indeed happen, who would you like to see Diaz face?