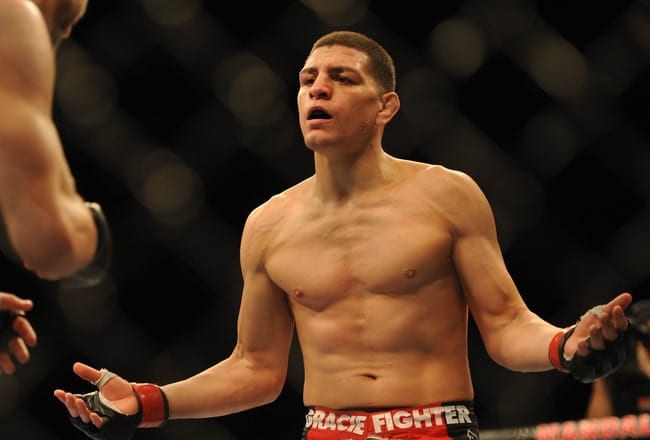 Brash and outspoken former Strikeforce welterweight champion Nick Diaz is currently serving out a ludicrous and simply unfair five year suspension handed down by the ultra-powerful Nevada State Athletic Commission (NSAC).
After dropping a unanimous decision loss to legendary former middleweight champion Anderson Silva last January, it was reported that Diaz had tested positive for Marijuana metabolites. Despite it being the Stockton native's third offense, no one was expecting the type of punishment he received and the MMA community was thrown into an uproar.
With quite the stellar defense the first time around, Diaz and his team made it clear that they would be appealing the decision and a settlement agreement was proposed. That agreement will be discussed at this week's (January 12, 2016) NSAC hearing.
That being said, if the settlement is agreed on, we could see the Stockton Bad Boy back in the Octagon sometime soon, albeit we don't know the fine details of the deal.
With the possibility looming large on the horizon, it's interesting to discuss just who might fit the bill for Diaz's potential return bout. While fighting his last fight at middleweight, the former champion is a natural welterweight and there could be some intriguing bouts awaiting him at 170 pounds.
While the possibilities we will discuss may not seem the most logical or the most fair, let's face it, if Diaz does indeed return it will be for a massive fight.

Let's take a deeper look: