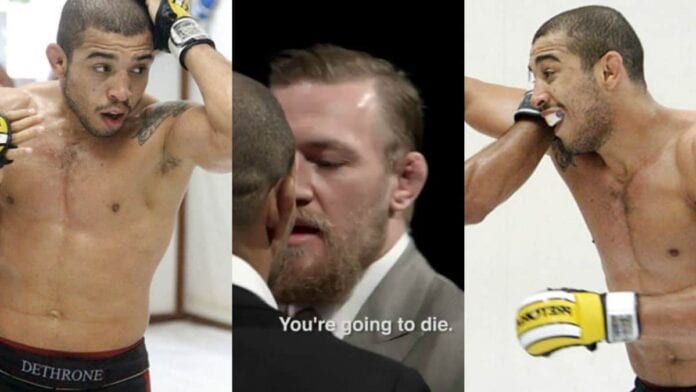 Jose Aldo looking fast, motivated and quite scary as he destroys the pads in preparation for Conor McGregor. Is 'The Notorious' in trouble at UFC 194?…
After a year of hype and anticipation, the floodgates will open on Saturday December 12, and the awesome action packed UFC 194 fight card will finally hit the ground running. At the crest of this incredible tsunami of excitement is the most eagerly awaited title fight in recent memory.
Once in a while an amazing fight that simply captures everyone's attention comes around, and Jose Aldo vs. Conor McGregor is that fight. The interim featherweight champ McGregor has sold the fight masterfully, while Aldo's credentials in the game have spoken loudly by themselves.
With all the hype that's pre-empted this fantastic matchmaking unification bout, every word and video clip has received huge media attention, and simply acts as more kindle to the long burning fire that will come to flashover point this weekend.
One such piece of interesting fuel is the latest video footage of Jose Aldo working the pads like a gangster, making a beat that sounds crisp and sharp.
Check out the video of Jose Aldo destroying the pads in preparation for Conor McGregor on the next page…