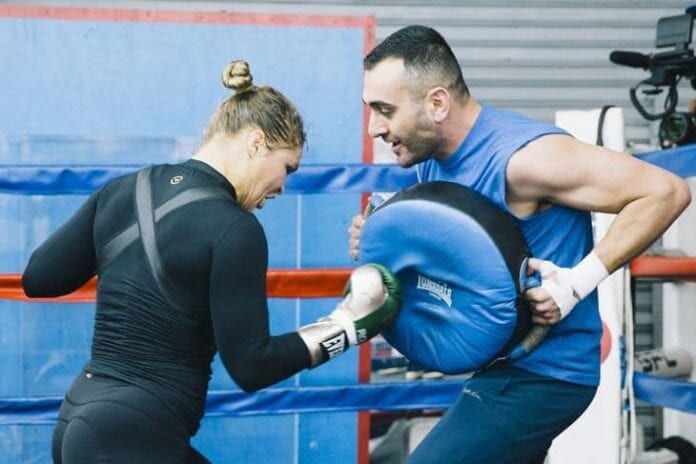 In the wake of Ronda Rousey's shocking UFC 193 knockout loss to Holly Holm in which the former 135-pound champion surrendered her belt, many are saying that the "Rowdy" one may need a change a scenery in terms of where she trains and who she trains with.
Her long-time coach Edmund Tarverdyan has received a tremendous amount of criticism, and it could be argued that Rousey may not have the most suitable training partners at the Glendale Fighting Club in Venice, California.
So where should Rousey take her talents?
Well, UFC lightweight champion Rafael dos Anjos feels as if his gym, Kings MMA, and his coach Rafael Cordeiro would be a great fit for the "Rowdy" one.
Cordeiro has produced two UFC champions in the last year in the form of dos Anjos as well as heavyweight boss Fabricio Werdum, and in doing so, he has established himself amongst the best coaches in the sport.
Speaking with MMAFighting, dos Anjos made it clear that he believes Kings MMA is the spot for Rousey, adding that the gym could provide everything she needs to get back on top:
"I think it would be great for her to come here," Dos Anjos said. "We have a great energy here. Not just because I'm training here, but Master Rafael Cordeiro has over 28 years of experience in MMA. It would be great for Ronda.
"For sure, we're going to have a great camp for her here. Great training partners. Great coaches. Master Cordeiro is going to have a great fight gameplan for her. If she comes, she'll have everything she needs to get her belt back."
Rousey, like dos Anjos and Werdum, is a world class grappler, but it seems as if the striking department is where she is lacking, which just so happens to be what Cordeiro is praised for: turning grapplers into well-rounded champions.
The only issue could be that Invicta FC featherweight champion and bitter Rousey rival Cris "Cyborg" Justino trains at Kings MMA from time to time, but that doesn't seem to be an unfixable problem according to dos Anjos:
"We can make it work," Dos Anjos said of Cyborg co-existing with Rousey. "I think, on my part, [Rousey] is always welcome here."
Could Kings MMA be the right place for Rousey?