Michael Bisping Outlasts Thales Leites By Split Decision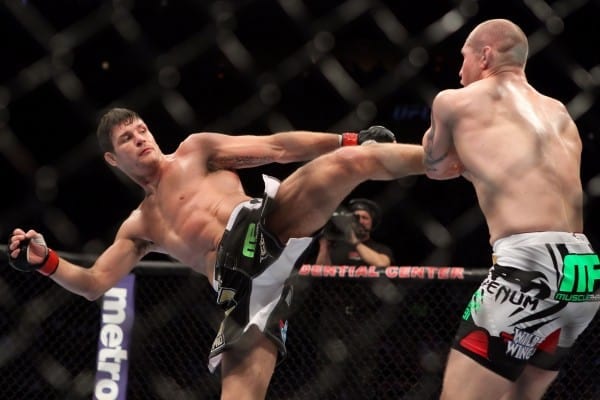 Fighting in his native United Kingdom for the first time in five years, British favorite Michael 'The Count' Bisping squared off with Thales Leites for pivotal middleweight positioning in the main event of today's (Sat., July 18, 2015) UFC Fight Night 72 from the SSE Hydro in Glasgow, Scotland.
The main event bot began with Bisping circling and Leites landed a light low kick. He nailed Bisping with a shot to the cup that caused a brief halt in the action. Leites pressed the pace when the fight was restarted, but missed on several right hands. Bisping landed a high kick and Leites snapped some low kicks. 'The Count' pressed forward with another high kick that was blocked as he continued landing leg kicks.
Bisping fought back with some inside low kicks of his own, following with a right hand off a Leites low kick. Bisping threw Leites to the mat, but the Brazilian jiu-jitsu black belt reversed to get his back and grind out a back-and-forth first round.
Leites came out aggressive with a combo that missed in the second, and Bisping cracked him with a strong overhand right. Leites landed a solid right before a jab snapped home from Bisping, who followed with a decent combo. Bisping continued with inside low kicks, snapping a counter when Leites rushed forward with some shots. The Brazilian landed a huge right hand off a Bisping low kick, sending 'The Count' back. He punished Bisping with more shots, and it appeared that Bisping slipped when they traded low kicks. 'The Count' scored a hard kick to the body and Leites landed a huge uppercut and hard low kick.
The British striker used his movement to land good shots as he seemingly found is momentum. A hard left hook found a home, followed by two low kicks. Leites threw a hard shot and Bisping missed with a spinning kick as the second round wound down.
Bisping ate a body kick to stat the third, to which Bisping responded with a low kick. Leites responded with a huge right hand and a string of looping shots that rocked Bisping up against the cage. Bisping landed his jab and some straight shots. Leites looked for more big shots, landing a hard left hand. Bisping recovered and landed his jab and kicks, but Leites scored a few more hard shots. A spinning back kick attempt came from Bisping, but Leites landed a right. The fighters traded in the center, and Leites got a takedown off a kick. Bisping got back up to land a solid right hand, but Leites scored a huge uppercut that rocked him to close the third round.
Leites rushed forward with a big combo to start the fourth. Bisping worked a few shots and a jab, snapping a counter off an uppercut attempt from Leites. Bisping scored with an overhand right, and then landing a low kick and a two-punch combo. Leites countered a Superman punch, and Bisping landed another decent combo as he kept his movement high. Bisping scored a low kick and defended a takedown attempt, landing a jab and body kick. Leites hit 'The Count' with a glancing high kick as the fourth round came to a close.
In the fifth round, Leites came out with some big punches. He landed some but left some wild, and Bisping countered with straight shots. Leites pushed the pace, and Bisping scored with some quick blows. Leites landed one of his own, following with a big uppercut that Bispng countered. They traded low kicks again and Leites hit Bisping with a left hook. Bisping threw a high kick and Leites made the fight dirty with big shots near the fence, and many of them landed. 'The Count' looked to fight back in in the face of danger, and he did with a few precision counters. The Brit opened up, smacking stiff shots over and over to swell Leites' lips. The Brazilian landed a huge left hook as the fighters flung wild shots. He scored a counter off a Bisping flying knee attempt as the bell rung on the close, wild fight.
In the end, Bisping won the pivotal fight by split decision.
Final Result: Michael Bisping def. Thales Leites by split decision (47-48, 49-46, 48-47)