'2011 Hottest Women in MMA Grand Prix' Voting: Round-of-16, Pool B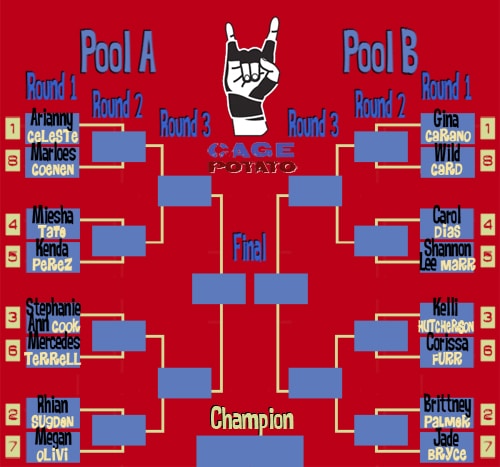 Get your voting fingers ready, Potato Nation — the right side of the "2011 Hottest Women in MMA Grand Prix" bracket is live and ready for action. But first, a very important announcement about the wild-card spot: After picking up 61.5% of the popular vote, Juliana Salimeni has advanced to the round-of-16, where she will be taking on #1-seeded Gina Carano. Congrats, Juju, and may your Cinderella story have a happy ending.
Now, the usual instructions. With the help of the photographic aids we've provided below, cast your vote for your favorite lady in each of the four polls; hit the "next page" link when you're done with each one. Any questions, let us know in the comments section. If you don't see the poll widget under each pairing of girls, please refresh your browser, or try a different one.
We plan to announce the complete list of winners from the Grand Prix's opening round on Tuesday, so if you haven't yet cast a vote for Pool A, there's still time to make a difference. Without further ado, let's get started…
Gina Carano (#1 seed)

Who is she: Last year's #1. After spending most of 2010 in hiding, the "Face of Women's MMA" is slated to return to the Strikeforce cage in June. Her first big movie comes out later this year.
  
VS.
Juliana "Juju Panicat" Salimeni (wild card)

Who is she: A 24-year-old Brazilian model, MMA ring girl, and TV hostess who has appeared in Playboy. Defeated Chandella Powell and Joanne Spracklen to claim her spot in the round-of-16. My God dat ass.