The old saying that, 'what goes up must come down' has been proven time and time again in the Octagon over the years, though some fighters have experienced the second half of that equation far more vividly – and indeed violently – than others.
It's a strange phenomenon to bear witness to, as a fighter who could do no wrong suddenly find themselves in a position where they can't seem to do anything right.
Whether it's the effects of age, an accumulation of injuries, a weakened chin, or a loss of focus, in this article we'll look at 10 classic examples of fighters whose career entered into that dreaded downward spiral while competing in the UFC and were never able to recover from it.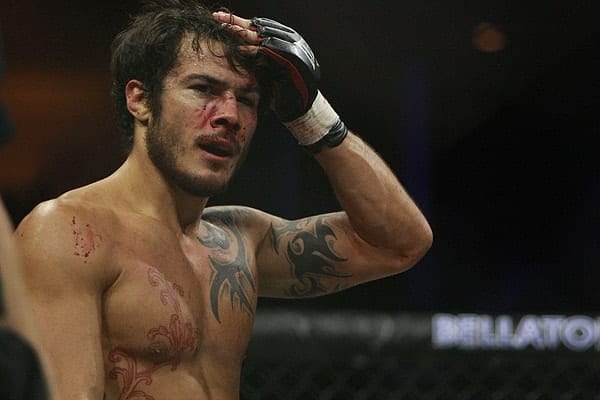 Roger Huerta
It's hard to believe now, but back in 2007 Roger Huerta was being tipped as the next big thing in the UFC.
Huerta enjoyed a rapid ascent up the UFC pecking order, entering the promotion after a long unbeaten run and then racking up six wins in a row inside the Octagon while also landing on the cover of Sports Illustrated magazine at a time when mainstream exposure was hard to come by.
Huerta seemed to have the world at his feet, but he took his eye off the prize when he began dating 'That 70's Show' actress Laura Prepon and started talking about leaving the UFC to pursue an acting career.
His downward descent proved to be as swift as his rise had been, with back-to-back losses coming to Kenny Florian and Gray Maynard before his UFC departure in 2009.
Huerta's relationship with Prepon and acting career didn't take off, and his MMA career never recovered, posting a tepid 3-6 record over the past seven years away from the bright lights of the UFC.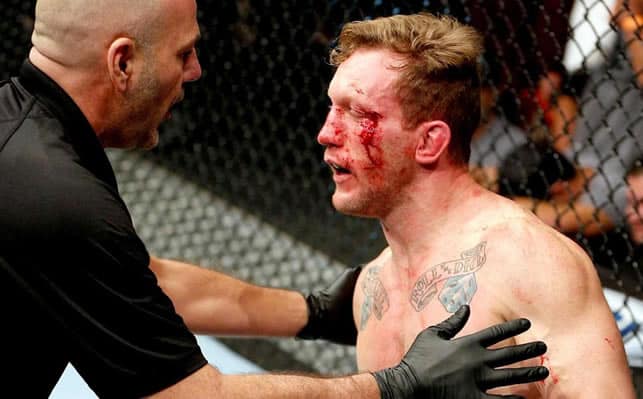 Gray Maynard
For a significant period of time, Gray Maynard was one of the most dominant forces in the UFC's ultra-competitive lightweight division, winning an unprecedented eight fights in a row on his way to securing what would prove to be a title shot doubleheader with Frankie Edgar in 2011.
The undefeated Maynard took the champion to a 'split draw' in their first encounter, but that would prove to be the summit of his career, as the champion KO'd him deep in the fourth round of the rematch months later.
Nobody realized at the time how big of a toll that had taken on the 32 year-old, but his decline became painfully apparent when he was TKO'd in the first round by both TJ Grant and Nate Diaz, suffered another stoppage due to strikes against Ross Pearson, and even came out on the wrong side of the decision in what was supposed to be an easier fight against Alexander Yakovlev.
Despite Maynard's attempts to right the ship by taking well over a year off and then dropping down to featherweight, he's been unable to rediscover his form and has gone from being undefeated in the first 11 fights of his career to having won just two of his last nine bouts in the Octagon.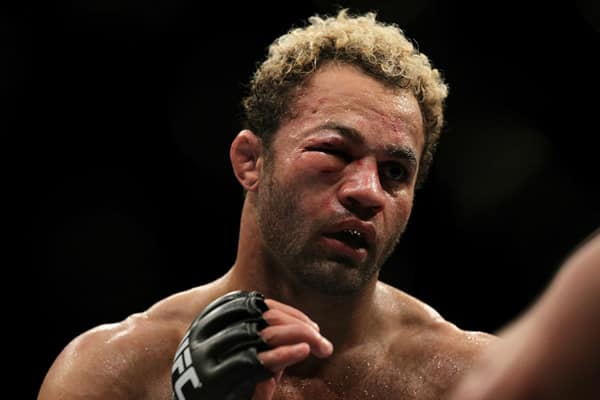 Josh Koscheck
A veteran of the very first season of The Ultimate Fighter (TUF), Josh Koscheck established himself as one of the UFC's top welterweight contenders for many years.
In early 2012 it appeared to be business as usual for Koscheck as he racked up his 15th win in the UFC against Mike Pierce and continued his climb back towards another title shot, having been unsuccessful in his first attempt against longtime champion Georges St-Pierre a couple of years earlier.
However, that would prove to be the last time that Koscheck would have his hand raised in the Octagon, as his career suddenly ran out of steam.
It started with a split decision loss to Johny Hendricks, but worse was to come, as two of the division's hardest hitters, Robbie Lawler and Tyron Woodley, both handed him brutal first-round defeats due to strikes.
As if the fact his chin was now failing him wasn't enough, Koscheck's ground game also began to give way, with both Jake Ellenberger and Erick Silva managing to submit him.
After that five-fight losing streak, it was clear that Koscheck was now a shadow of his former self and the UFC parted ways with him in early 2015, and even though he'd go on to sign on with Bellator, he hasn't fought since.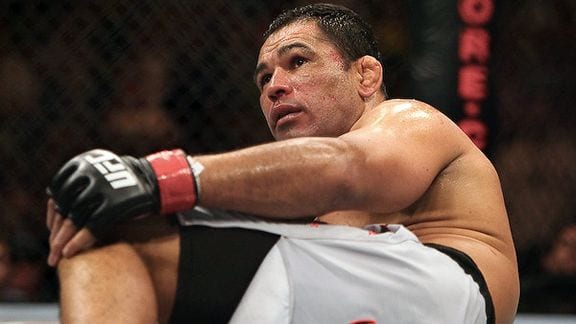 Antonio Rodrigo Nogueira
Antonio Rodrigo Nogueira became one of the sport's most revered heavyweight stars thanks to his legendary toughness and elite submission grappling skills, but it was only a matter of time before those qualities would begin to fail him.
'Big Nog' arrived in the UFC in 2007 having already amassed nearly 30 career victories and never having been finished inside the distance, and at first, all went well as he won the interim heavyweight title at UFC 81.
Nogueira had endured a lot of punishment by this stage in his career, however, and that finally caught up with him against Frank Mir, who became the first fighter to TKO the Brazilian at UFC 92 after flooring him three times with punches.
A true fighter at heart, Nogueira still claimed a few wins after that, but it's the brutal losses sandwiched in between them that will live long in the memory.
They included a nasty first-round knockout loss against Cain Velasquez, and a sickening kimura submission in a 2011 rematch with Frank Mir that not only ended his record of never having been tapped out, but also left him with a badly broken arm.
Increasingly ravaged by injuries and looking aged beyond his years, retirement seemed like the best option, but there was still no quit in Nogueira and he'd go on to be submitted by Fabricio Werdum, knocked out by Roy Nelson, and decisioned by Stefan Struve before the UFC finally stepped in to wave the white flag on his behalf in 2015.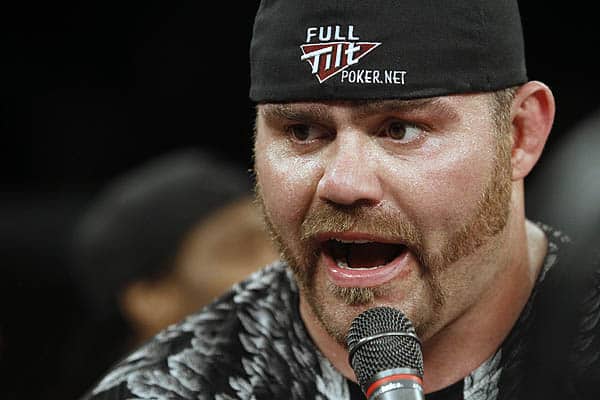 Tim Sylvia
Going into 2008, Tim Sylvia was already a two-time UFC heavyweight champion and was headed for another interim title fight with Antonio Rodrigo Nogueira, so in hindsight it's remarkable how quickly he was about to fall from grace.
It started with a third-round submission defeat to 'Big Nog', which by itself wasn't the end of the world, but was then followed by an ill-advised decision to request his release from the UFC in order to pursue more lucrative offers elsewhere.
That led to a major fight with Fedor Emelianenko at Affliction: Banned in 2009 a few months later, but it all went horribly wrong for Sylvia as the Russian legend took just 36 seconds to submit him by rear-naked choke.
That was nothing compared to the embarrassment that a now overweight, out-of-shape incarnation of Sylvia would experience against 48 year-old boxer Ray Mercer a year later, with his debuting opponent knocking him out in just 9 seconds.
Sylvia's career never fully recovered from that humiliating hammer-blow that left him the butt of MMA fans' jokes for years afterwards.
Though he'd attempt to rebuild his career, he was never able to mend his broken relationship with the UFC or get his foot in the door with another major promotion, competing mostly on the regional circuit until doctors advised him to retire in 2013 for health reasons after going four fights without a win.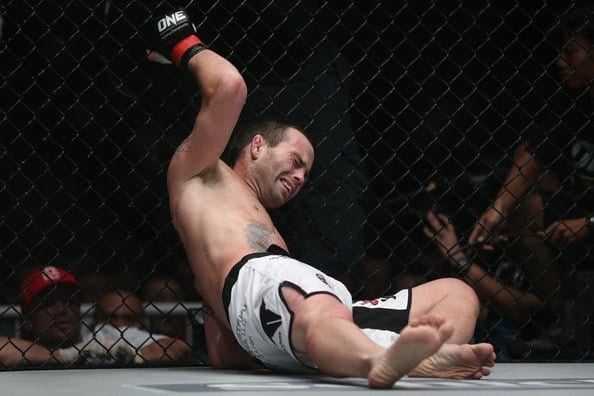 Jens Pulver
Jens Pulver holds the distinction of being the UFC's first-ever lightweight champion dating back to 2001, and he was on course to be a big star for the promotion after he successfully defended his belt against Dennis Hallman and BJ Penn.
Then came a pivotal moment in 'Lil Evil's' career when a contract dispute led to him walking away from the UFC.
After stints in promotions like PRIDE, Shooto, and IFL without the same level of success, Pulver finally returned to the UFC in 2006, but disaster struck when he found himself being KO'd by fresh-faced newcomer Joe Lauzon in just 47 seconds.
Suspicions that the sport had passed him by in the five years since he'd left appeared to be confirmed when BJ Penn easily submitted him in his next fight, and like that, Pulver's UFC career was over.
Hoping to start over, Pulver moved on to Zuffa's sister promotion WEC, but it wasn't long before he was exposed there too, resulting in a five-fight losing streak that was hard to watch for fans of the charismatic star.
Pulver was then relegated to the regional scene for the remainder of his career as he experimented with fighting at featherweight, bantamweight, and even as low as flyweight in an unsuccessful attempt to get back on track before finally retiring in 2013.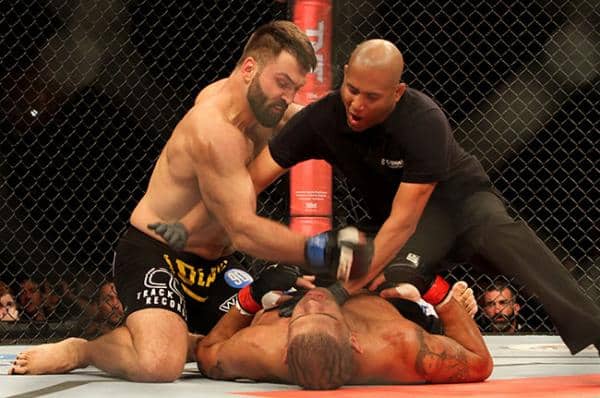 Antonio Silva
In 2013 Antonio 'Bigfoot' Silva earned a dream opportunity to fight for the UFC heavyweight title after finishing top contenders Travis Browne and Alistair Overeem, but the wave of momentum he was riding was about to come to an abrupt halt.
The champion at the time, Cain Velasquez took just 81 seconds to dismantle the Brazilian, and 'Bigfoot's' reputation was then further tarnished after testing positive for elevated levels of testosterone following his next fight with Mark Hunt.
After serving a nine-month suspension, 'Bigfoot' returned to action, and that's when he really started to hit rockbottom as the Brazilian's ability to take a punch completely deserted him, leading to a string of KO and TKO losses against Andrei Arlovski, Frank Mir, Mark Hunt, Stefan Struve, and Roy Nelson.
Having suffered a dire 1-8 record over a three-year period, it was no surprise when the UFC pulled the plug on Silva's career, but rather than hanging up his gloves, 'Bigfoot' has since taken a fight in Russia, adding another loss to his record.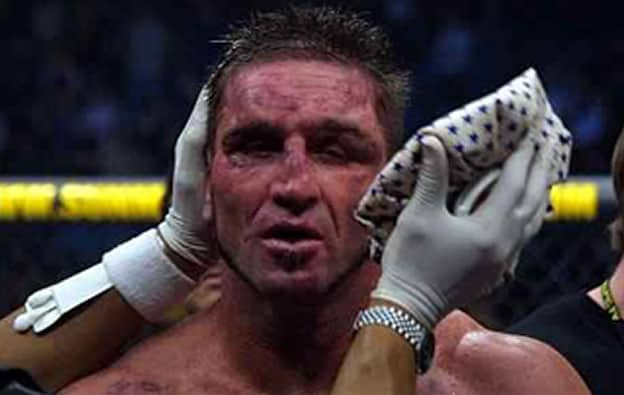 Ken Shamrock
When Ken Shamrock left the UFC for WWF pro-wrestling in late 1996, he was still operating under the nickname, 'The World's Most Dangerous Man' and held a very respectable 23-5-2 record, including only having tasted defeat twice in his previous 18 fights.
In 2002, he was welcomed back to the Octagon after a stint in PRIDE, hoping to pick up where he'd left off in a heavily promoted title fight with Tito Ortiz at UFC 40.
It was supposed to be a clash of the titans, but the one-sided shellacking Shamrock suffered that night made it clear that the years hadn't been kind to the former 'Superfight' champion.
Adding to his woes, injuries from his long fighting career were rapidly catching up with him, and as a result he'd only fight once in the next two-and-a-half years.
In 2005, the 40 year-old Shamrock tried to get his career back on track but failed in brutal fashion, losing his next four fights in the Octagon by first-round TKO to Rich Franklin, Kazushi Sakuraba, and Tito Ortiz (twice).
It was painfully obvious that it was time for Shamrock to call it a day, but despite being released by the UFC, he has continued to fight on a sporadic basis into his 50s and suffered a further five first-round TKO losses while also tarnishing his legacy by testing positive for steroids on two separate occasions.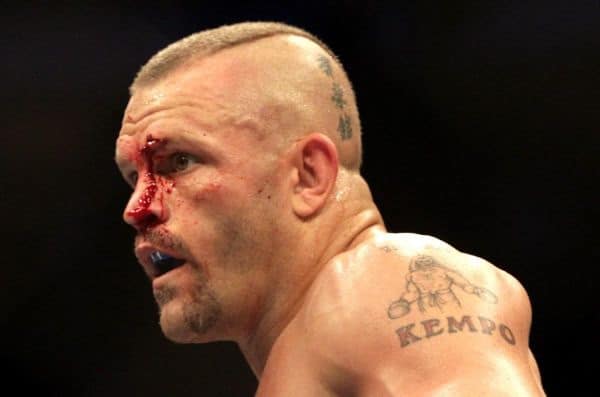 Chuck Liddell
For a memorable period in the history of the UFC, Chuck Liddell was the biggest star in MMA, possessing the perfect combination of lethal knockout power, a granite chin, and first-class takedown defense necessary to become a one-man wrecking crew.
By the end of 2006, Liddell was in full swing as the UFC's undisputed light-heavyweight champion, riding a seven-fight winning streak that had seen him finish all of his opponents inside the distance by strikes, including former champions Randy Couture (twice) and Tito Ortiz (twice).
However, a single right hook from Quinton 'Rampage' Jackson at UFC 71 in May of 2007 sent Liddell crashing back down to earth, leading to a violent TKO loss less than two minutes into their blockbuster fight.
A lackluster split decision loss to Keith Jardine followed a few months later, but the real hammer blow came in 2008 when Rashad Evans ruined his chin with one of the most brutal knockouts in UFC history, leaving him slumped unconscious in the Octagon for a sickeningly long period of time.
Even after a first-round TKO loss to Mauricio 'Shogun' Rua, Liddell couldn't seem to see the writing on the wall, which left UFC President Dana White stepping in to force his friend to hang up his gloves.
Against his better judgment, White gave in to Liddell's demands to give him one last chance, leading to another nasty first round knockout loss at the hands of Rich Franklin, which finally convinced 'The Iceman' that it was time to call it quits.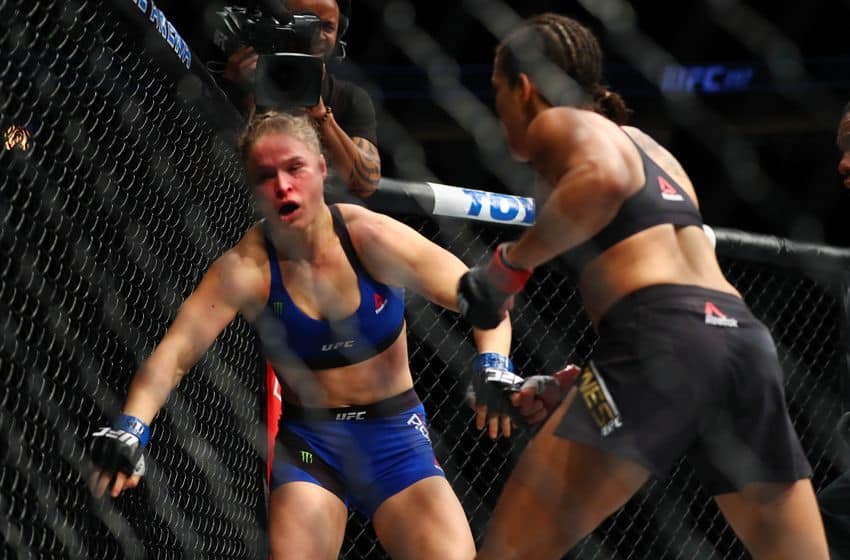 Ronda Rousey
Ronda Rousey's sudden fall from the highest highs to the lowest lows has been compounded by the fact that the whole world has been watching her career hit terminal decline.
A former Olympic judo bronze medallist, Rousey took the MMA world by storm in 2011 when she began submitting all her opponents in the first round by armbar, and drew so much attention that she singlehandedly convinced Dana White to bring women into the UFC two years later.
By late 2015, the whole world had become captivated with this seemingly unstoppable force of nature who was finishing her opponents in mere seconds, and as the hype surrounding her reached fever pitch, some claimed she could defeat legendary boxer Floyd Mayweather Jr, while 'Rowdy' declared herself to be, "the best fighter in the world."
Then along came Holly Holm, who exposed glaring weaknesses in Rousey's striking game at UFC 193 in November of 2015, before finishing her off with a devastating head kick knockout heard 'round the world that would shatter the aura of invincibility surrounding the star.
Rousey retreated from the media spotlight amid talk of retirement and an alarming confession that she had contemplated suicide in the wake of the defeat, while Hollywood producers suddenly got cold feet regarding the high-profile movies she had been attached to.
13 months later Rousey returned to the Octagon against new bantamweight champion Amanda Nunes at UFC 207 hoping to get her career (and life) back on track, but it's fair to say that her comeback couldn't have gone any worse.
Rocked by an early jab, the former champion looked shell-shocked as a barrage of precision punches left her on the verge of being knocked out again, before referee Herb Dean mercifully stepped in to put her out of her misery just 48 seconds into her return.
Rousey had hinted prior to the fight that she might not be fighting for much longer, but due to the manner of her most recent defeat it may come even earlier than she'd anticipated, and if that is the case, that would mark a stunningly swift fall from grace for one of the biggest stars the sport has ever seen.