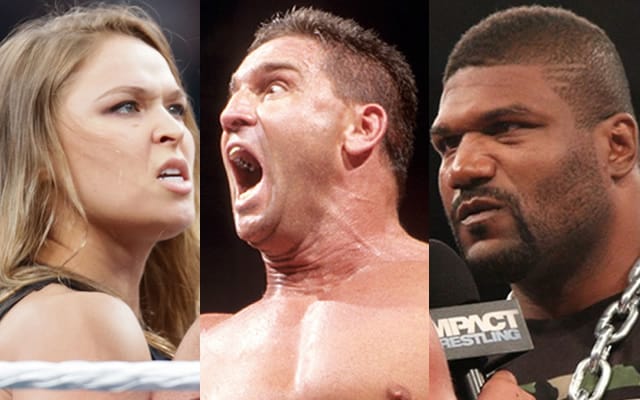 In recent years we've seen WWE superstars like Brock Lesnar and CM Punk cross over from professional wrestling to test themselves in a true fight in the UFC's Octagon.
However, the door swings both ways, and since the UFC began there have been several examples of fighters being lured over to the world of pro-wrestling in search of fame, fortune and in some cases a chance to fulfill a childhood dream.
In this article we'll chart the successes and failures of 10 UFC stars who have attempted to 'get over' with pro-wrestling fans and become the king (or queen) of the ring.
https://www.youtube.com/watch?v=QpiXKOtQad0
Ken Shamrock
Ken Shamrock made his pro-wrestling debut as far back as 1990 on the regional circuit in North America and then headed overseas to Japan's UWF and PWFG organizations.
After winning a legitimate fight in the latter organization in late 1992, Shamrock was inspired to fight in mixed martial arts and became a major star in Pancrase and then the UFC, but by the end of 1996 he had become burnt out and was struggling to make ends meet, and so he quit MMA and signed for the World Wrestling Federation.
Billed as 'The World's Most Dangerous Man', Shamrock debuted for WWF in 1997 and proved himself to be a performer with crossover appeal who would become a star during his three-year stint there.
Along the way he'd compete against many of the company's biggest names and won the Intercontinental title by defeating X-Pac, claimed the Tag Team Championship alongside 'Big Boss Man' and defeated 'The Rock' to become 'King Of The Ring' in 1998.

Constantly being on the road with the WWF took a toll on Shamrock however, and so for the sake of his family he abruptly left the organization in 2000 and returned to MMA, though the injuries he'd sustained while wrestling meant he was never able to reach the same heights as earlier in his career.