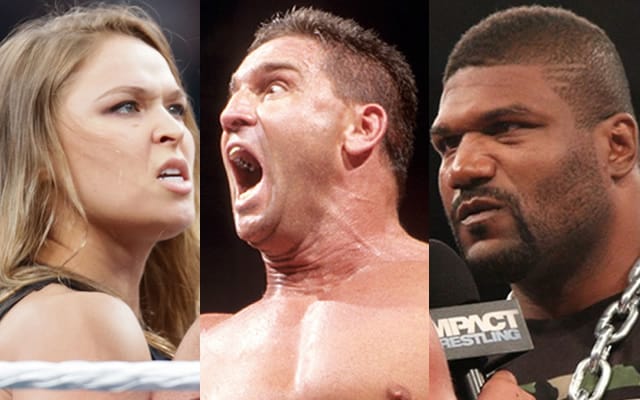 In recent years we've seen WWE superstars like Brock Lesnar and CM Punk cross over from professional wrestling to test themselves in a true fight in the UFC's Octagon.
However, the door swings both ways, and since the UFC began there have been several examples of fighters being lured over to the world of pro-wrestling in search of fame, fortune and in some cases a chance to fulfill a childhood dream.
In this article we'll chart the successes and failures of 10 UFC stars who have attempted to 'get over' with pro-wrestling fans and become the king (or queen) of the ring.
https://www.youtube.com/watch?v=QpiXKOtQad0
Ken Shamrock
Ken Shamrock made his pro-wrestling debut as far back as 1990 on the regional circuit in North America and then headed overseas to Japan's UWF and PWFG organizations.
After winning a legitimate fight in the latter organization in late 1992, Shamrock was inspired to fight in mixed martial arts and became a major star in Pancrase and then the UFC, but by the end of 1996 he had become burnt out and was struggling to make ends meet, and so he quit MMA and signed for the World Wrestling Federation.
Billed as 'The World's Most Dangerous Man', Shamrock debuted for WWF in 1997 and proved himself to be a performer with crossover appeal who would become a star during his three-year stint there.
Along the way he'd compete against many of the company's biggest names and won the Intercontinental title by defeating X-Pac, claimed the Tag Team Championship alongside 'Big Boss Man' and defeated 'The Rock' to become 'King Of The Ring' in 1998.
Constantly being on the road with the WWF took a toll on Shamrock however, and so for the sake of his family he abruptly left the organization in 2000 and returned to MMA, though the injuries he'd sustained while wrestling meant he was never able to reach the same heights as earlier in his career.
Quinton 'Rampage' Jackson
When Quinton 'Rampage' Jackson left the UFC for Bellator in 2013, Viacom also set him up with spots on TNA Impact Wrestling, which also aired on Spike TV.
In the summer of that year, 'Rampage' made his first appearance in TNA, squaring up to pro-wrestling legend Kurt Angle, but a week later he'd return to help him fend off an attack from the Aces & Eight stable by lashing out at them with his trademark chain.
Jackson's TNA appearances were few and far between, but he was a member of the 'New Main Event Mafia' stable and at one stage recruited fellow Bellator fighter Tito Ortiz, who would later double-cross him by striking him over the head with a hammer.
The idea appeared to be that this could help promote an eventual MMA fight between the two in Bellator, but that never came to fruition and 'Rampage' quit TNA after a year due to being unhappy with how he was being treated.
Ronda Rousey
Ronda Rousey's is a long-time pro-wrestling fan, as evidenced by her 'Rowdy' nickname, which was inspired by WWF legend 'Rowdy' Roddy Piper, who gave her permission to use it.
Rousey was seen in the front row of WWE SummerSlam in 2014 and later dropped hints that one day she might compete in the WWE.
Sure enough, at Wrestlemania 31 in 2015 she was again in the front row, but this time became involved in the action when 'The Rock' brought her into the ring to help him deal with 'The Authority' – Stephanie McMahon and Triple H.
In front of over 76,000 fans, Rousey would show off her judo skills by hip-tossing Triple H to the mat and then launching McMahon out of the ring.
'Rowdy' became an instant hit with WWE fans, who were hungry for more, spurred on by her claims that she was "just getting started."
However, UFC president Dana White contradicted that by stating that Rousey was "one and done" in the WWE.
Nevertheless, despite Rousey's MMA career having since ground to a halt after two brutal losses, WWE exec Stephanie McMahon stated earlier this year that Rousy and pro-wrestling remains, "a match made in heaven."
Josh Barnett
When life-long professional wrestling fan Josh Barnett's first stint in the UFC came to an end in 2002 he signed up to New Japan Pro-Wrestling, competing in over 50 matches for the organization over a two-year period, while also still fighting in MMA.
For a few years after that Barnett focused solely on his successful run in PRIDE, but when that legendary MMA promotion came to an end he returned to pro-wrestling via the Inoke Genome Foundation promotion.
Barnett would be a headliner in the IGF ring during his seven-year sint there, and as well as going up against major Japanese wrestling stars, he'd often be pitted against other MMA stars, including the likes of Ken Shamrock, Don Frye, Bob Sapp, Tim Sylvia and Tank Abbott.
After re-signing for the UFC in 2013, Barnett took a hiatus from competing in wrestling, though from 2015 onwards he began providing color commentary for NJPW on AXS TV.
In 2017 made a comeback, including finally breaking into the U.S. market by competing against Bobby Lashley for the TNA heavyweight title, while he's also returned to IGF as well.
Tank Abbott
The heavy-handed Tank Abbott's popularity in the UFC led to him being signed by World Championship Wrestling when he retired from MMA in 1998.
Working around his lack of wrestling experience, WCW embraced tank's reputation as a barroom brawler and made his finisher a simple right hook KO.
During his two-year stint in WCW, Abbott would compete against several of the promotion's biggest stars like Goldberg, Sid Vicious, Rick Steiner and 'Diamond' Dallas Page.
However, according to WCW booker, Vince Russo, others in the company were reluctant to push Abbott due to the fact that he had come from MMA, and in fact, Russo claimed he was removed from his role as head writer for several months after he suggested that Tank should win their vacant heavyweight title.
Tank also courted controversy when he pulled out a knife after a match with 'Big Al' and held it to his throat. The cameras quickly panned away and the commentary team claimed Tank was just trimming off the wrestler's beard, even though 'Big Al' didn't have one.
WCW parted ways with Tank later that year and he'd eventually return to competing in MMA.
Tito Ortiz
When UFC Hall-Of-Famer Tito Ortiz fell out with Dana White in 2005 over a contract dispute, he left to pursue other opportunities and became a guest referee for TNA Wrestling.
Ortiz would oversee three World Championship Heavyweight titles during his time there, and interfered in each one, including knocking out the champion Jeff Jarrett with a right hook in one match, and both members of 'America's Most Wanted' in another.
Ortiz then settled his differences with the UFC and remained there until he retired in 2012, but some eight years after his previous stint in TNA, a promotional campaign in 2013 unveiled Ortiz as the promotion's mystery new star, to a painfully underwhelmed response from fans.
Ortiz would again play a 'heel' role as he accepted an invitation from 'Rampage' to join his 'Main Event Mafia' stable, only to strike him over the head with a hammer during a heavyweight championship match.
All this was designed to generate interest in a real MMA fight between Ortiz and Rampage in Bellator, but that fell through and having failed to get over with fans his brief second stint in TNA soon fizzled out.
https://www.youtube.com/watch?v=X4eEHpQ6nuw
Don Frye
Don Frye opted to leave the UFC for pro-wrestling after the 'Ultimate Ultimate 96' event, despite the fact that he'd actually won the tournament that night.
Frye trained with the likes of WWF's 'Mr Perfect' before debuting in New Japan Pro-Wrestling in the summer of 1997 against future PRIDE fighter Kazuyuki Fujita, and after emerging victorious he'd become a star playing a 'heel' role in the promotion.
The biggest match of Frye's pro-wrestling career took place in 1998 when he won a tournament that gave him the honor of being the legendary Antonio Inoki's last opponent before his retirement.
Frye would continue to be a prominent star in the organization until 2001 when he decided to return to MMA and signed for PRIDE.
Frye would make sporadic appearances in Japan as a wrestler over the years, but despite his popularity there, he never had the opportunity to compete in a U.S. organization like the WWE, admitting after retiring that he'd burned his bridges by bad-mouthing the company – something he now regrets.
https://www.youtube.com/watch?v=2nNVFA0jm8E
Dan Severn
Dan 'The Beast' Severn's career began in pro-wrestling organizations like UWF International and AAPW, but between late 1994 and 1996 he would try his hand at MMA, becoming a major star in the UFC by winning two one-night tournaments and a superfight championship.
However, at the same time he would also make history by simultaneously being crowed as NWA' heavyweight pro-wrestling champion.
Severn reigned as champion for four years in NWA (and would later be inducted into their hall of fame), before arriving in the WWF in 1998 via an extremely rare non-exclusive contract.
Over the period of a year, Severn would compete in 'King Of The Ring' and 'Brawl For All' tournaments as well as going up against major stars like 'The Rock' and Owen Hart.
He would also reignite an old rivalry with another former UFC star Ken Shamrock, defeating him in a triple-threat match that also included Hart, and then losing to him later by DQ.
Severn essentially played himself in the WWF rather than taking on a larger-than-life persona, and refused writer's suggestions to play a 'heel' character based on his 'The Beast' nickname that would have seen him have '666' written across his forehead and become a disciple of 'The Undertaker'.
Those creative differences would lead to him leaving the WWF in 1999, but remarkably Severn has continued to compete on the independent circuit ever since alongside his MMA career, and even stepped into the ring against Matt Riddle in 2017 at 58 years-old.
Frank Trigg
In 2008, former UFC fighter Frank Trigg was still actively competing in MMA when he had a brief run in the TNA wrestling.
Trigg initially began making appearances as a friend of wrestling star Kurt Angle, but eventually he called out A.J. Styles to an MMA-style fight that could only be finished by submission.
The fight took place at the 'No Surrender' PPV event and it quickly became apparent that the crowd had no interest in watching a worked MMA match, chanting, "this is bullshit" and "we want wrestling."
The lackluster bout would end in a no-contest when Style landed a low blow, then proceeded to beat Trigg with a Kendo stick.
Trigg's brief stint in TNA abruptly came to an end and he'd soon be back to fighting for real, re-signing with UFC the following year.
Matt Riddle
Having burned most of his bridges in the MMA world after testing positive for marijuana twice in the UFC and then repeatedly dropping out of fights in Bellator, talented prospect Matt Riddle quit the sport and began pursuing a pro-wrestling career in 2014.
After a promising start, Riddle was given a chance to try-out for the WWE in 2015, where he tested well, but his lack of experience and previous marijuana issues counted against him.
Instead, WWE officials encouraged Riddle to prove himself on the independent circuit for promotions like EVOLVE.
Styling himself as 'The King Of Bros', Riddle has gradually evolved into a major player in that scene, competing in shows around the world, while also winning both 'Rookie Of The Year' and 'Most Improved Wrestler' awards in 2016.
Riddle is now at a stage where he was a real chance of breaking into the WWE, but for the time being he's enjoying the freedom of being in-demand on the indie circuit and has no intentions of returning to MMA.