10 Times Joe Rogan Lost His Mind On The Mic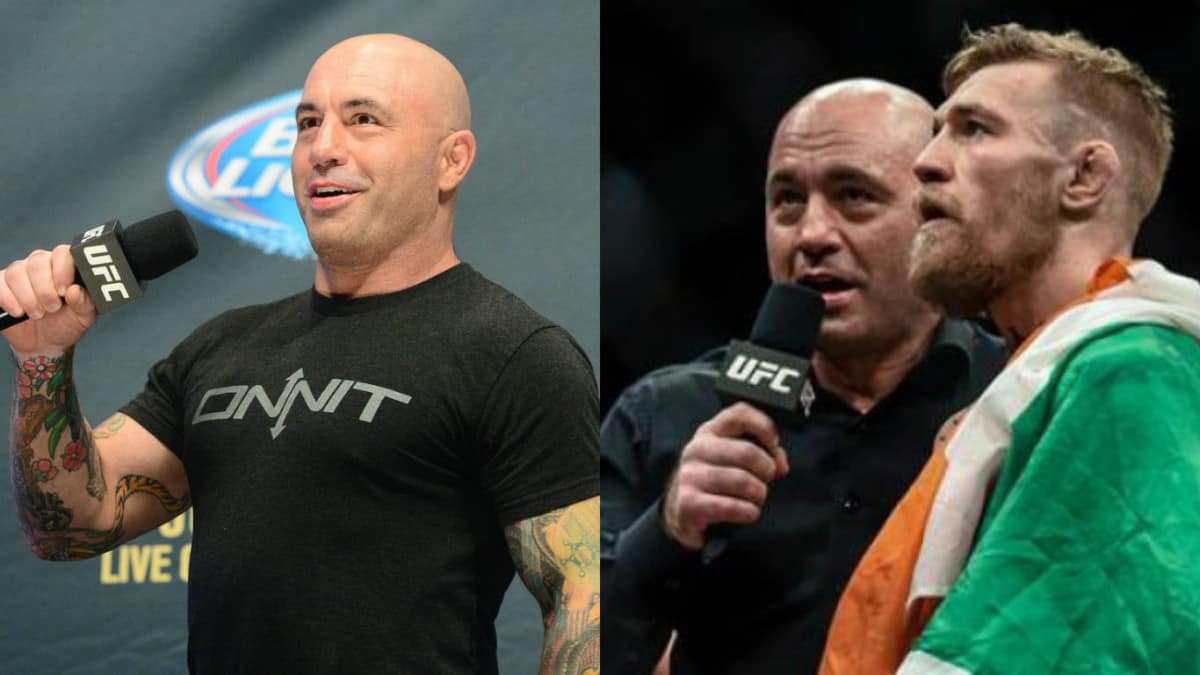 Arguably one of the best moves the UFC ever made was to bring Joe Rogan on-board to provide color commentary.
When he first started as a backstage interviewer at UFC 12, he may have seemed an unlikely choice given that he was a stand-up comedian and TV show actor at the time.
However, it quickly became clear that few people were able to express their passion for the sport the way he did. As such, his infectious enthusiasm and unrivaled energy eventually led to him being hired as a color commentator at UFC 37.5 in 2002, and he's been in the broadcast booth alongside Mike Goldberg ever since.
In this article we'll take a trip down memory lane to recall ten classic examples of Rogan getting completely carried away while doing what he once described as, "the greatest job in the world."
Click next to start the article

Corey Hill Leg Break
Like anybody else who watched the UFC's first-ever 'Fight For The Troops' event back in 2008, Joe Rogan will no doubt grimace when recalling the gruesome end to the late Corey Hill's fight with Dale Hartt.
Hill badly broke his leg early in the second round of the fight and fell to the ground in agony. From his commentary position, Rogan immediately noticed what had happened and began frantically shouting at the referee to wave the fight off.
"His leg's broken! His leg's broken!" Rogan could be heard yelling in panic on the mic.
"STOP! STOP! STOP! STOP THE FIGHT! STOP THE FIGHT!"
Rogan would later comment on the incident on 'The Underground' forum, revealing that he actually jumped up on his seat while trying to attract the ref's attention.
"I don't know if it was the referee's angle when the kick and break happened, or if he's just not that swift, but the dude literally had no idea Corey had broken his leg," Rogan recalled. "He was completely oblivious.
"I was screaming at the top of my lungs, and I took my headset off and was standing up in my chair ready to hop into the cage. Thankfully he heard us and figured it out. It was a pretty ugly scene."

Nick Diaz Antics vs. Anderson Silva
When Nick Diaz started acting up in the Octagon early in the first round of his blockbuster fight with pound-for-pound great Anderson Silva at UFC 183 in 2015, Rogan was absolutely loving it.
"He's already talking to him. Here we go. That's what I was hoping for," Rogan said excitedly in the opening minute as Diaz began mouthing off at the former champion.
"I love it, I love it!" Rogan continued. "I want him to be mic'd. They need to drop a microphone in there so I can hear what he's saying. He is talking mad trash!"

Soon after Diaz upped the taunting craziness to new levels, casually lying down on the floor and propping himself on one elbow for a moment, then getting back up.
"HA! HA! HA! HA! HA!! I LOVE IT!" Rogan cackled as began thumping loudly on the desk in front of him in delight.
"Look at this. Look at this! This is the greatest thing I've ever seen!"

Coaching Bobby Green While Commentating
At UFC 156 back in 2013, Rogan became so caught up in the fight taking place directly in front of his commentary position that he essentially started coaching one of the fighters from the sidelines.
It all began when the debuting Bobby Green found himself on one knee near to Rogan's commentary position, with Jacob Volkmann latching onto his back.
"Bobby's got to stand up and separate these legs," Rogan said on the mic, then laughed when he realized that Green was looking directly at him, taking in every word he was saying.
"I don't want to give him too much direction here, but, he's doing the right thing," Rogan continued.
"He's got to keep those legs separated. He's got to turn. He's got to avoid that. He's going to end up on top if he can get that right leg over the top," Rogan said, getting increasingly louder and more animated by the second.
"He's got to explode that right leg over the top. JUMP…THAT…RIGHT…LEG over the top of Volkmann's left," Rogan practically spelled out for Green, and lo-and-behold, that's exactly what the fighter did.
Green was able to get to full mount as a result of Rogan's advice, shifting the momentum of the fight, and a minute later he submitted Volkmann.
For the conspiracy theorists out there, a little over a year earlier Volkmann had voiced his annoyance at Rogan after the color commentator failed to see the funny side of a joke he'd made on the mic following a victory at UFC 141.
""I thought Joe Rogan would laugh a little more," an annoyed Volkmann had told Ariel Helwani backstage. "He kind of ruined it for me … He ruined it. I wanted to punch him in the nuts."
By all accounts, Rogan got the last laugh on this occasion.

Tim Boetsch Comeback Against Yushin Okami
On paper, a Tim Boetsch vs. Yushin Okami might not seem like an obvious candidate for one of Joe Rogan's most delirious meltdowns on the mic, but the shock finish to the fight left him on the verge of spontaneous combustion.
Okami was in vintage form in the first two rounds of the fight at UFC 144 in his native Japan in 2012 and was completely dominating 'The Barbarian,' but early in the third, Boetsch unexpectedly burst to life, rocked him with strikes, and then sent him flopping to the canvas like a strand of spaghetti with a barrage of uppercuts for the TKO finish.
"WHAT A COMEBACK! WHAT A COMEBACK," Rogan screamed so loudly that his voice began cracking under the strain. "Unbelievable! What a comeback by Tim Boetsch! What. A. Comeback. That might be one of the greatest comebacks in the history of the UFC!"
"That was absolutely outstanding. He went for broke, he put it on the line and he pulled it off!"
He paused for a moment and Mike Goldberg began to tell an anecdote about Boetsch's coach Matt Hume, but Rogan ignored his partner's attempts to finish what he was saying and instead began yelling again at the top of his lungs.
"Wow! Outstanding! Outstanding! That was…that was the greatest comeback I have ever seen in the history of the UFC. That was unbelievable."

Joe Rogan vs. The Ice Spill
We're used to hearing Rogan animated commentary enhancing the action occurring on screen, and it turns out that he can even turn something as mundane as a bag of ice spilling into the Octagon into the most entertaining play-by-play of the year.
"This is a disaster," Rogan exclaimed as UFC officials attempted to clear up the ice spill that had occurred in-between rounds. "They knocked the bucket over. This is the Three Stooges. What are you freaks doing? Everybody is booing. Now there's even more pressure. Now they are sweeping it out. That's good. Put it on the side and watch Arianny fall on her head."
"There is still ice. There's still too much. Get back in there!" Rogan yelled as the shambolic scene continued. "You're not done. There's ice all over the floor. There's a hundred pieces of ice still on the floor. And the guys just scrambled out because of the pressure."
By the end, Rogan was essentially orchestrating the clean-up operation, while continuing to give a blow-by-blow account of what was happening.
"I'm looking at ice right here, I need to point it out. There's a piece right there. There he gets it … I still see a couple of pieces, man. I still see a couple of pieces right there."
"I've never seen you so animated," a bemused Mike Goldberg chuckled as Rogan continued to lose his mind over the remaining bits of ice the officials had left behind.

Diego Sanchez vs. Gilbert Melendez
Diego Sanchez has been in some crazy wars over the years, and his bloody, toe-to-toe scrap with Gilbert Melendez at 2013's UFC 166 had Rogan in a state of rapture.
Sanchez knew he had to go for broke in the third round and he did just that, with Melendez matching him blow-for-blow, and Rogan was loving it so much that at one point he just burst into laughter.
"Ha,ha ha, ha! This is amazing!" Rogan exclaimed as Sanchez and Melendez repeatedly slugged each other in the face. "Diego sanchez is a savage!"
So much of a savage in fact that the ref had to momentarily call in a doctor to check on Sanchez, as he was soaked in blood.
"Oh man, this is madness," Rogan enthused as the action got underway again with another wild exchange. "This is madness!"
"Diego Sanchez is one of the most entertaining fighters I have ever seen in my life," Rogan joyfully declared. "As is Gilbert."
By the end of the fight, with the Mexican crowd roaring in approval at the two warrior's gutsy display, Rogan became completely swept up in the moment.
"That's the best fight I've ever seen in my life," Rogan announced. "That's the new greatest fight! Wow! Oh my god!"
Rogan Speechless After Ronda Rousey KO
It's an exceptionally rare occurrence that Joe Rogan is rendered speechless, but that's exactly what happened after he witnessed Holly Hom demolish Ronda Rousey at UFC 193 in 2015.
Rogan had been a big believer in Rousey, singing her praises at every opportunity and inviting her onto his JRE podcast, where he got teary-eyed as he recalled her victory over Bethe Correia.
As such, when Holly battered Rousey from the opening bell to the brutal head kick KO finish early in the second round, he was left completely dumbfounded.
A friend of the commentator, kickboxing star John Wayne Parr, was sitting cage-side and filmed Rogan in the immediate aftermath of the fight, standing with his jaw wide open in disbelief at what he'd just witnessed.

The Lyoto Machida Era
As a tournament-winning Taekwondo black belt himself, Rogan could scarcely contain himself when Karate stylist Lyoto Machida rose to prominence in the UFC.
Machida led the way in proving that Karate could be successfully utilized at the highest level in the Octagon, and when he knocked out Rashad Evans at UFC 98 to become the new light heavyweight champion, Rogan got swept up in the moment and was convinced that 'The Dragon' was both the present and the future of the division.
"Ladies and gentlemen, welcome to 'The Machida Era," a euphoric Rogan declared. "We have now entered a new era in the light-heavyweight division."
Machida was a perfect 15-0 in his MMA career when Rogan made his now-infamous remark.
Since then he's merely gone 7-7, with the so-called 'Machida Era' lasting for just a single fight as he scraped to a controversial decision win against 'Shogun' Rua before being KO'd in the first round in their rematch and then losing two of his next three fights.

The Lance Bass Joke
In addition to being a UFC commentator, Rogan is also a famous X-rated stand-up comedian, and sometimes those two professions momentarily collide headfirst into each other.
Such was the case at UFC 154 in 2012 as Rogan hyped up the co-main event between Martin Kampmann vs. Johny Hendricks on FX.
"Martin Kampmann comes from behind more often than Lance Bass!" Rogan blurted out during the broadcast.
Speaking later on his own 'JRE' podcast, Rogan said he almost instantly regretted the one-liner, which some branded as homophobic (a claim that he strong denied).
"Right after I said that I could see [Mike] Goldberg cringe, lock-up and I was just like, 'yeah, I probably shouldn't have said that," Rogan sheepishly admitted.

The Randy Couture Man Crush
Randy Couture is a true legend of the sport, and in his heyday there was no bigger fan of 'The Natural' than Joe Rogan.
Couture was already a former UFC heavyweight champion when he moved down to light-heavyweight in 2003 and defeated Chuck Liddell to win the interim 205-pound title, then fought Tito Ortiz to unify the belt at UFC 44 a few months later.
Couture won a hard-fought unanimous decision victory that night to end Ortiz's long reign as champion, and Rogan was practically on the verge of tears at the fight's conclusion.
"Unbelievable! Unbelievable! THAT GUY IS MY HERO!" Rogan gushed, going full-on starry-eyed fan boy.
"Unbelievable … 40 years young. Captain America, ladies and gentlemen. That's the baddest dude on the planet! Wow! What an impressive and inspirational athlete!"