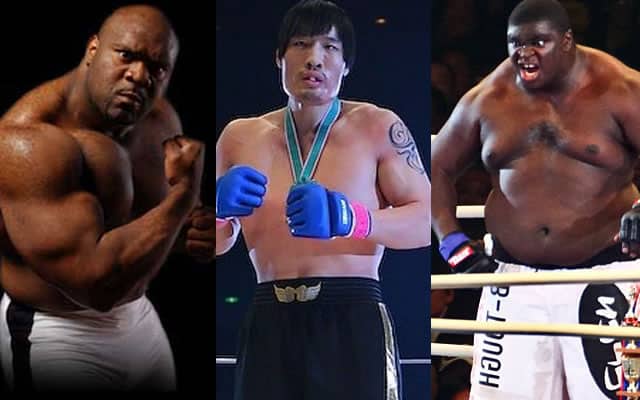 David Vs Goliath is a classic tale of an underdog overcoming seemingly insurmountable odds to win the day, but in the sport of mixed martial arts there's a twist in the tale.
If you've read our previous article, '12 Times David Defeated Goliath', you'll already be well aware of the fact that more often than not it's actually the apparent underdog 'David' that's favored to win, with their superior speed, skill and conditioning proving too much for the lumbering giants to deal with.
That's not always the case though, and in this article we'll take a look at 10 occasions when these veritable man mountains have managed to live up to their fearsome physiques and crushed their smaller opponents underfoot.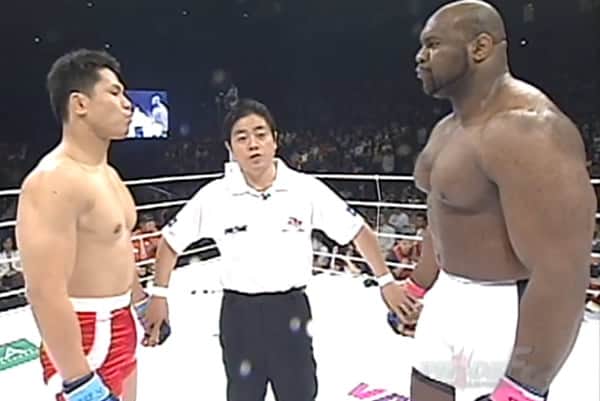 Bob Sapp vs Kiyoshi Tamura
Poor Kiyoshi Tamura, he really got the short end of the stick when he first joined the famous PRIDE organization in 2002.
For his debut Tamura was immediately thrown to the wolves in a middleweight title fight with none other than an in-his-prime Wanderlei Silva, who KO'd him in the second round.
After that you'd think that the PRIDE matchmakers would have given him an easier fight. Instead, just four months later, they matched the 5′ 11" 185-pound middleweight up with the 6′ 5", 330-pound super heavyweight, Bob Sapp.
At this early stage in his career, Sapp wasn't the laughing stock he'd become later, having just made his debut a few months earlier with a knockout victory.
When the fight began the plucky Tamura opened up with a leg kick and right hook, but Sapp just kept charging after him and floored him with a single swat of his right fist.
Sapp then landed a few ground and pound strikes before Tamura's cornermen hastily threw in the towel with just 11 seconds on the clock to spare their man from having his face pancaked into the mat.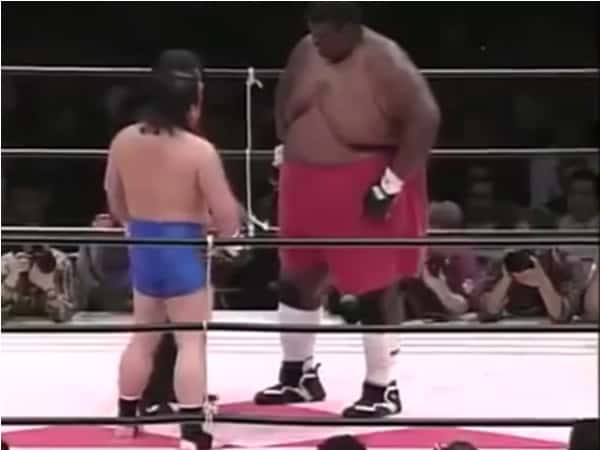 Emmanuel Yarborough vs. Tatsuo Nakano
After a humiliating first round TKO loss to Keith Hackney at UFC 3 in 1994, many people assumed we'd seen the last of the 6′ 8", 600-pound sumo wrestler Emmanuel Yarborough in the sport.
However, four years later the official world's heaviest athlete made his comeback at a Shooto event in Japan, where he'd go up against Tatsuo Nakano, who was almost a foot smaller than him and was giving up the best part of 400 pounds in weight.
Nakano tried to strike with 'Manny' at the start the fight, but Yarborough simply lumbered forward and flopped on top of him near the turnbuckle.
The awkward position led to the fight being reset in the same position further away from the ropes, and upon the restart Yarborough moved to north-south position and laid his enormous belly on top of Nakano's face.
Unable to escape and struggling to breathe, Nakano's nightmare ended 77 seconds into the fight when he tapped out in desperation, with the unlikely submission finish coming by way of 'Smother'.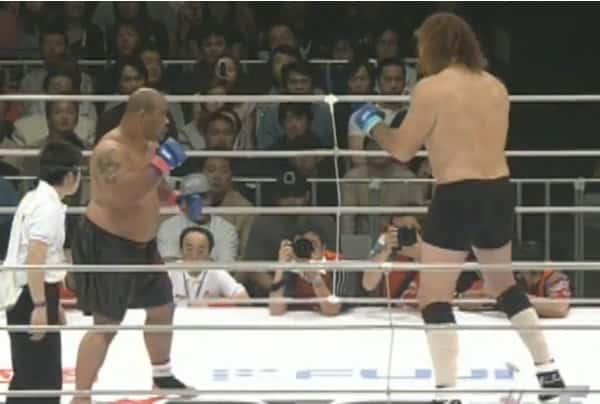 Giant Silva vs. Henry 'Sentoryu' Miller
At 7′ 2" tall and weighing 375 pounds, former Brazilian basketball player Giant Silva truly is one of the most freakishly large specimens ever to compete in the sport of mixed martial arts.
Silva made his MMA debut in the PRIDE organization in late 2003, losing to Heath Herring in the third round by submission, but was intent on getting his first win in the organization just a few months later at the 'Total Elimination 2004' event.
This time Silva would be paired up with the debuting Henry 'Sentoryu' Miller, a former sumo wrestler who least came close to his opponent in terms of weight, tipping the scales at 300 pounds, but at 5′ 9" was giving up an absurd 17" in height.
Next to Silva, 'Sentoryu' looked like a midget, but he started the fight brightly, using his sumo experience to charge forward and press the giant up against the ropes, then successfully took him to the mat.
Silva's size and reach meant that it was actually easier for him to hit Miller than the other way around from full guard even though he was flat on his back.
Miller moved to side control, which nullified that problem, but immediately Silva showed off his submission skills by applying a kimura lock, and despite 'Sentoryu's' best efforts to defend it, the giant's sheer power forced him to tap out to protect his limb.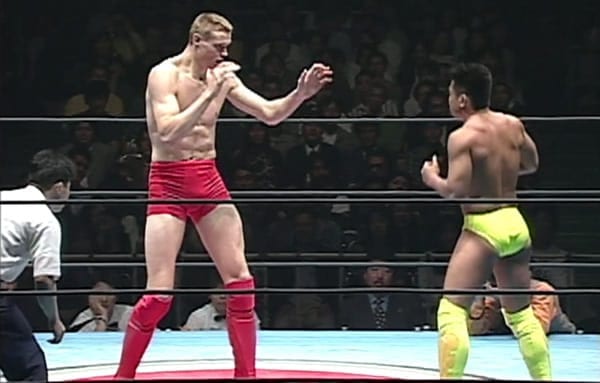 Semmy Schilt vs. Manabu Yamada
Long before he became a kickboxing legend, the 6′ 11", 290-pound Dutchman Semmy Schilt was an MMA fighter, with his debut coming all the way back at Pancrase 5 in May of 1996.
His opponent, Manabu Yamada was vastly more experienced, holding a record of 18-9-2 at the time and had already gone up against a number of star of that era, including the likes of Bas Rutten, Frank Shamrock and his brother Ken Shamrock to name but a few.
However, Yamada had never faced a living giant like Schilt, who towered over him by 14" and outweighed him by the best part of 70 pounds.
Schilt dished out some early punishment in the fight, using his lanky frame to it's full advantage by nailing Yamada with a couple of knee strikes, then a leg kick, followed up by another knee to the head that put the Japanese fighter on his back.
Yamada was still in the fight though and immediately threatened with a leg lock attempt, but Schilt stayed calm, was able to escape and secure top position, then showed he had skill to go with his size by seizing on a fight-ending rear-naked choke when his opponent gave up his back.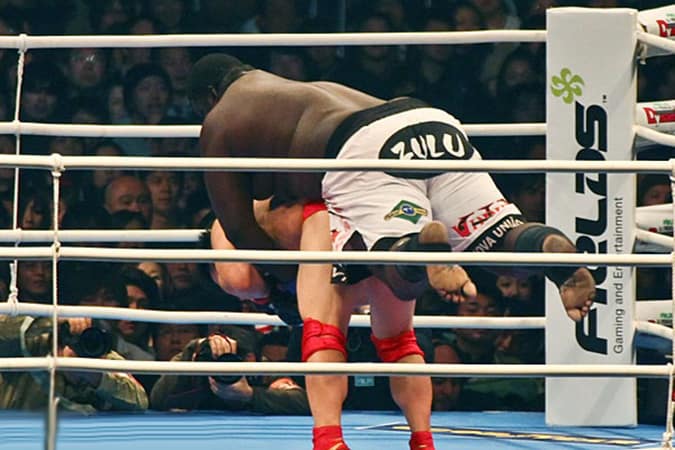 Zuluzinho vs. Minowaman
Japanese fighter Ikuhisa Minowa has rightly been nicknamed 'The Giant Killer' in his native Japan after defeating a number of fighters far bigger than himself over the years, including the likes of Hong Man Choi, Giant Silva and Bob Sapp.
It doesn't always go his way though, as was the case when the 5′ 9", 210lb 'Minowaman' went up against the fearsome 6′ 7″, 407-pound Brazilian known as 'Zuluzinho' at K-1 Premium 2007 Dynamite!!
Minowa looked to tire his larger than life opponent in the opening round by literally jogging circles around him. It's a strategy that's worked with other MMA 'Goliath's', but 'Zulu' wasn't having it and he successfully managed to close the distance in both the first and second rounds, bundling the Japanese star to the mat.
Bearing this larger than life Brazilian's weight gradually wore down Minowa, and to make matters worse, mid-way through the second round 'Zulu' started landing punishing ground and pound.
A sweat-soaked Minowa emerged for the third round looking exhausted, while to his credit, Zuluzinho still had some gas left in the tank and he began landing heavy punches on the feet, and even a knee to the body too.
A takedown followed and then 'Zulu' began to maul 'Minowaman' with a relentless series of thumping right hands, until the Japanese fighter's corner finally put an end to the one-sided beating by throwing in the towel.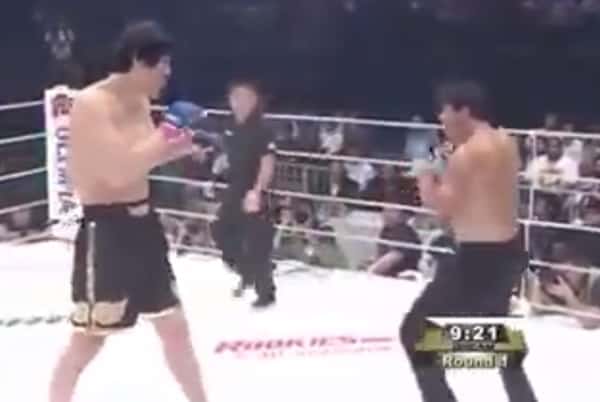 Hong Man Choi vs. Jose Canseco
The Japanese are the undisputed masters of the freak show, and a perfect example of that was when disgraced baseball star Jose Canseco made his MMA debut against the 7′ 2", 330-pound Hong Man Choi, aka 'The Techno Goliath' in the quarter-finals of the openweight 'Superhulk' tournament at DREAM 9 in 2009.
To be fair, Canseco was no small man himself, standing 6- 3" and weighing 240 pounds, but while he'd normally stand out in a crowd, next to Choi he was completely overshadowed.
In a later interview Canseco admitted that his game plan was simply "to stay alive," but he did land an overhand right in the opening seconds of the fight and a few kicks, which Choi barely seemed to notice.
Still, just for a moment Canseco might have been gaining some confidence, until Choi landed flush with a jab that sent him reeling across the ring.
A 'what the hell am I doing here?' look descended on Canseco's face as began to scurry away from his enormous opponent, and soon after Choi was able to force him to the mat and unleashed a thunderous series of strikes that forced a frantic tap from the outfielder with just 77 seconds on the clock.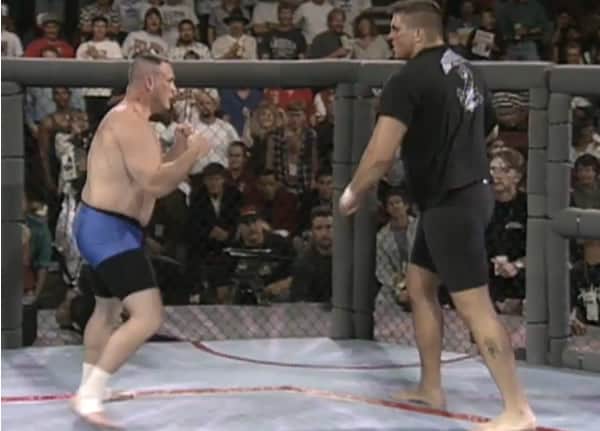 Paul Varelans vss. Cal Worsham
Back at UFC 6 in 1995 the organization still very much in its 'Wild West' period with no weight classes in place and few rules.
As such, coming in on just over a week's notice to make his MMA debut, the 5′ 10", 230lb Cal Worsham was dwarfed by the 6′ 8", 300-pound Paul Varelans.
Despite the size disparity, Worsham met Varelans in the center of the cage and immediately started trading with him toe-to-toe, drawing blood in the process.
The two fighters then clinched up and continued recklessly slugging it out, expending a great deal of energy in the process.
Approaching the one minute mark in the fight Varelans broke out of the clinch and landed a few hard punches that forced Worsham to take a few backwards steps.
From his towering vantage point, Varelans then simply stepped forward and dropped a thunderous elbow strike down on Worsham's head, which sent him face-first down to the canvas, unconscious, for a brutal KO finish.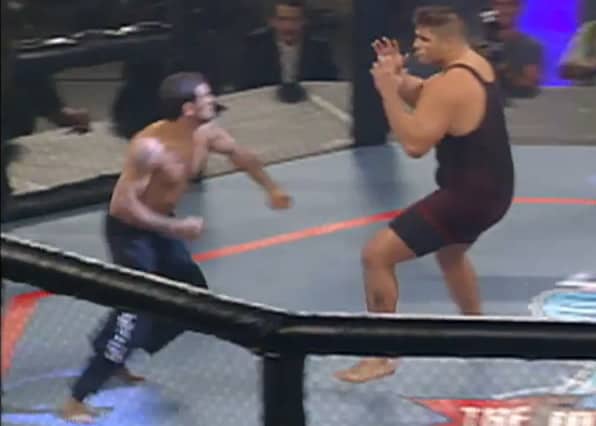 Paul Varelans vs. Mark Hall
After defeating Cal Worsham at UFC 6, 'The Polar Bear' Paul Varelans was quickly stopped by Tank Abbott in the next round of the tournament, but he was back in action again at UFC 7 a couple of months later and again made his way to the semi-finals courtesy of elbow strikes.
In the last four, Varelans was matched up with Mark Hall, who was much smaller, giving up 8 inches in height and no less than 110 pounds in weight.
Hall clearly wasn't fully prepared to deal with a man of Varelans size and when he came charging towards him at the start of the fight he actually opted to leap up in the air to land an ineffectual punch to his face.
Ignoring that, 'The Polar Bear' clinched up and dragged Hall to the mat with a schoolyard headlock.
Hall's day got a whole lot worse when Varelans then easily stepped into full mount and crashed down a couple of his trademark elbows on the top of his skull.
That seemed to break Hall's will and so when Varelans then went for an Americana submission, he started tapping before he'd even fully cinched it up fully, just 64 seconds into the fight.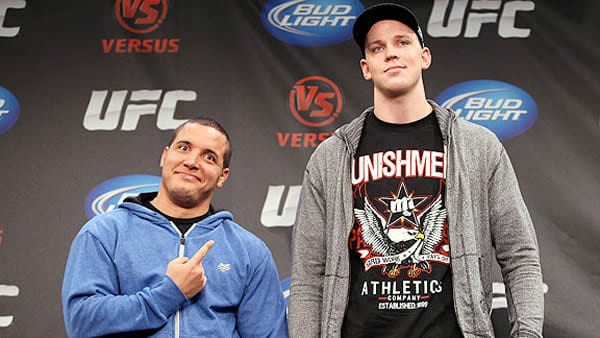 Stefan Struve vs. Pat Barry
While Stefan Struve and Pat Barry were technically in the same weight class for their 'UFC on Versus 6' fight in 2011, in reality they were each at completely opposite ends of the spectrum.
At 7′ tall, 'Skyscraper' is the tallest fighter ever to set foot in the Octagon, while Barry was one of the smallest heavyweights on the roster, measuring up over a foot shorter, while also giving up almost a foot in reach into the bargain.
Despite those enormous physical advantages on the feet, Struve's greatest skills were on the mat, and in the second round he was finally able to get hold of Barry in a standing guillotine choke and took him down with it.
Barry was initially able to survive and was on top in side control, but Struve's long limbs enabled him to lock him into a triangle choke.
Not giving up without a fight, Barry tried to power his way out of the hold, standing and then hoisting the still attached giant above his head, before slamming him back down to the mat, but he couldn't break 'The Skyscraper's' tightly held grip and was forced to tap out.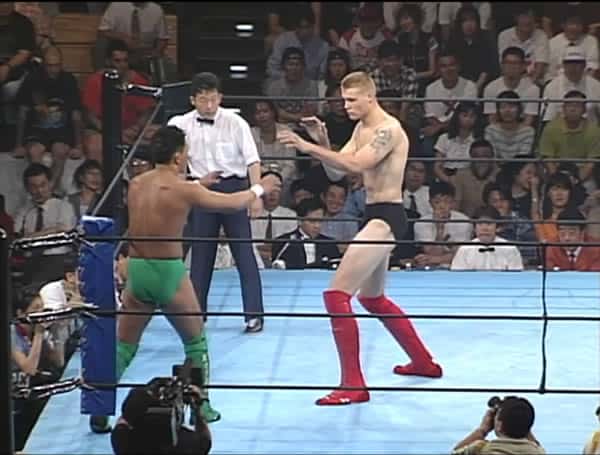 Semmy Schilt vs. Yuki Kondo 4
On three occasions the 6′ 11", 290-pound Dutch behemoth Semmy Schilt tried to defeat 5′ 11", 200-pound Japanese nemesis Yuki Kondo in the Pancrase organization, and on each occasion he lost out by decision.
'If at first you don't succeed: try, try again,' the old saying goes though, and Schilt took that to heart, managing to line up a fourth fight with Kondo at Pancrase: Breakthrough 10 in 1999.
The fourth fight started in curious fashion, with Kondo going for an early takedown against the ropes, only for 'Hightower' to sprawl and end up sliding out of the ring.
Safely reset in the center of the Octagon, they got back to it and as the fight progressed Schilt used his height advantage to easily land hurtful knees to his opponent's face.
Kondo began seeking a takedown with greater urgency, but as he tried for a single leg, Schilt was able to move behind him and partially cinch up a rear-naked choke, then pulled him to the mat with it and locked it up fully to force his rival to tapout.
So, at the fourth attempt Schilt finally emerged victorious, though wisely he avoided going up against Kondo again in his MMA career!