A person will never truly know whether they are cut out to be a fighter until they've actually experienced it firsthand.
For some, that first baptism of fire will leave them in no doubt that they are not cut out for a career in MMA, while others will come away convinced that they have found their calling in the heat of the battle.
In this article, we'll go back to the very beginnings of 10 MMA stars' journies into the sport to uncover memorable stories of their earliest fights, both inside and outside the cage, that helped forge them into the warriors they are today.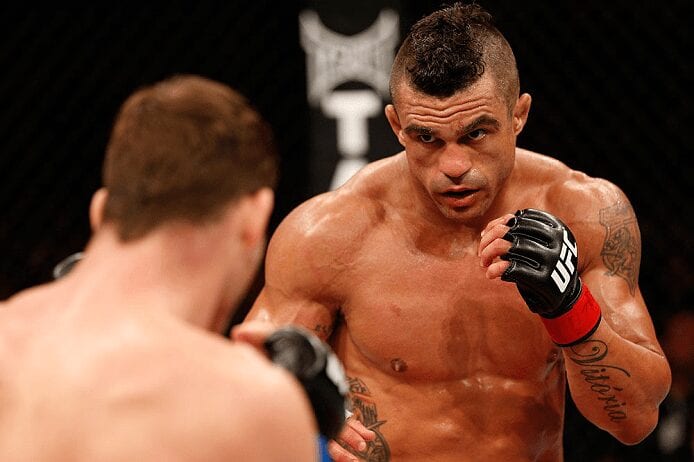 Vitor Belfort
In October 1996, a 19-year-old Vitor Belfort took a plunge straight into the deep end of the MMA pool by agreeing to make his debut against Jon Hess at SuperBrawl 2 in Hawaii.
The teenager had to travel all the way from Brazil for the event despite the fact that he had nothing more than a verbal agreement and would only be paid if he won. Furthermore, the rookie was going up against a giant, as Hess stood 6′ 7" tall, weighed 300 pounds and was coming off an 83-second TKO victory at UFC 5.
As if that wasn't enough, Hess was demanding that there be no rules, including things like groin strikes being legal.
"Tell him he can also go get a knife," Belfort says his coach Carlson Gracie defiantly told SuperBrawl. "He can go get a gun. We'll still fight him."
Gracie's confidence in his young protégé proved to be well-founded as 'The Phenom' would knock out Hess in just 12 seconds to instantly put himself on the MMA map.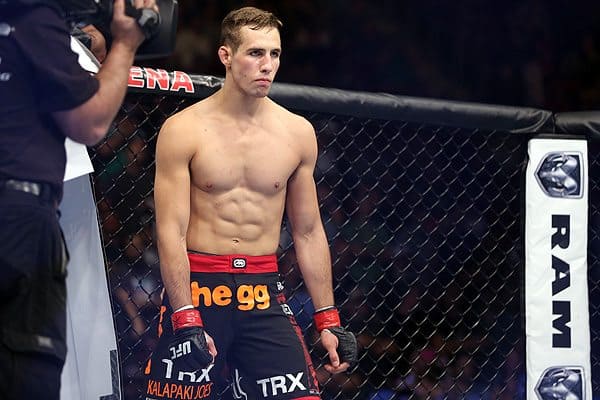 Rory MacDonald
Rory MacDonald took to the sport like a duck to water when he began training at an MMA gym at 14 years old.
So much so that in 2005, a few months after he turned 16, he made his professional debut against fellow Canadian Terry Thiara in the Extreme Fighting Challenge promotion, although he had to get his parents to sign a waiver first in order to compete.
"In my brain, I thought I was a big man," MacDonald told the Montreal Gazette years later. "I took myself pretty seriously. I was really excited. I wanted to explore what it felt like to get in there. I wanted to start a very successful career."
However, as the fight drew closer, the reality of what he was doing sunk in and the young fighter began to feel far more nervous than he had for schoolyard scraps or sparring sessions in the gym.
"I didn't really know how to deal with the build-up to the fight – the waiting, the thinking, the walking to the cage and that whole process," MacDonald explained to FightersOnlyMag, adding that, "My legs were shaky as hell in that first fight, and I really didn't know how to control my body or mind."
Nevertheless, MacDonald overcame his internal struggles and proved he belonged in the cage by submitting Thiara with a rear-naked choke in the first round.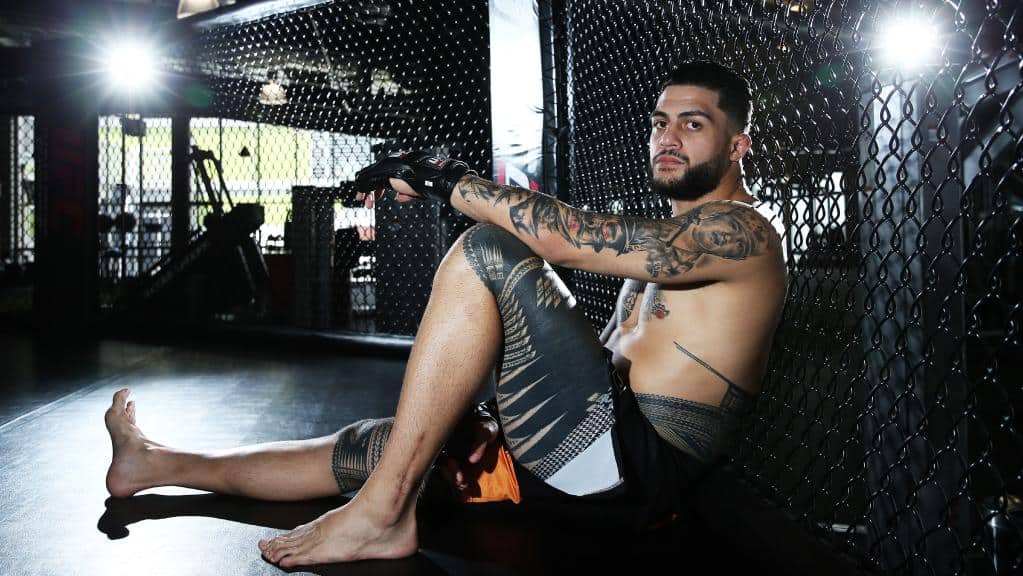 Tyson Pedro
UFC light heavyweight contender Tyson Pedro's father John was an MMA pioneer in Australia, but when his son told him he wanted to pass up on going to university in favor of becoming a fighter he was deeply concerned due to there being little money and few opportunities for fighters from Down Under at that time.
As such, John Pedro decided upon a 'tough love' approach and told Tyson he'd have to fight him first to prove that he had what it takes.
The two laced up gloves and John proceeded to give his son a remarkably brutal introduction to the sport, to the extent that he knocked out two of his front teeth, broke his nose, and left him all but knocked out on the mat.
When the young Pedro tried to leave the ring his father told him he still had 90 seconds left, and to his credit he found the courage to return and started throwing heavy leather for the remainder of the round.
"[Afterwards] I grabbed him, looked him in the face and said, 'You're going to be all right. You're going to be a fighter," John Pedro told ESPN of his words to his son following that extreme initiation.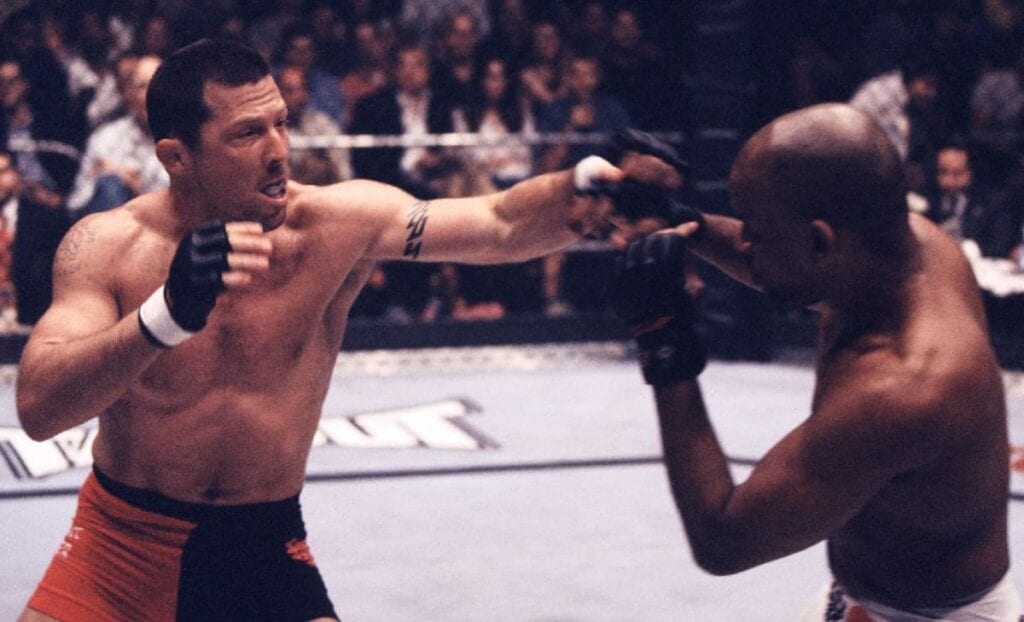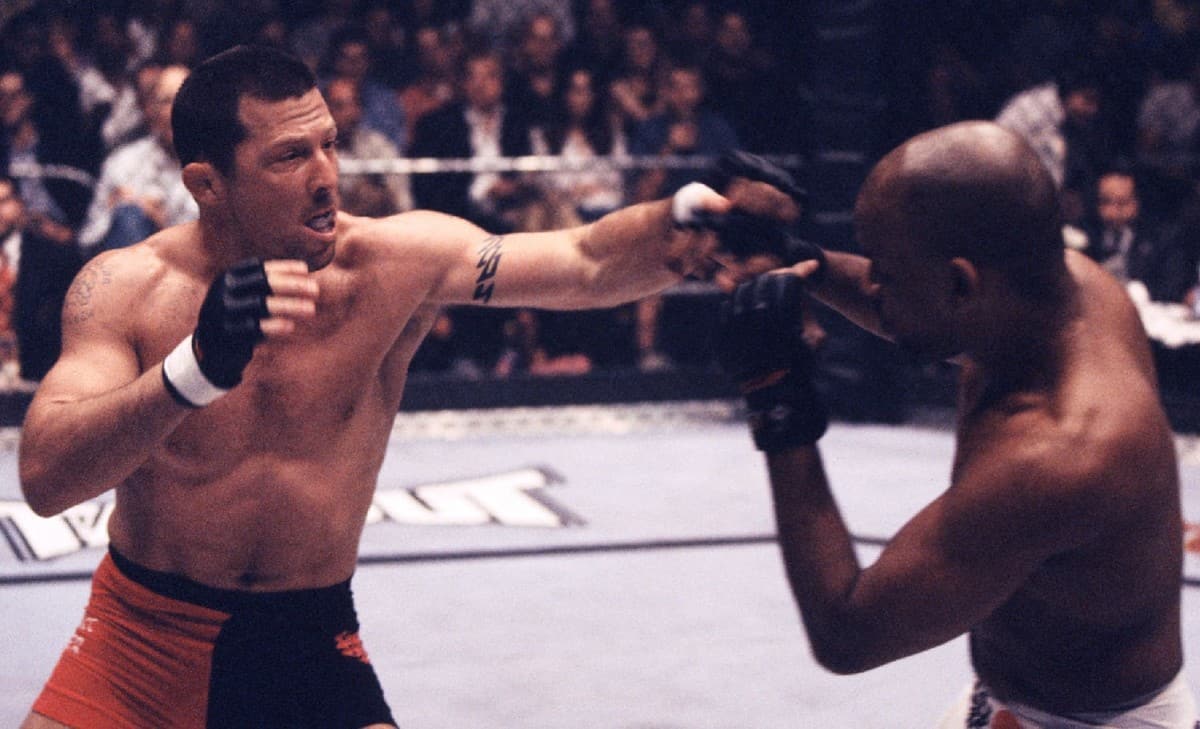 Pat Miletich
Back in 1995, MMA was still in its fledgling stages and there was little money to be made from it, but future champion Pat Miletich had his heart set on making it to the UFC.
Though he had no prior MMA experience, Miletich did have a background in wrestling and had dabbled in a few other martial arts, and so he signed up to make his debut at a one-night, no-holds-barred, winner-takes-all tournament called 'Battle Of The Masters.'
It was a risky move, with the tournament having no weight limits, no time limit, no rules, and worse still, Miletich was going to be facing Yasunori Matsumoto, the most experienced fighter in the eight-man lineup, in his debut.
The fight proved to be an eye-opener for Miletich as he managed to catch Matsumoto in an armbar, but he refused to tap, resulting in his elbow being dislocated.
Remarkably, Matsumoto didn't quit and the fight continued.
"He escaped and started choking me with the arm I just broke. That's when I went, okay, now I know what MMA is all about!" Miletich told MMAFighting.com.
Matsumoto did eventually fade though, and Miletich emerged with a rear-naked choke victory then submitted two other opponents to win the tournament and claim the paltry $5,000 prize money.
Frankie Edgar
Edgar may have been an accomplished wrestler, but he'd only been training in mixed martial arts for a matter of weeks when his coach suggested that he fight at an upcoming 'Underground Combat League' event in New York City.
This was back in 2005 when MMA was still banned in New York, so it was going to be an illegal show with no rules, weigh-ins, time limit, or pre-and-post-fight medical care.
What Edgar didn't know was that the event's promoter was bringing him as fresh meat to feed to their up-and-coming prospect Eric Uresk, who was looking to turn pro.
Edgar still recalls the raucous atmosphere that night at a gym in the Bronx, telling newsday.com that there were "people literally drinking 40s in the crowd, standing on the ring."
Edgar suffered a broken orbital bone early in the fight courtesy of a knee but still managed to produce a big upset by using his wrestling to get Uresk to the mat and beat him up, even landing a headbutt on his way to earning a first-round TKO victory.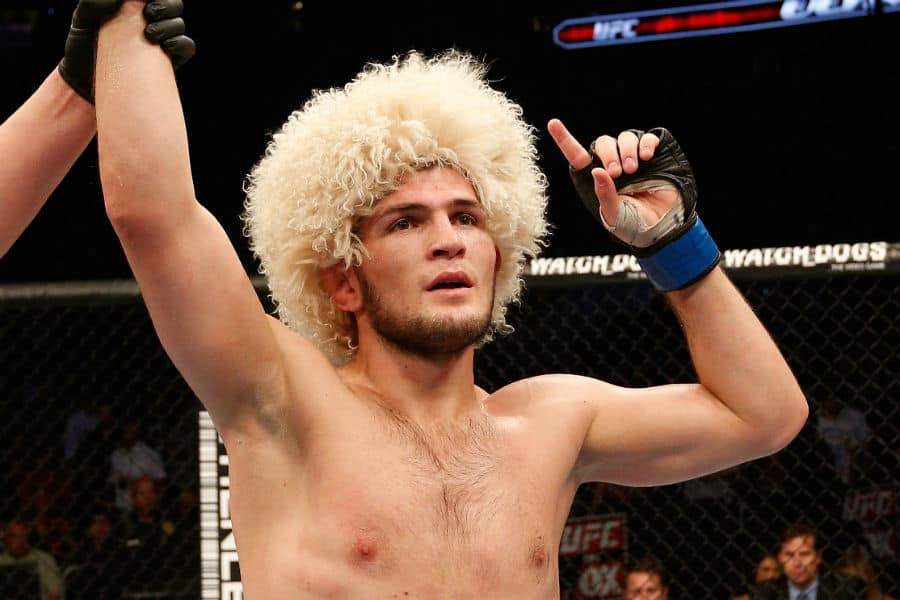 Khabib Nurmagomedov
When it comes to memorable 'first fight' stories it's hard to top that of dominant UFC lightweight title contender Khabib Nurmagomedov.
When he was just nine years old, Khabib's father Abdulmanap decided to test his son by having him wrestle with a real-life bear in Dagestan.
Now, admittedly it was a small bear on the grand scheme of things, but it was powerful and had natural technique as it successfully took down the tracksuited Khabib, though he too showcased his grappling skills and fearlessness by later pinning the animal to the ground.
It almost sounds too bizarre to be true, but the whole thing was recorded on video and years later went viral on YouTube.
Nurmagomedov later confirmed he was the boy in the footage, while his father later explained why he'd put his son in that position.
"First — a father always wants to check on what his son is capable of," Abdulmanap matter-of-factly told ToFight.Ru. "It is a pity that there were no fights more interesting when he was younger. In the end, this was a test of character more than exercise."
Nurmagomedov has since suggested to TMZ that he's graduated to fighting another of the animal kingdom's most dangerous predators.
"When beginning my training camp for Michael Johnson, I had a couple rounds with lion in the Caucasus, South Russia," Nurmagomedov claimed.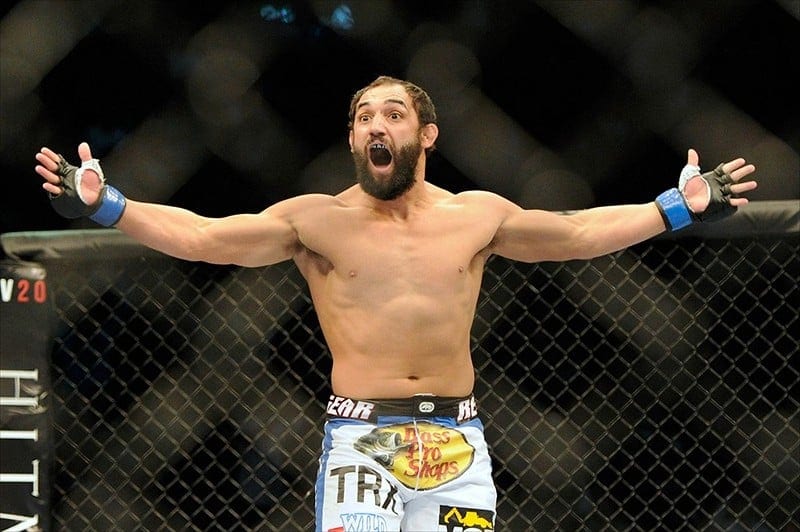 Johny Hendricks
Hendricks was a standout wrestler at Oklahoma State, but he quickly found out that he had a lot to learn when he showed up at the Xtreme Couture gym in Las Vegas looking to become an MMA fighter.
By his own admission Hendricks had never sparred before, or even put on boxing gloves for that matter, yet for his first-ever sparring session, 'Bigg Rigg' found himself being paired up with hard-hitting striker Phil Baroni, who had no intention of taking it easy on the newcomer.
The fight didn't last long.
Hendricks naively attempted to swing for the fences against 'The New York Badass,' who quickly responded by blasting him with a three-punch combination that knocked him out cold.
Hendricks was rocked enough that later that day he introduced himself to Randy Couture, and then a few minutes later did so again as if it was the first time they had met.
That night Hendricks' dad convinced him that he should go home to Oklahoma and become a wrestling coach, but after sleeping on it, 'Bigg Rigg' woke up still determined to become a fighter and returned to the gym.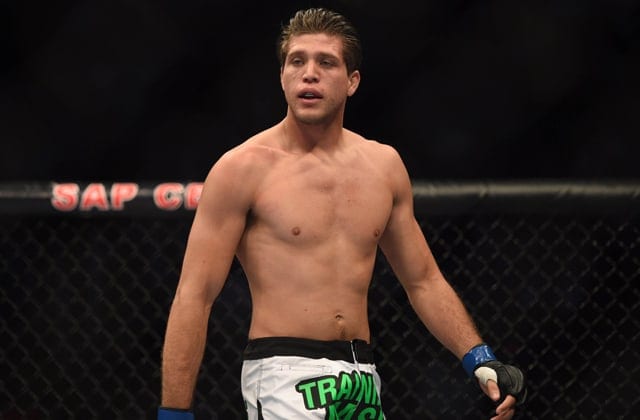 Brian Ortega
One of 13 children living in a tough neighborhood in San Pedro, California, Brian Ortega was no stranger to getting into fights as a kid.
He was good at it, too, as his father put him in kickboxing classes when he was just four years old, but one day when he was 13, he came out on the wrong end of a beating when an 18-year-old managed to put him in a headlock and wrestled him to the ground repeatedly.
That prompted Ortega to start taking Brazilian jiu-jitsu classes, and he quickly proved to be a natural.
Then at just 15 years old, Ortega heard about an upcoming underground MMA event in his local area and convinced his dad to lie about his age so that he could compete.
This was an illegal show, so there were no gloves and no weight limits, meaning the 124-pound Ortega found himself going up against an 18-year-old who weighed 160 pounds.
On paper, it looked like a bad match-up but Ortega had the skills to take care of himself and managed to submit his opponent with a triangle choke in the second round.
"Back then, I didn't even know what the sport was," Ortega told FOX Sports late last year.
"All of a sudden I'm in a cage with ring girls and this and that … I still didn't know what MMA is. But I liked it. Whatever this is, I like it."
Francis Ngannou
Fernand Lopez, the head coach at the MMA Factory in Paris, didn't know quite what to expect when a friend sent Francis Ngannou to see him at his gym.
He'd been told that Ngannou wanted to become a fighter, but couldn't afford a gym membership. However, it was only when Lopez tried to give him some basic boxing gear that he realized just how bad things were for him as Ngannou asked if he could keep his things at the gym since he was homeless.
By sheer coincidence, a camera crew was filming in the gym that day and captured glimpses of Ngannou's first-ever sparring session against former Bellator light heavyweight champion Christian M'Pumbu, and Lopez's stunned reaction to what he was seeing.
"This guy," Lopez said, pointing at Ngannou, who was holding his own despite his raw technique. "He keeps training and in two years, he will be world champion."
Just three months later Ngannou would make his MMA debut, and despite his rudimentary skills, he didn't just rely on his natural punching power and instead emerged with a submission victory.
"He didn't even know what he was doing," Lopez recalled to MMAFighting.com with a chuckle. "He just went on top of the guy and grabbed hold of his arm. That's as far as we had gotten with him at that stage."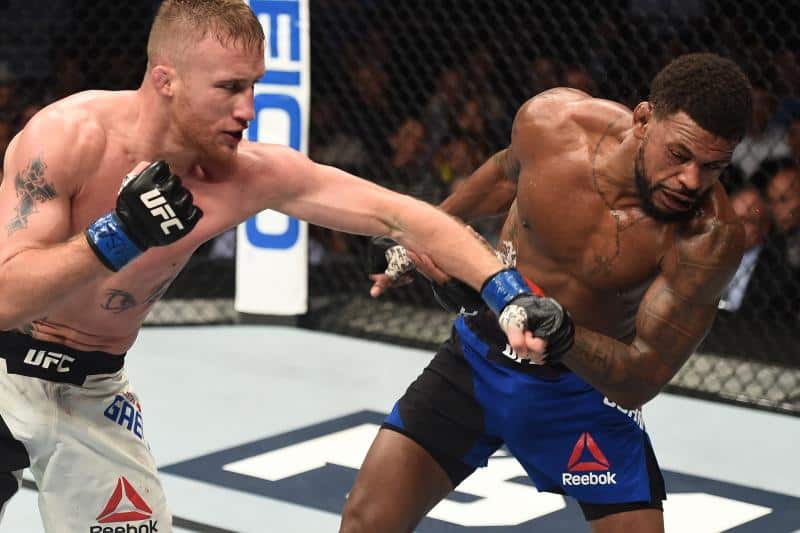 Justin Gaethje
Justin Gaethje was so eager to become a fighter that his wrestling coach used that to his advantage, promising to arrange an amateur MMA fight for the youngster at the end of the wrestling season if he made a concerted effort to raise his failing grades in school.
Gaethje did just that and that summer he found himself making his amateur MMA debut at an open-air event in a hastily assembled boxing ring.
"I'd never been in a fight," Gaethje recalled. "Never trained, never sparred, never hit a pad. Mentally I was ready. Physically and technically wise, I wasn't ready."
Gaethje had his wrestling to fall back on though and as soon as the opening bell sounded he double-legged his opponent and then slammed him head-first onto the canvas, leaving him dazed.
Back on the feet again he went for another big slam and this time the impact knocked his opponent out cold.
"Right away I was like, 'Oh my god, he's dead!' It was bad," Gaethje claims, but thankfully his opponent was okay and the fight left 'The Highlight' convinced that his future lay in fighting.