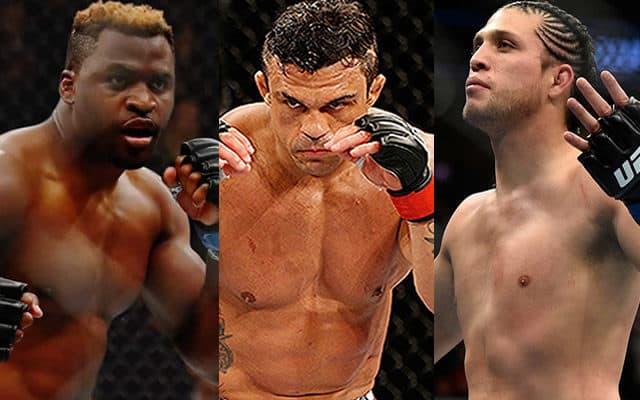 A person will never truly know whether they are cut out to be a fighter until they've actually experienced it firsthand.
For some, that first baptism of fire will leave them in no doubt that they are not cut out for a career in MMA, while others will come away convinced that they have found their calling in the heat of the battle.
In this article, we'll go back to the very beginnings of 10 MMA stars' journies into the sport to uncover memorable stories of their earliest fights, both inside and outside the cage, that helped forge them into the warriors they are today.
Vitor Belfort
In October 1996, a 19-year-old Vitor Belfort took a plunge straight into the deep end of the MMA pool by agreeing to make his debut against Jon Hess at SuperBrawl 2 in Hawaii.
The teenager had to travel all the way from Brazil for the event despite the fact that he had nothing more than a verbal agreement and would only be paid if he won. Furthermore, the rookie was going up against a giant, as Hess stood 6′ 7" tall, weighed 300 pounds and was coming off an 83-second TKO victory at UFC 5.
As if that wasn't enough, Hess was demanding that there be no rules, including things like groin strikes being legal.
"Tell him he can also go get a knife," Belfort says his coach Carlson Gracie defiantly told SuperBrawl. "He can go get a gun. We'll still fight him."
Gracie's confidence in his young protégé proved to be well-founded as 'The Phenom' would knock out Hess in just 12 seconds to instantly put himself on the MMA map.
If you enjoyed this story, please share it on social media!