Speculation about a money-spinning mega fight between MMA superstar Conor McGregor and boxing legend Floyd Mayweather Jr. has only been intensifying in early 2017, but it remains to be seen whether the sides will ever be able to jump over all the hurdles necessary to make this dream match-up a reality.
Even if a deal could be reached, it's already clear there's no chance Mayweather would risk his undefeated 49-0 boxing record by agreeing to fight 'The Notorious' under MMA rules, but there are examples of other boxing champions in the past who threw caution to the wind and put their reputations on the line by testing themselves in the cage.
Of course, that's led to some well known boxing stars being handed humbling defeats over the years, and that's no great surprise given that MMA is such a multi-faceted sport with kicks, knees, and elbows bringing a completely different dynamic to striking, while grappling disciplines like wrestling and jiu-jitsu are the stuff of nightmares for the untrained.
That being said, as you'll read in the pages to follow, there are also a few boxing champions who have successfully managed to compete in the sport of MMA, whether it's due to having had previous martial arts experience in the past, having benefited from favorable match-ups, or simply being in the right place at the right time to land a fight-ending punch!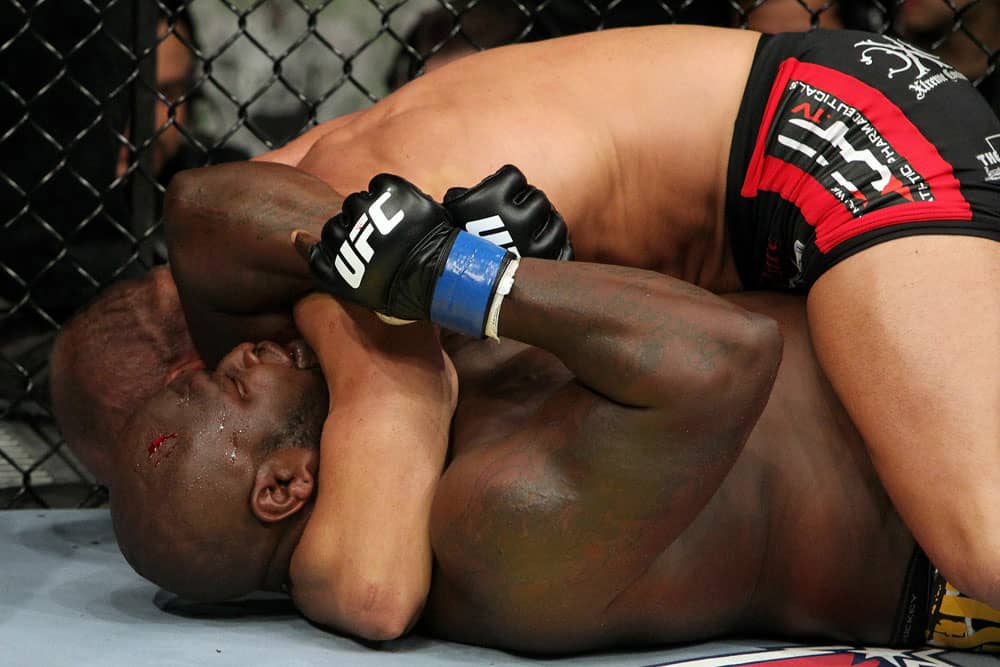 James Toney
A three-division champion who held IBF titles at middleweight, super-middleweight and cruiserweight, James Toney is considered to be one of the best boxers of his generation.
In fact, famed boxing coach Freddie Roach once stated that Toney had the most natural ability of anybody he'd ever trained, and with more discipline could have been the best of all-time.
Toney has always been known for being outspoken and supremely confident, two attributes which led to him talking Dana White into giving him a fight in the UFC back in 2010 despite him being 42 years old and having no prior MMA experience at the time.
White paired Toney up against 47 year-old UFC Hall of Famer Randy Couture, who was only too eager to disprove 'Lights Out's' pre-fight boasts that MMA fighters were "inferior" and that he'd become a UFC world champion.
Within seconds of the fight commencing at UFC 118, Couture had effortlessly managed to take the boxer down and from there, he toyed with him for several minutes like he was a small child before forcing him to tap out due to an arm triangle choke.
Toney earned $500,000 for what would prove to be his only MMA fight, though the IRS confiscated his fight purse that same night due to the fact he was under investigation by them at the time.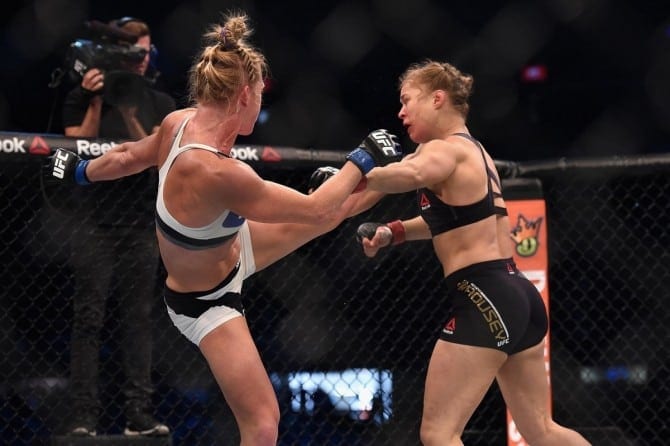 Holly Holm
Holly Holm initially became a star during an 11-year boxing career that saw her win titles in three different weight classes, making 18 defenses of those belts.
Not content just to be known as one of the best female boxers of all-time, Holm sought to use her teenage background in amateur kickboxing as a gateway to mixed martial arts in 2011.
Given that her longtime coach Mike Winkeljohn already co-owned the famous 'Jackson Wink MMA Academy' it proved to be a smooth transition that was helped along the way by the fact that Holm was a natural athlete.
Despite her boxing credentials, the start of Holm's MMA career was most notable for the fact that she stopped five of her first seven opponents with leg, body, or head kicks as her years of kickboxing paid dividends.
That paved the way for Holm to sign with the UFC in early 2015, and after two decision victories inside the Octagon, she was given the fight everyone had been talking about against the dominant bantamweight women's champion at the time, Ronda Rousey.
At UFC 193 in November of 2105, with over 56,000 fans in attendance at the Etihad Stadium in Melbourne, Australia, Holm shocked the world by handing the unbeaten superstar a one-sided beatdown and KO'ing her with a head kick early in the second round.
After that Holm was propelled to a level of fame she'd never experienced before, but she's since lost two fights in a row and is now looking to get back on track by fighting for the new UFC woman's featherweight title in 2017.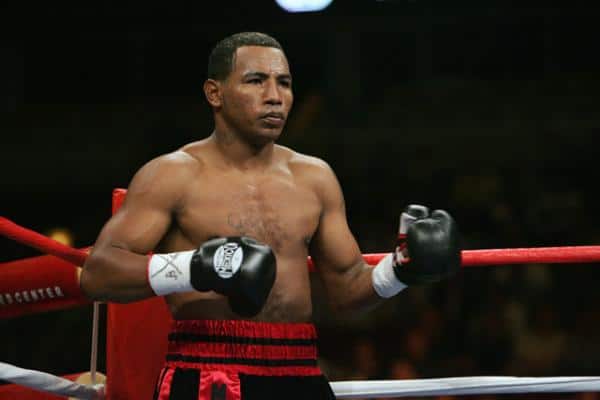 Ricardo Mayorga
One of the most volatile fighters ever to step into the boxing ring, former two-weight WBA and WBC champion Ricardo Mayorga was convinced that he had what it took to beat MMA fighters at their own game.
In 2010 he decided to prove it by accepting a fight with former UFC veteran Din Thomas at Shine Fights: Worlds Collide, and quickly lived up to his 'bad boy' image by trying to brawl with his opponent during a press conference staredown.
That fight would be nixed at the last minute due to boxing promoter Don King filing an injunction since Mayorga still had an exclusive contract with him.
Three years later, the now retired Mayorga finally got his MMA career underway in typically controversial style against an unheralded up-and-comer, Wesley Tiffer at Omega MMA: Battle Of The Americas in his native Nicaragua.
An out-of-shape Mayorga weighed in at 176 pounds for what was originally supposed to be a 155-pound match-up and found himself being repeatedly taken down and controlled for most of the opening 10 minutes of the bout, but he then landed an illegal knee to his opponent's spine while caught in a submission hold, which left the fighter unable to continue.
Mayorga would be declared as the TKO winner at the time, but the decision was later amended to a no contest due to the illegal blow.
Undeterred, Mayorga would go on to fight a further three times in 2013, losing twice by submission and once by decision, before deciding that MMA wasn't for him after all.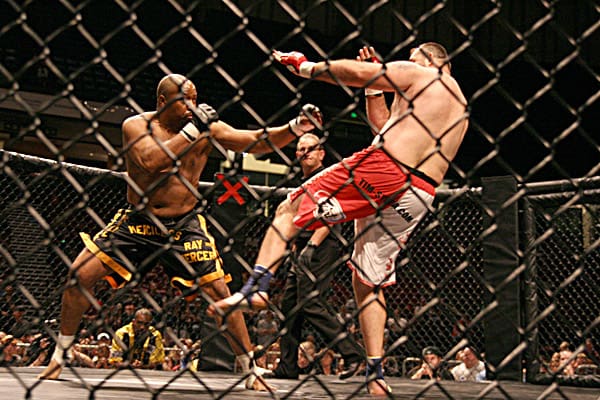 Ray Mercer
Taking on your first professional MMA bout at the ripe old age of 45 might seem like a bad idea, but for Ray Mercer it seemed perfectly reasonable.
After all, he'd started his boxing career late too, not turning pro until the age of 28 after winning gold at the Olympic Games in 1988. He'd go on to become the WBO heavyweight champion in 1991 and compiled an overall 36-7-1 career record in the sport, including 26 wins by KO.
Mercer's first test in the MMA cage came in an 'exhibition bout' against backyard brawling YouTube star Kimbo Slice, who was also making his debut that night at Cage Fury Fighting Championships 5 in June of 2007.
Based on his YouTube fights, Mercer had expected a stand-up war with Slice, but he found himself being taken down within seconds of the fight starting, and just 72 seconds into the fight he was tapping out to a guillotine choke.
A couple of years later, Mercer agreed to a boxing fight in a cage with former UFC heavyweight champion Tim Sylvia at Adrenaline MMA 3, but regulatory red tape led to the fight being switched to an MMA bout on short notice.
That should have been a major disadvantage for Mercer, but despite going up against a vastly more experienced adversary, 'Merciless' would humiliate a portly, super-heavyweight version of Sylvia by brutally knocking him out with a single punch in just 9 seconds.
Sylvia's career never fully recovered after that and Mercer wisely decided to call time on his own MMA career after that infamous victory.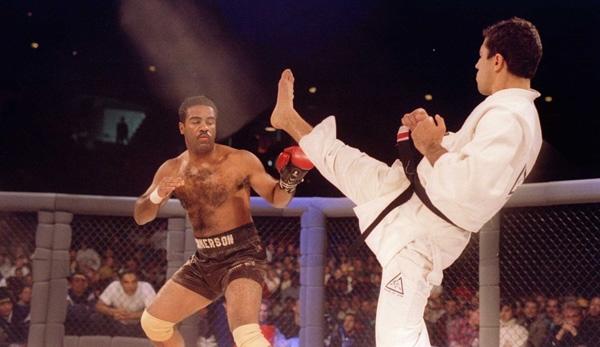 Art Jimmerson
A former IBC Americas heavyweight champion with a 29-5 boxing record at the time, Art Jimmerson had no idea what he was getting himself into when he signed up to fight at the first-ever UFC event in Denver, Colorado, in November of 1993.
The UFC's original owners had been desperate to get a respected boxer onboard for their first tournament, and with Jimmerson being a top 10-ranked fighter riding a 15-fight winning streak at the time, he fit the bill. So despite his initial reluctance, the promise of a sizable fee was enough to convince him to participate in the mysterious 'No-Holds Barred' show.
Jimmerson was paired up against a much smaller opponent named Royce Gracie in the quarterfinals, and initially, the boxer was confident his punching power was going to be the deciding factor, oblivious to his opponent's deadly Brazilian jiu-jitsu skillset.
Jimmerson infamously stepped into the Octagon wearing only one boxing glove and looked like a fish out of water as he become Gracie's first victim of the night, panicking after his opponent easily took him down and mounted him, leading to the tap-out in two minutes, 18 seconds before the Brazilian even had a chance to apply a submission.
Jimmerson became something of a laughingstock at the time for his performance and never competed in MMA again, while his boxing career also derailed afterwards, leading to a series of losses before finally retiring in 2002.
There was a silver lining for Jimmerson however, as his place in history as a UFC 1 competitor led to him being offered a job as the head boxing coach at the official UFC gym in Torrance, California.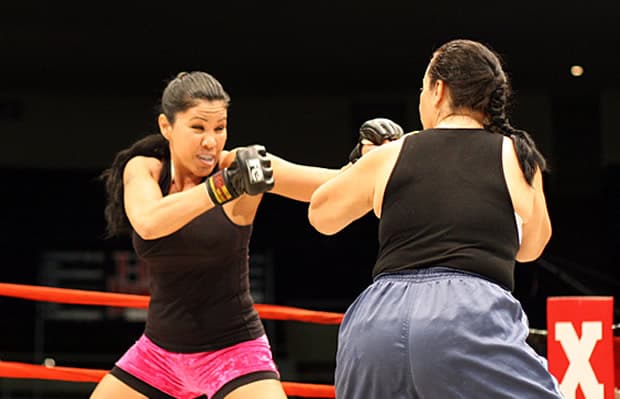 Mia St. John
One of the most famous female boxers of all time, Mia St. John has fought no less than 65 times in the ring over the past 19 years, winning the WBC super welterweight title as well as the IBA and IFBA lightweight belts along the way.
St. John's interest in combat sports began with Taekwondo, where she earned her black belt while at California State University and compiled a 27-1 record before moving on to boxing.
Over a decade later in 2008, St. John felt the urge to go back to her martial arts roots and took a fight with MMA newcomer Rhonda Gallegos at X-1 Events: Champions in Hawaii.
It would quickly become apparent that the debuting Gallegos was completely out of her depth as St. John landed a few leg kicks to set up a single right hand that KO'd her opponent with just 44 seconds on the clock.
St. John wouldn't compete in MMA again, though despite now being 49 years old, she's still fighting in the boxing ring.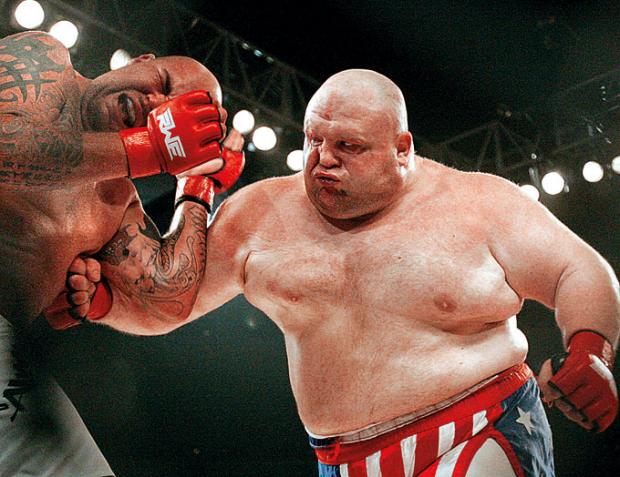 Eric Esch
Eric Esch, better known by his infamous nickname 'Butterbean,' fought in the squared circle for 19 years, winning both the WAA heavyweight and IBF super heavyweight titles during a boxing career that spanned over 90 fights.
Weighing over 400 pounds, yet standing just 5′ 11" tall, Esch was an instantly recognizable fighter who attracted the attention of the Japanese K-1 promotion in 2003, and in addition to offering him kickboxing bouts, they also lured him into competing in MMA as well.
'Butterbean's' MMA debut came at K-1 Premium 2003 Dynamite!! In a 'David vs. Goliath' style fight with Japanese legend Genki Sudo, a 5′ 9" lightweight.
Despite the enormous size disadvantage, Sudo was able to exploit Esch's lack of skill on the ground to tap him out early in the second round due to a heel hook submission.
Despite that early disappointment, 'Butterbean' would go on to compete 28 times in MMA and compiled a winning record of 17-10-1, albeit mostly against less-than-stellar opposition, with some of his biggest wins coming against the likes of Wesley 'Cabbage' Correia, James Thompson, and 'Zuluzinho'.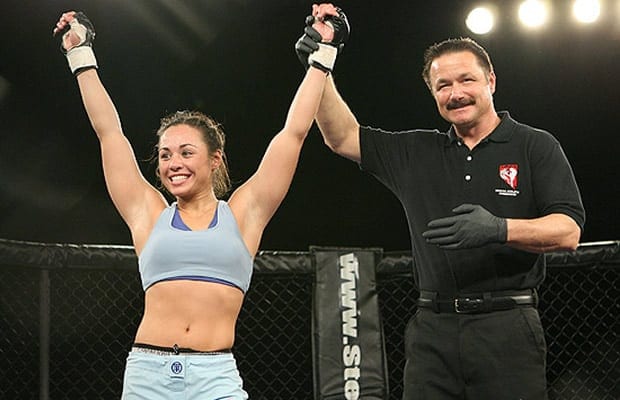 Elena Reid
Going by the nickname 'Babydoll', Elena Reid won both the WIBA and IFBA flyweight titles during a 10-year career that would earn her a place in the woman's boxing hall of fame.
There were others strings to Reid's bow, however, as she had trained in both karate and kickboxing in her youth and had won an Arizona state kickboxing title at the age of 17.
In 2007, seven years into her boxing career, Reid undertook her first MMA bout after spending time training at the Xtreme Couture gym and made an immediate impact with a second-round TKO win over the 0-2 Tammie Schneider.
It only took 53 seconds for 'Babydoll' to TKO her next unheralded opponent with a liver shot, but then came a big step up in competition against future UFC fighter Michelle 'The Karatie Hottie' Waterson in 2009.
Reid proved herself that night by dominating Waterson with superior boxing en-route to a second round TKO finish, and later that same year she'd rack up her fourth win in a row with a win over Japanese journeywoman Masako Yoshida.
Unfortunately Reid's unbeaten run came to an end in April of 2010 when she suffered a third-round TKO loss to Catia Vitoria.
It later emerged that she'd suffered serious knee injuries while training for the fight that would ultimately lead to her retirement from combat sports a few months later, missing out on an offer to compete in an upcoming Bellator tournament.
Matt Skelton
A British and Commonwealth heavyweight champion who also held the European title from 2004-2006, the UK's Matt Skelton made a considerable impact in the boxing ring during his 12-year career.
That being said, Skelton actually had an extensive kickboxing career before that, bowing out with a very respectable 63-8 record in the sport in 2002, just a month before his first pro boxing fight.
In 2001 he also engaged in what would prove to be his one and only MMA fight against Matt Erikson at PRIDE 17.
Stylistically it was a bad match-up for Skelton, going up against a far more experienced mixed martial artist with a strong grappling background, and the striker found himself being taken down and choked into submission less than two minutes after the bout began.

Muhammad Ali
Technically, all-time boxing great and three-time lineal heavyweight champion Muhammad Ali never fought in an MMA bout, but his infamous match with Japanese pro-wrestling star Antonio Inoki is believed to have helped inspire the birth of the sport many years later.
The 33-year-old Ali was already a long-established global superstar when he was lured into an "anything goes" fight with Inoki on June 26, 1976 in Tokyo, thanks to a $6 million payday.
As the fight drew closer, Ali's camp started pushing for a drastically different ruleset than the boxer vs. wrestler match-up everyone was expecting, leading to Inoki being prevented from throwing or taking Ali down and also only being allowed to kick him if he had at least one knee on the mat.
With the world watching this so-called 'Fight Of The Century', the heavily restricted bout proved to be a farcical affair, with Inoki taking advantage of the bizarre rule set to continually flop to his back and land kicks to Ali's legs.
Completely perplexed by this strategy, Ali only threw six punches during the entire 15-round fight, yet he still emerged with a draw due to Inoki conveniently being deducted points for fouls during the contest.
The fight was widely considered to have been an embarrassment for all involved, but nonetheless it had a lasting legacy as it directly helped inspire the formation of Japanese proto-MMA promotion Pancrase in 1993, just months before the launch of the UFC.