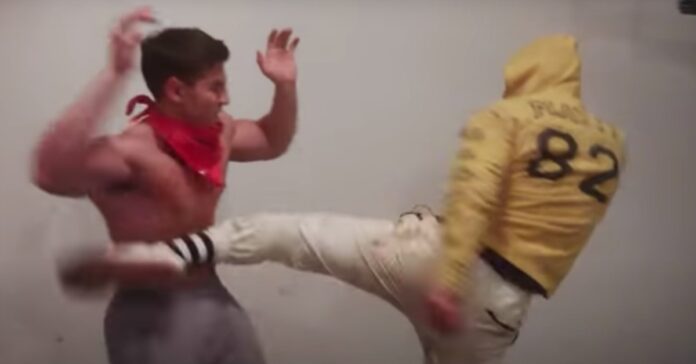 YouTuber, Houston Jones has claimed he suffered "crippling pain" after he took a series of body round kicks from former UFC and Strikeforce champion, Luke Rockhold. 

Jones and Rockhold had agreed to film a video for the former's YouTube channel on-site in Utah, where he agreed to take a series of body kicks from the UFC middleweight contender, in order to show, or attempt at least his durability against a professional mixed martial artist.
Ex-UFC champion Luke Rockhold drops Houston Jones with a series of liver kicks

In the video, which has been posted across social media, a shirtless Jones braces himself for a body kick from Rockhold — a renowned kicker, before he dropped after the former middleweight champion lands flush to his liver, resulting in a series of knockdowns. 
"Once you touch the liver, once it's hurt, it does not take much to get through it and penetrate it," Luke Rockhold said during the video.  "You know you've got him hurt in the liver so you can see the guy crumble and break and all you've got to do is touch it (the liver)."

Jones, who has also been previously shot by a taser operated by former UFC light heavyweight kingpin, Chuck Liddell, compared that experience to his latest interaction with Rockhold.

"I'd rather be tasered," Houston Jones said following his video with Luke Rockhold. "It's a sharp pain that makes you keel over and wonder why this happened and what decisions you chose to get to this moment. You ask yourself, 'Where did I go wrong, and/or right?' Needless to say, I don't recommend it but that's why I'm here though, you're welcome."

For former middleweight champion, Rockhold, the Californian veteran was slated to make his Octagon and divisional comeback at UFC 268 last month at Madison Square Garden against the streaking, Sean Strickland, however, a back injury forced the Santa Cruz native from the bout. 

In his most recent UFC walk, Rockhold made his light heavyweight division debut at UFC 239 in July of 2019, suffering a broken jaw courtesy of a second round knockout loss to former division champion, Jan Blachowicz. Rockhold clinched the middleweight crown back in December 2015 with a ground strikes stoppage win over Chris Weidman at UFC 194.