This is shaping up to be one of the funniest rivalries ever…
Although they are yet to be scheduled to fight, Michael Bisping and Yoel Romero are sharing an intense feud. Since 'Soldier of God' knocked out Chris Weidman at UFC 205, the beef has been cooking with current champion 'The Count.' Directly after taking out the former champion, Romero called out the in-attendance Englishman. After undergoing successful knee surgery, Bisping has been railing the Cuban wrestler about his USADA drama. Responding in kind, 'SoG' took things to a new level this week.
Setting up a GoFundMe page for Bipsing's 'retirement expenses,' Romero showed he has some serious banter. Expecting to face 'The Count' on the May 13 UFC 211 card, 'Soldier of God' is getting his digs in early.
Mandatory Credit: Adam Hunger-USA TODAY Sports
Radio Show Argument
During Bisping's segment on 'The Countdown,' another heated exchange started on Twitter. Claiming it was not Romero in control of his social media, Bisping threw out some insults that spurred his rival to phone in. Obviously, this led to some comedy gold. Here's the Twitter banter, followed by Romero and Bisping's hilarious argument on Sirius XM:
@MMAonSiriusXM hey Yoel, I'm not gonna argue with your social media intern.But if you wanna talk call in 8447967874 #fake

— michael (@bisping) February 9, 2017
I'm on hold @bisping https://t.co/v4LqVIOixu

— Peoples Champ (@YoelRomeroMMA) February 9, 2017
There's More
Keeping in line with the current stream of bowel movement news, Bisping points out a rather gross moment from Romero's past. Under the new set of proposed rules, Romero would've actually suffered a TKO loss during this obscene moment. Garnering him the nickname 'poopy pants' from Bisping, Romero's unfortunate mid-combat release is not forgotten.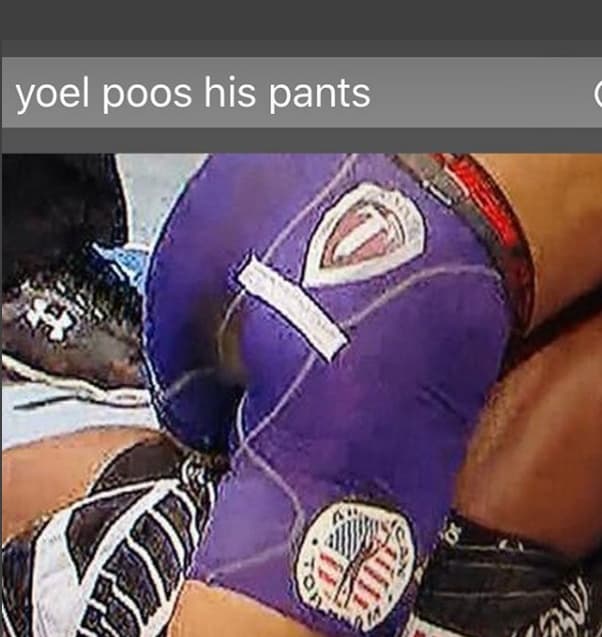 This Rivalry Has It All
Once they finally meet in the octagon, there's going to be a rich rivalry to settle between Bisping and Romero. Having already overcome the odds against Anderson Silva and Luke Rockhold, can the long serving Brit take out the explosive 'Soldier of God?"'
Only time will tell.