Why You Should Watch Josh Barnett vs. Roy Nelson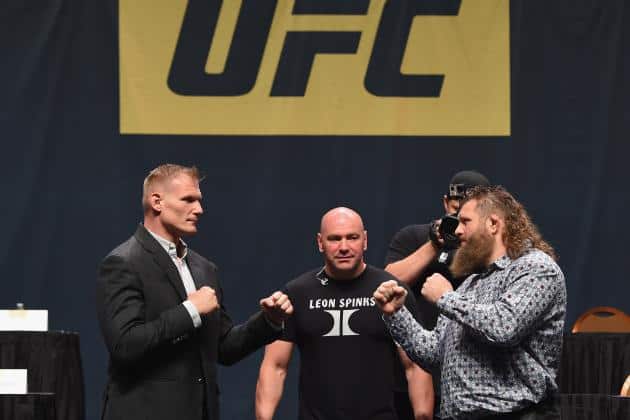 UFC Fight Night 75 goes down tonight (September 26, 2015) from the Saitama Super Arena in Japan presented live and free on FOX Sports 1. The UFC's return to Japan features quite an interesting main event between heavyweight veterans Roy "Big Country" Nelson, and Josh "The Warmaster" Barnett.
Despite both men still sitting inside of the top 15, with Nelson at No. 11, and Barnett at No. 8, this fight doesn't have too much relevance within the division.
"Big Country" has dropped his last two bouts to Mark Hunt, and Alistair Overeem, and has lost four out of his last five, while Barnett is also coming off of a loss, and hasn't competed for nearly two years.
With the heavyweight division more crowded than ever, a win for either man likely won't do much for their divisional standpoint. However, that doesn't mean that you shouldn't watch this bout, and when looked at closely, it turns out to be quite an exciting and intriguing main event, mainly due to the fact that it probably won't go the distance.
"Big Country", and "The Warmaster" happen to be two of the very best finishers in the heavyweight class, as they have combined for 46 finishes in 53 victories which is an outstanding rate.
Although he may be criticized for being extremely one dimensional, Nelson has a tool that not many people don't have, and that's the ability to put any man to sleep with one right hand. 14 out of his 20 wins have come by way of knockout, and Nelson has an iron chin to go along with it.
"Big Country" may be the most durable of the heavyweights, as he can seemingly take endless damage while still coming forward to fight.
Barnett, on the other hand, uses his ground skills more often to get the finish, tallying 20 submission victories along with 8 knockouts to his record. Like Nelson, Barnett is always on the offensive, using relentless pressure, and a vicious attack to break his opponents down.
While both men may not have looked their best of late, and both may be on the tail end of their careers, it seems like a matchup between the two may produce fireworks, and like mentioned earlier, most likely produce a finish, which is why you should tune in tonight.