Was Kimbo Slice vs. Ken Shamrock Fixed?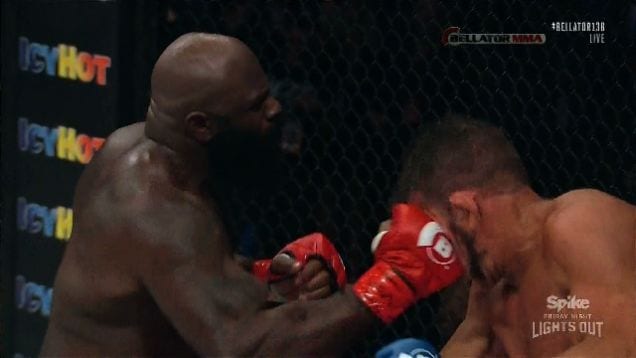 Bellator 138 went down last night (Friday June 19th, 2015) featuring a headlining beef-settler between street fighting sensation Kimbo Slice, and ex-UFC champion Ken Shamrock. The action was predictably corny in the lead up to their 'main event' fight, as Shamrock entered the cage with Animal from Legion Of Doom, also a singer I can only guess to be Miley Cyrus attempting to lip sync rather badly and a team of kids. The St Louis crowd was treated to some serious high level hype, as interviews with Kevin Ferguson (Slice) broadcast his death threats to the 'ghost' of the UFC hall of famer and MMA pioneer, before talked turned to diarrhoea. We were also treated to some vintage footage of some Kimbo Slice street fights on the big screen during his walkout.
A heated exchange between Slice and 'The Worlds' Most Dangerous Man' were made laughably ironic when they were filmed 'after the cameras stopped rolling', apparently showing that Shamrock had recently acquired the skill required to string together a coherent sentence. So already the theatrics were yet again on full show for BMMA, but it's something we've grown accustomed to. Another thing we're used to seeing from Scott Coker's family circus is questionable finishes and happenings during their bouts, and there are a few points from last night's main event that simply don't add up.
Firstly, did anyone else see Kimbo Slice tap? I'm pretty sure I saw his big red mitts hitting the canvas in a tapping motion with both hands when Shamrock got his arm under the neck on the RNC (rear naked choke). This may be a minor point, especially considering it would require experienced refereeing veteran John McCarthy to either be in on a fix or simply miss such a blatant out, but it instantly got me thinking that there was something not right about this already comical fight pairing. Luckily we have a video of the full fight to examine:
Another point to pick up is the hilarious shots for the takedowns by Shamrock. I know, he is 51 years old, I'm not questioning his abilities offensively, but why was Kimbo so powerless to the sloppy and highly telegraphed takedown attempts? Again, a minor point in the grand scheme of things. The real interesting questions begin to get asked when Kimbo's arm went limp, and the normally vocal 'Big John' was doing the old 'pro wrestling' ref check, I was just waiting for him to do three lifts and drops on Kimbo's limp arm. I'm pretty sure in every single UFC fight I've ever seen McCarthy referee, he would be screaming at this point saying 'I'm gonna finish the fight,' or 'fight back', or something along those lines. Again this is under the assumption that the referee is crooked, and McCarthy has never exhibited any actions in the past to make that statement hold any weight.
Note how the commentators are calling the action spot on, almost as though it was from a playbook. But they did mess up, listen again when Shamrock locks on the choke, I'm 80% sure that Jimmy Smith shouts 'he tapped', only to quickly correct (himself?) and say 'it's tight, it's on tight'. So the black belt in Brazilian Jiu Jitsu who has nearly 10 times the MMA experience of Kimbo, has taken his back and sunk in both hooks just short of a body triangle. Slice has both arms by his waist and looks as if he has gone out, yet the UFC veteran can't get the tap against the notoriously poor grappler? He only holds the choke for a short tine before a reinvigorated Kimbo simply peels himself out of the worst position you can ever be in against a far superior grappler, and Shamrock follows the commentator's cue in having 'no energy left in his arms' after attempting a choke he had on for 60 seconds.
Other questions raised; Shamrock's physique is that of a man half his age, so how did he pass a drug test? He looked like the country version of Hector Lombard for Christ's sake! As questionable as his licensing was, Shamrock telling Slice 'Don't tap' during the cheesy pre-fight promo was almost a Freudian slip. All this being said, we already know from fights like this, oh yeah and this one, oh and this one too, that Bellator MMA has a big pro wrestling slant on combat sports. The question is, and it's a doozy, are Bellator fixing fights, or are these 'main events' more like pre-agreed exhibition bouts between the local athletic commissions, the fighters themselves and Bellator?
No, it's clear as the fights still have odds at the betting office, this isn't a pro wrestling or exhibition type deal, Bellator is putting some serious funk out there. But hey, you still watched, right? Is Scott Coker's sideways glance at the world of MMA and promotion just a mash up of Dana White and the UFC, made to fit a much smaller and specialized audience, or are Bellator truly making a mockery of the sport with corrupt fights between juiced up old men that are great actors? In this particular case, it would be totally plausible that these two guys were simply that terrible that it's hard to believe it authentic, what do you think?