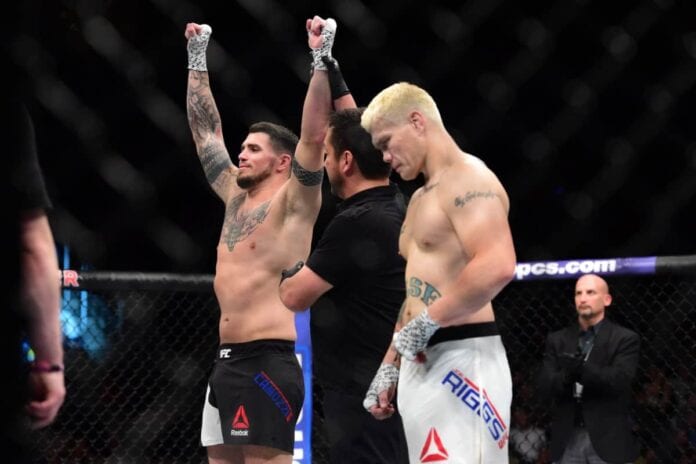 Middleweights Vitor Miranda and Chris Camozzi met in a bout pivotal to both man's career trajectory on the main card of tonight's (Sun., May 29, 2016) UFC Fight Night 88 from the Mandalay Bay Events Center in Las Vegas, Nevada.
Camozzi had won two straight over Joe Riggs and Tom Watson after returning to the UFC to meet top-ranked Ronaldo "Jacare" Souza early last year. His opponent Miranda, a heavyweight finalist on the inaugural season of The Ultimate Fighter (TUF): Brazil, had won three straight by TKO, including two by vicious head kick.
It promised to be a slugfest between two Muay Thai specialists. Camozzi came out methodically to begin the fight, and the fighters traded kicks before Camozzi landed a big knee. Miranda fought back with a sharp low kick, with Camozzi landing one followed by a right. Camozzi opened up with a strong combination of punches ended with elbows, snapping more low kicks. Camozzi worked his jab but was taken down, and a scramble saw Camozzi attempt a leglock. Both threw several punches from the strange 50-50 position to close out the first frame.
Miranda threw more low kicks at the start of the second, following with a body kick. He threw another but Camozzi caught it and swept Miranda with a big trip, landing in half guard on the ground. Camozzi switched to full guard to control Miranda, eventually taking his back. He landed solid ground punches and effectively neutralized Miranda, bloodying him with more huge punches and elbows before the second round could have been saved by the bell.
Right before the beginning of the final round Referee Herb Dean called for the cageside doctor to look at Miranda's substantial cut. The fight continued and Miranda was a bit more aggressive, but Camozzi countered well with punches before getting a big takedown. Again Camozzi controlled the fight from side control, but Miranda eventually got back up. "Lex Luthor" threw wild kicks knowing he was down on the scorecards, and a few landed. Camozzi snapped sharp punches home, however, and his overall strike count added up on a pressuring Miranda as the fight wore down.
Camozzi took home a solid, much-deserved unanimous decision win as he swept all three rounds on every judge's scorecard.
Final Decision: Chris Camozzi def. Vitor Miranda via unanimous decision (30-27, 30-27, 30-27)