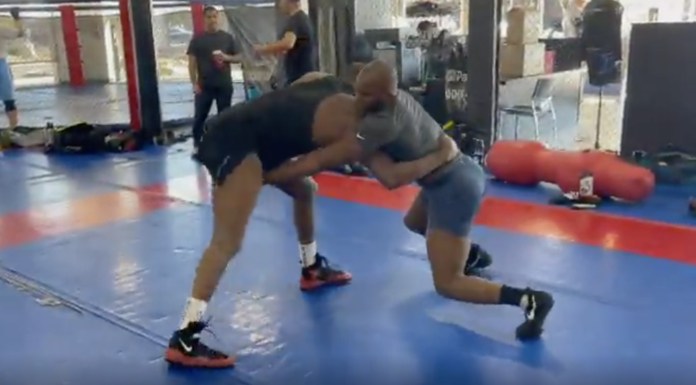 Jon Jones is not often served humble pie in combat sports.
The former UFC light heavyweight champion has been training alongside former two-weight champion Henry Cejudo and others at the Fight Ready gym in Arizona.
Recently, "Bones" got the opportunity to wrestle with 2016 Olympic bronze medalist and two-time World Champion J'den Cox on the mats on Saturday.
And it's fair to say it was a humbling experience for Jones.
Jon Jones: Days Like Today Will Only Make Me Better
"Sometimes you the hammer, sometimes you're the nail. I'm humbled and grateful. Days like today will only make me better. Grateful to have the opportunity to work with some of the best athletes in the world @henry_cejudo @fightready @jmiz_cusa," Jones posted on Instagram.
He also took to Twitter:
"I need some milk, J'den Cox just served me up some serious humble pie"
Jones started training at Fight Ready after he was no longer allowed to train at JacksonWink following his arrest after the UFC Hall of Fame ceremony in September.
All in all, it's a promising sign if Jones is being tested to his limits ahead of his long-anticipated heavyweight debut. As for when it will actually happen? It's anyone's guess at this point.
Jones last competed in February 2020 when he outpointed Dominick Reyes to defend his light heavyweight title.
When do you think we'll see Jon Jones back in action?