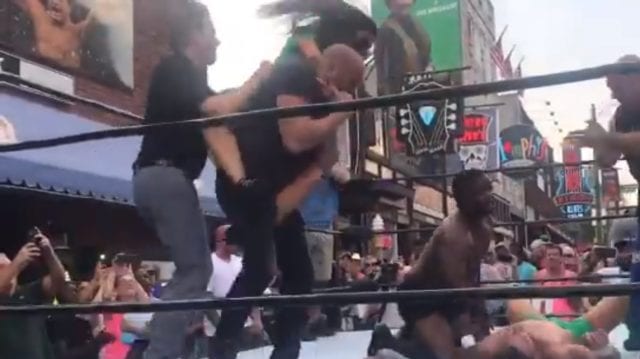 UFC President Dana White and former UFC welterweight champion Matt Serra had quite the Friday night.
It could have been a situation where former UFC women's bantamweight champion Ronda Rousey, who is slated to challenge Nia Jax for the WWE Raw women's title at this Sunday's WWE Money in the Bank pay-per-view event in Chicago, Illinois at the Allstate Arena on the WWE Network, inspired White to get into a wrestling ring.
White and Matt Serra were at an independent show Friday night in Memphis, TN that was called the Beale Street Brawl, to film White's Lookin' for a Fight show that airs on the UFC's streaming service, UFC Fight Pass, and their YouTube channel.
A video has surfaced online that shows White and Serra as well as WWE Hall of Famer and Memphis' own Jerry "The King Lawler" helping Derrick King pick up a win.
Following the match, a female performer jumped on White's back and attempted to choke him.
This led to it appearing that White might take a bump or connect with a move to the performer but it instead led to Lawler coming out to make the save. Grind City Media caught White and Lawler chatting it up earlier in the night.
White and Serra are slated to be at the V3 Fights on Saturday night in Memphis to film content for an upcoming episode of the show.
@ufc President @danawhite, Derrick King & Matt Serra pick up the win with a little help from @JerryLawler pic.twitter.com/rweCZkwfga

— Grind City Media (@grindcitymedia) June 15, 2018
UFC President @danawhite is in Memphis for the Beale Street Brawl pic.twitter.com/hS2ERyj772

— Grind City Media (@grindcitymedia) June 15, 2018
We are in Memphis this week filming Lookin for a Fight. We will be Pro Wrestling at King Jerry Lawlers Bar and Grille Friday June 15th at 6 pm. Pop in!!!!! pic.twitter.com/jExGoqYcoT

— Dana White (@danawhite) June 14, 2018