Video: Conor McGregor Spars with Ex-Boxing Champion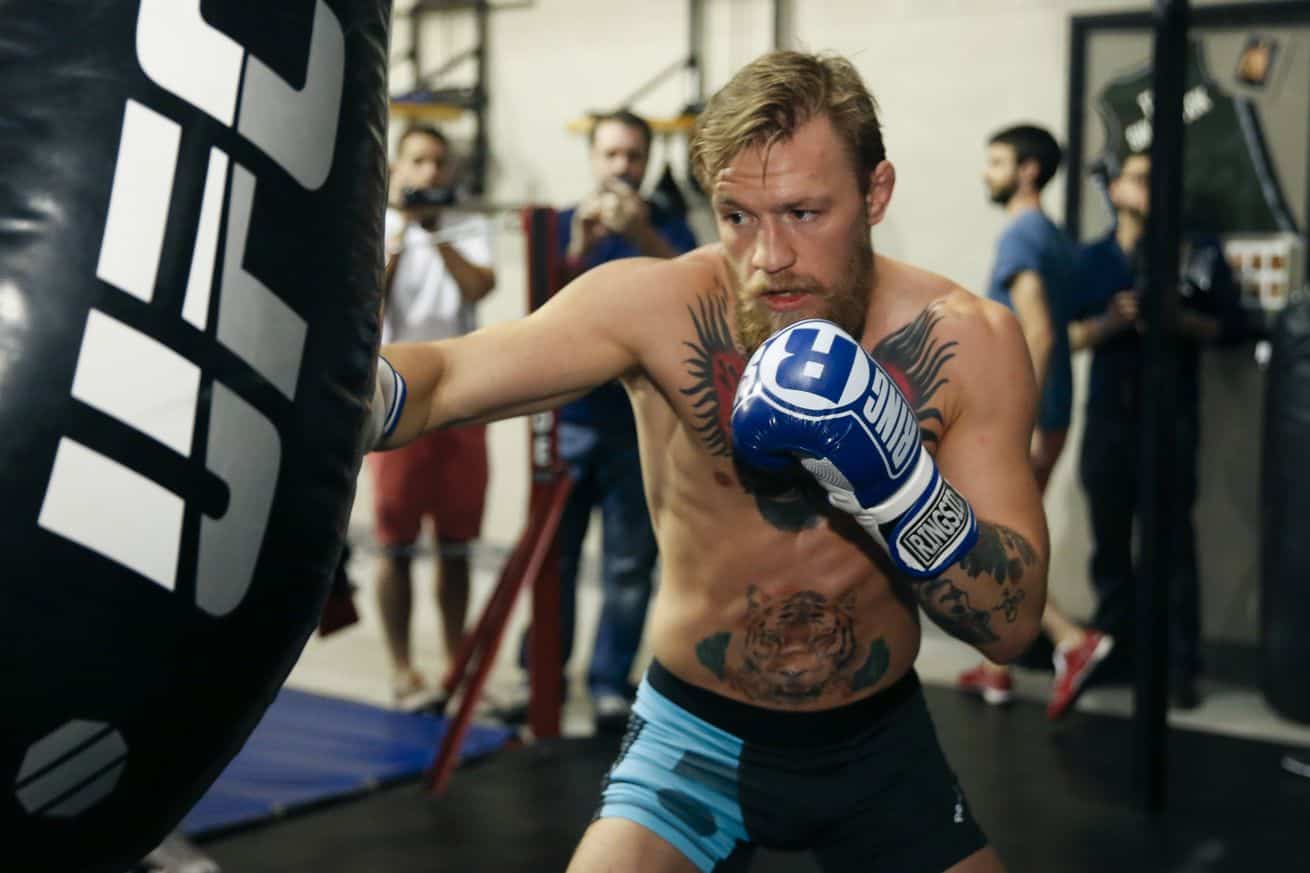 Amongst the circulating rumors of a potential bout with boxing legend Floyd Mayweather Jr., UFC featherweight champion Conor McGregor is brushing up on his boxing technique with former IBO welterweight champ Chris van Heerden.
McGregor visited the Box N' Burn gym in Brentwood to step into the ring with the South African in order to test his skills inside the squared circle.
You can check out the sparring session below:
https://www.youtube.com/watch?v=hq9P0B6PtAM&feature=youtu.be
Gym owner and retired undefeated English boxer Tony Jeffries commented on McGregor's extensive boxing training since arriving in Los Angeles:
"Conor has been here everyday since Friday. Twice a day sometimes.
"As for his skills — "I never thought [Conor] had a chance at beating Floyd until I saw him box today. Now I am on the fence."
The Irishman has been linked to rumblings of a potential boxing bout with Mayweather, who took responsibility for starting the rumors. Mayweather stated that he will not come out of retirement unless it is for the big money fight against 'Notorious.'.
Both men have done their fair share of promotion for the rumored 'Boxing vs MMA' super fight, as Mayweather has mentioned the Irishman in many recent interviews while McGregor continues to tease fans with a sudden interest in boxing on social media:
MMA Vs Boxing. pic.twitter.com/qgl8tKvT5s

— Conor McGregor (@TheNotoriousMMA) May 8, 2016
I run boxing.

— Conor McGregor (@TheNotoriousMMA) May 14, 2016
Boxing boots. pic.twitter.com/LBI1xo4Hiy

— Conor McGregor (@TheNotoriousMMA) May 17, 2016
Before rumors of a bout with Mayweather began to circulate, McGregor stole headlines when he announced his apparent 'retirement' from MMA via Twitter after being removed from the colossal UFC 200 summer card:
I have decided to retire young.
Thanks for the cheese.
Catch ya's later.

— Conor McGregor (@TheNotoriousMMA) April 19, 2016
UFC President Dana White removed 'Notorious' from his scheduled rematch with Nate Diaz, which was set to headline the card, because McGregor refused to attend a press conference to promote the event as he felt it would interfere with his training for the previously scheduled rematch.
Now the two parties look to settle the beef as a dinner meeting between McGregor, White, and the Fertittas is set to go down tonight to discuss the Irishman's future.
In regards to a bout with Mayweather, nothing has been confirmed, however, Dana White did tell Mayweather to call him if he is indeed serious about a potential throwdown with the UFC star.