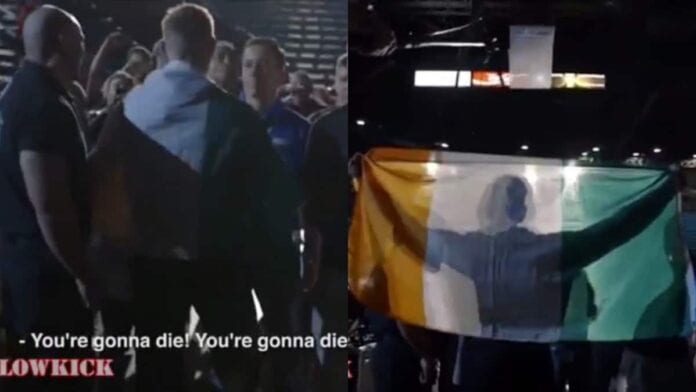 It's like they can hardly wait to get it on! Here we go, fight day is here! UFC 194 is just hours from going down, with McGregor and Aldo up to their usual tricks again…
The UFC 194 weigh-ins went down last night (Friday December 11, 2015) in the run up to the long awaited main event between Jose Aldo and Conor McGregor. The two have shared a well documented and bitter rivalry since being originally booked to fight at UFC 189, and shows like the world tour and Go Big presser provided provided hours of footage featuring the two stars of the featherweight division.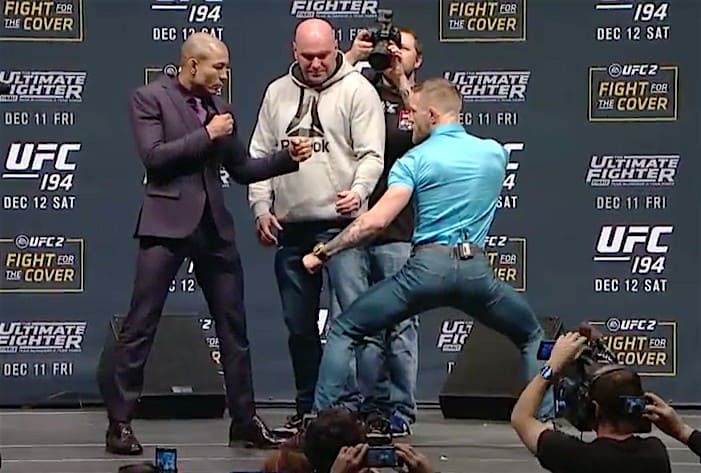 The beef isn't over yet, as we await their final face-off in the octagon, but there's still more going on between the two fierce rivals. We saw Aldo mimic McGregor during the weigh-ins, and it seemed to frustrate the Irish star to no end. What we didn't see was the backstage confrontation between 'The Notorious' and 'Scarface' as they queued for the official weigh-ins.
A gaunt looking McGregor runs in to Aldo and his posse, handing out threats and dancing as Aldo's buddies chant 'You will die.' It does little more than cap off a crazy year of heated run-ins between the two, or perhaps McGregor is starting to fray a little?
Take a look and tell us what you think.


Skip to page 2 for the awesome fan made UFC 194 promos that have surfaced this week…