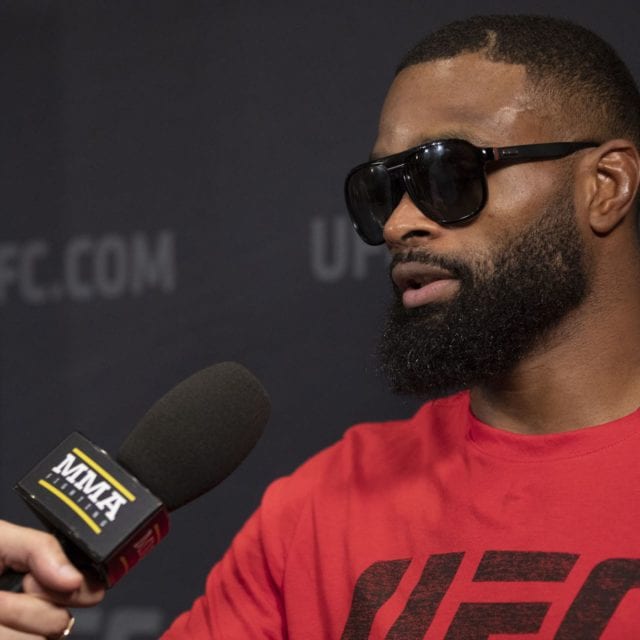 Welterweight champ Tyron Woodley claims Darren Till must knock him out in order to beat him and capture UFC gold.
Woodley will defend the welterweight title for the fourth time come UFC 228. The challenger, Liverpool's Till is the front-runner for fighter of the year thus far. At just 26 years old, Till has one of the highest ceilings of any young fighter in the entire UFC. His stand up is deadly accurate and he himself has said that he is a light heavyweight fighting in the welterweight division given his large frame for a 170-pound fighter.
Woodley is perhaps the most cerebral champion in the UFC. He carefully and meticulously plans his camps around what he knows works best for him and plans for every possible scenario regarding his opponent. All Woodley does is beat specialists, and that's exactly what the "Chosen One" believes Till is – one dimensional. And the only chance Till has to become the new welterweight king is to KO Woodley.
"He's still a specialist," Woodley told MMA Fighting. He still has one way to win a fight. He can only win by knocking me out. He's not going to beat me in five rounds, he's not going to outpoint me, he's not going to out-wrestle me, grapple me. He's not going to throw punch-for-punch with me and win (with) a one-punch KO or any of that. He has to knock me out to win. So he's still a specialist."
Woodley admits the challenger has great striking skills but insists that he cannot go toe to toe with him the entire five-round affair. Moreover, the champion believes that his well-rounded skill set will be the deciding factor.
Listen To Tyron Woodley's UFC 228 media day interview here:
If you enjoyed this story, please share it on social media!