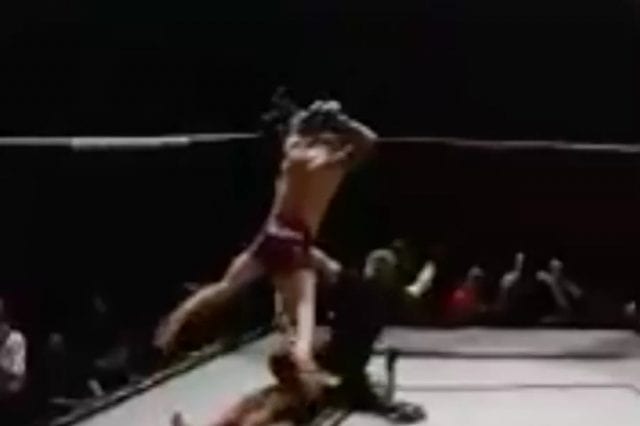 There was one amateur welterweight fighter who took it a little bit too far in his latest fight and a video of his actions has surfaced.
That fighter is Austin Batra, who was competing against Perry Hayer in a fight that went down in Coquitlam, BC at a Battlefield Fight League event. The fight was for the welterweight title that saw the finish of the fight having Batra score a KO blow to his opponent.
The only problem is that the blow was not legal and landed an unusual finishing maneuver. Although he couldn't help and did it anyway, the referee clearly stepped in to stop the fight as a result.
So here's the reality of the situation. The finish of the fight came 30 seconds into the first round and the DQ win was given to Hayer, who was obviously down. It appeared to be a flying double axe handle strike while flying through the air.
What's interesting by looking at the footage is the fact that the move began after the referee called an end to the fight, which may in hindsight cost Batra the win and the BFL title. As a result of the ending and ruling of the fight, Batra is now 4-2 as an amateur while the champion is 6-7. You can see footage of the incident here:
Wow. Craziness at #BFL57. Austin Batra KOs Perry Hayer but gets disqualified for this unnecessary jumping asshole finish. Wild stuff. pic.twitter.com/W7frtUrS0l

— Fight For Something (@fight4something) September 23, 2018
In a bizarre scenario, Perry Hayer is the new @BattlefieldFL amateur welterweight champion via Austin Batra disqualification. Batra delivered a knockout blow to Hayer, but followed it up with an apparent illegal shot. #BFL57 #YVR #Coquitlam @Hayerperry https://t.co/PR5bZRijxx pic.twitter.com/wXFarL7uwg

— MMA Empire (@mmaempirecanada) September 23, 2018