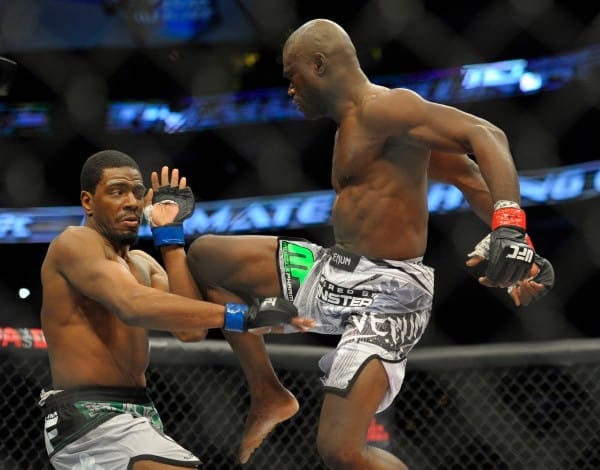 Uriah "Primetime" Hall has had an interesting road in the UFC. After being deemed "the next Anderson Silva" while on the 17th season of The Ultimate Fighter, Hall would go on to lose in the finale to Kelvin Gastelum, and eventually lose his first UFC bout to John Howard.
However, he has now won four out of his last five, with his only loss being a controversial split-decision loss to Rafael Natal. "Primetime" is now set for the biggest fight of his life, as he will take on a former champion, and No. 6-ranked Gegard "The Dreamcatcher" Mousasi at tonight's UFC Fight Night 75.
Speaking recently, Hall said that he has taken a new step in his career by ignoring the "bullsh-t" media, and all of the negative people:
"I haven't seen any downs (in my career), really; it's only downs when you believe and start to listen to the media, because the media is usually bullsh-t and they usually come up with sh-t that makes no sense," Hall told MMAjunkie. "They will never step in your shoes for a day, no less a second, but they can write a story to think that they know you. I was at that point where I used to believe the media, but the media is bullsh-t, and people who are negative are bullsh-t."
Hall then talked about honesty, and how learning rather than feeling defeated from losses has helped his career as well:
"The first step in doing stuff like that is being honest; I'm honest with myself and I'm honest with everybody else," Hall says. "I've been doing something in (2015), and it's called being honest, and the first step is being honest with yourself.
"There's no downs unless you accept it. I think Bruce Lee said it best: 'You're only defeated once you accept defeat.' I'm never defeated because I always learn. I win or I learn. When you lose, it's a learning experience however you look at it."
Despite this being possibly the most important fight of his career, it must be noted that Hall also took the fight on short notice, but he claims that he's always ready to go, and always texting the UFC looking for a fight:
"I'm always ready, and I believe in the whole thing of staying ready," Hall says. "I'm always texting (UFC matchmaker) Joe Silva saying, 'Hey, I'm close to weight. If somebody gets hurt let me know.' I'm not just here to fight in UFC; I'm here to go up against the best guys. This is completely outside my comfort zone fighting one of the best in the world. It's different, but I'm always ready to step up.
"This is what I do, and I don't complain about it. I'm in it for the ride and the glory. Unfortunately not everyone sees it that way, but f-ck everybody else."
As far as his opponent goes, many feel as if Mousasi will have a large advantage on the ground, but "Primetime" says that "The Dreamcatcher" may be overconfident:
"He might be a little overconfident, especially with my ground game," Hall says. "I'm glad; it plays in my favor because I get to surprise him, hopefully. I don't see him being a threat; I don't see him submitting me. I see him more as a striker, more as a grinder.
"I don't personally think he's evolved (over the years). He's more of that old-school, in-your-face, come forward. When you have that type of mentality against a guy like me who is very technical, again it plays in your favor because I get to outclass you and pick you apart."
Can Hall reach his true potential, and knock off a top contender?