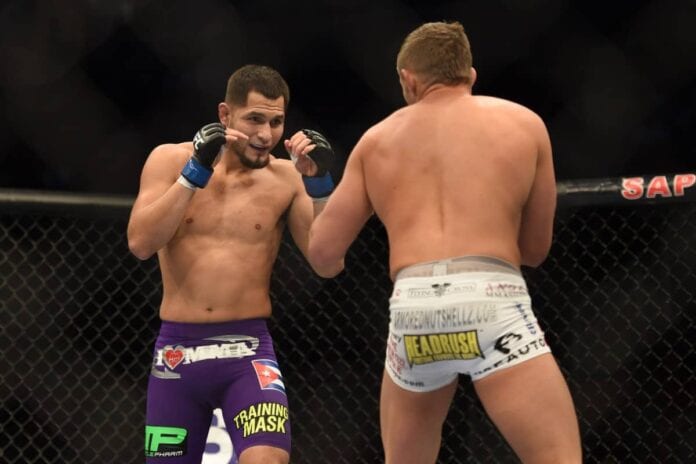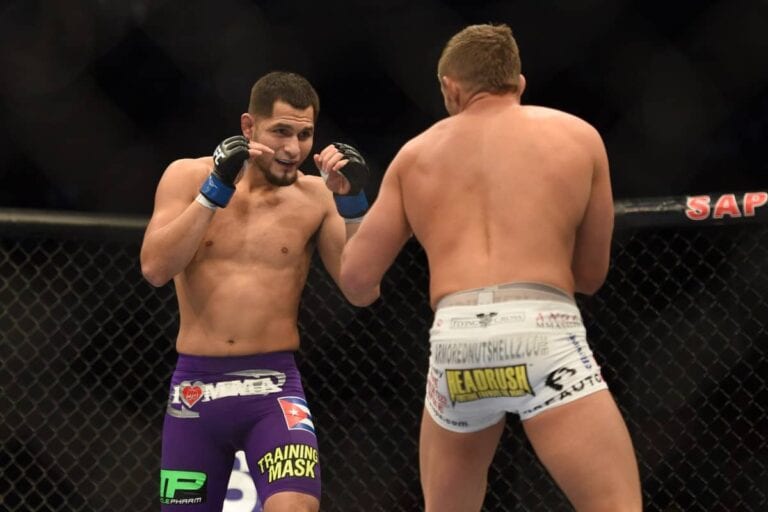 UFC veteran Jorge "Gamebred" Masvidal will return to action in Las Vegas at tonight's (May 29, 2016) UFC Fight Night 88 card from the Mandalay Bay Events Center as he takes on the always tough Lorenz Larkin.
Leading up to his highly-anticipated bout, Masvidal spoke up on the use of performance-enhancing-drugs (PEDs) in the sport of mixed martial arts (MMA), claiming that a plethora of steroid users were seriously affected by the UFC signing on with the United States Anti-Doping Agency (USADA):
"This is gonna hurt a lot of people's feelings, but I like to say the truth, so let the truth be told," said Masvidal in a recent appearance on The Three Amigos podcast (transcribed by Bloody Elbow). "I don't do steroids. I didn't do steroids when I was first in this sport, and I don't do them now. That's a big reason why I'm still getting better. A lot of these guys that were on the steroids and the PEDs…when USADA came in, these guys were running out the door trying to dodge the test. That wasn't me."
Not only does Masvidal insist that he's never taken PEDs, but he had a rather strange opinion on those who have taken PEDs and are now attempting to ween off of them, comparing them to 'women that gave birth':
"A lot of these motherf*ckers can't do those things that were getting them over the top and getting them the big paychecks and all these endorsements from supplement companies anymore," added Masvidal. "Now you look at their bodies, they look like women that gave birth, you know? These dudes are supposed to be pro athletes, and you look at them now when they compete, and you're like, "What the f*ck happened to so-and-so?" You look back at them six months ago, before USADA came in the building, this dude looked like a juggernaut. Now he don't. I'm so thankful I never messed with that stuff."
In closing, Masvidal praised the new and improved stricter drug testing, saying that fighters who felt invincible are no longer on top without the use of PEDs:
"I've had injuries in the past, but it hasn't been those crazy-ass injuries that you hear about because people were juiced out of their minds doing things that they're not supposed to," said Masvidal. "A lot of those dudes that were in PRIDE, over there in Japan doing that craziness, when they came over here, you didn't see them shining like that anymore, because it was somewhat regulated over here. They would test here and there, but now with USADA, everything changed. Motherf*ckers that thought that they were invincible, they're finding out real quick that they're far from it."

What do you make of "Gamebred's" remarks?