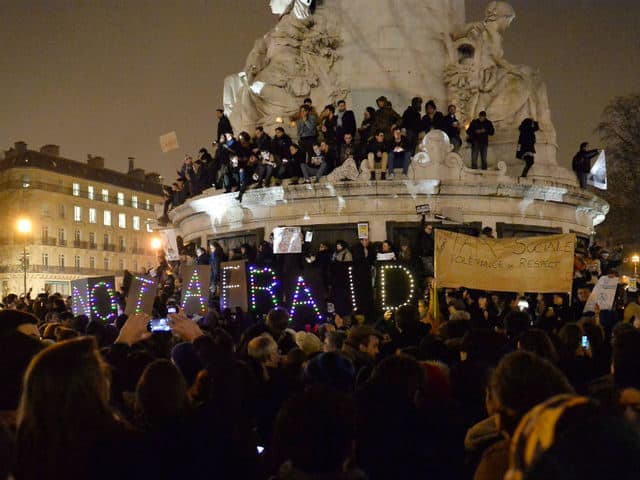 Tragedy struck in Paris last night as gunmen opened fire on France's capital city, the UFC has released an official statement regarding the stadium event in Australia….
Last night was a night filled with atrocities in Paris, France, as gunmen opened fire at restaurants and the stadium where Germany were hosting France in a soccer friendly game. Over 100 people have been confirmed dead, in one of the worst single tragedies in modern French history. We saw the highs and lows of human kind throughout the affair, as harrowing details of the sub-human scum responsible were met with messages of support and a simple light display in Paris stating 'not afraid.'
Fans that might be worried about a similar attack happening at the UFC 193 show tonight at the Etihad Stadium have had the following statement released. The UFC also sent a message to those involved in the shootings in the French city:
"Etihad Stadium and UFC jointly send their thoughts and sympathy to those impacted by the terrible incidents which occurred in France.
Regarding tomorrow's scheduled UFC 193 card at Etihad Stadium, officials from Etihad Stadium, UFC, and Victoria Police have come together to review all major safety protocols and procedures prior to this major event. This risk assessment and planning process takes place before all events held at Etihad Stadium, and the venue, promoter and police will remain diligent in this process in light of today's tragedies in France.
We have been advised by Victoria Police there is nothing to suggest that tomorrow's event will in any way be impacted by the events in France, it is important to note that precautions are being taken to ensure a safe and enjoyable experience for all in attendance."
Fingers crossed the same doesn't happen during UFC 193, and we here from LowKickMMA send our condolences and heart felt prayers to those involved in the attacks last night, and all other tragedies across the planet.
If you enjoyed this story, please share it on social media!