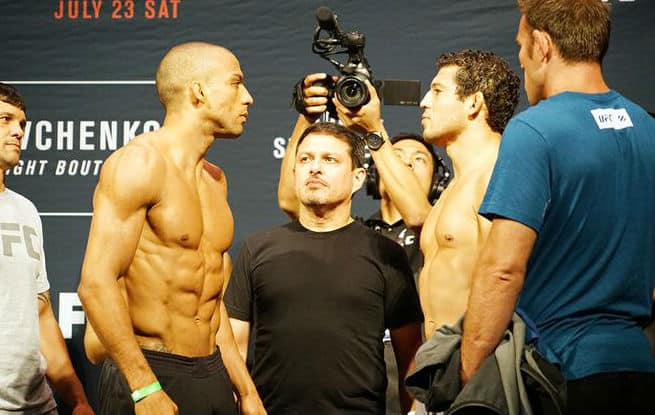 UFC on FOX 20 is in the books, and now it's time for Reebok to pay the fighters their sponsorship money.
UFC on FOX 20 took place on Saturday, July 23, 2016, at the United Center in Chicago, Illinois. The prelims aired on UFC Fight Pass at 4PM/3PM ETPT and FOX Sports 1 at 6PM/3PM ETPT while the main card aired on FOX at 8PM/5PM ETPT.
The main event was a women's bantamweight bout between Holly Holm (,500) and Valentina Shevchenko (,500) while the co-main event was a lightweight bout between Edson Barboza (,000)and Gilbert Melendez (,000). Bojan Mihajlovic ($2,500) vs. Francis Ngannou (,500) and Kailin Curran (,500) vs. Felice Herrig ($2,500) rounded out the main card.
The full payouts include:
Valentina Shevchenko: $2,500 def. Holly Holm: ,500
Edson Barboza: $15,000 def. Gilbert Melendez: $5,000
Francis Ngannou: $2,500 def. Bojan Mihajlovic: $2,500
Felice Herrig: $2,500 def. Kailin Curran: $2,500
Eddie Wineland: $10,000 def. Frankie Saenz: $2,500
Darren Elkins: $10,000 def. Godofredo Pepey: $5,000
Kamaru Usman: ,500 def. Alexander Yakovlev: $2,500
Michel Prazeres: $5,000 def. J.C. Cottrell: $2,500
Alex Oliveira: $5,000 def. James Moontasri: $2,500
Jason Knight: $2,500 def. Jim Alers: $2,500
Luis Henrique: $2,500 def. Dmitrii Smoliakov: $2,500