The UFC rolls on with a jam-packed month of September tomorrow night (Sat., September 24, 2016) with UFC Fight Night 95 from Ginásio Nilson Nelson in Brasília, Brazil.
The main bout features the second UFC appearance of dominant Invicta FC featherweight champion Cristiane "Cyborg" Justino, whose dramatic weight cut has been the main focus of most news about the card this week. As for the actual fight, "Cyborg" will continue facing relatively unknown opponents in 6-1 UFC newcomer Lina Lansberg. Not surprisingly, the numbers are once again in Justino's favor in no small way.
In the co-main event former UFC bantamweight champion Renan Barao will seek his first win at featherweight after he lost a close decision to Top 10-ranked Jeremy Stephens earlier this year. "The Baron" will also face an unranked foe in Phillipe Nover, proving that the odds are predicting big wins for the hometown Brazilian favorites.
Will the results be any different for the long shots in Brasilia? Find out if we think so below.
Cyborg vs. Lina Lansberg:
Mike Drahota:
It's hard to predict any result but yet another huge "Cyborg" knockout here, and I feel like the -1285 favorite Justino comes in at according to BigOnSports.com could be a bigger number, just as the debuting Lansberg could be a bigger underdog than +712.
Justino has endured a taxing weight cut to make 140 again; that much we all know, but that's probably the only hope Lansberg truly has. I think "Cyborg" will show up and take care of business like she usually does despite the cut. Can't see anything but a first round KO for Cyborg.
Rory Kernaghan:
Cris Cyborg continues her UFC journey against a mostly unknown, at least in the MMA world, Lina Lansberg this weekend. 'Elbow Princess' is the much smaller fighter, as are most compared to the towering figure of Cristiane Justino, but she does have some striking chops. She's won multiple championships in the Muay Thai realm, and her MMA record stands at 6-1.
The difference here, aside from the size, also is the experience. Cyborg has been fighting at the top level in mixed martial arts her entire career, and I feel this will show. Add in the fact she is absolutely huge and her levels of sheer aggression are through the roof–you have a simple conclusion. Cyborg by KO in round one.
Mike Henken:
'Cyborg' may have endured a brutal weight cut to get down to 140 pounds, but I feel as if this is a squash match. The Brazilian slugger typically rehydrates well, and once she does, I don't see Lansberg having an answer for her power. 'Cyborg' by first round knockout.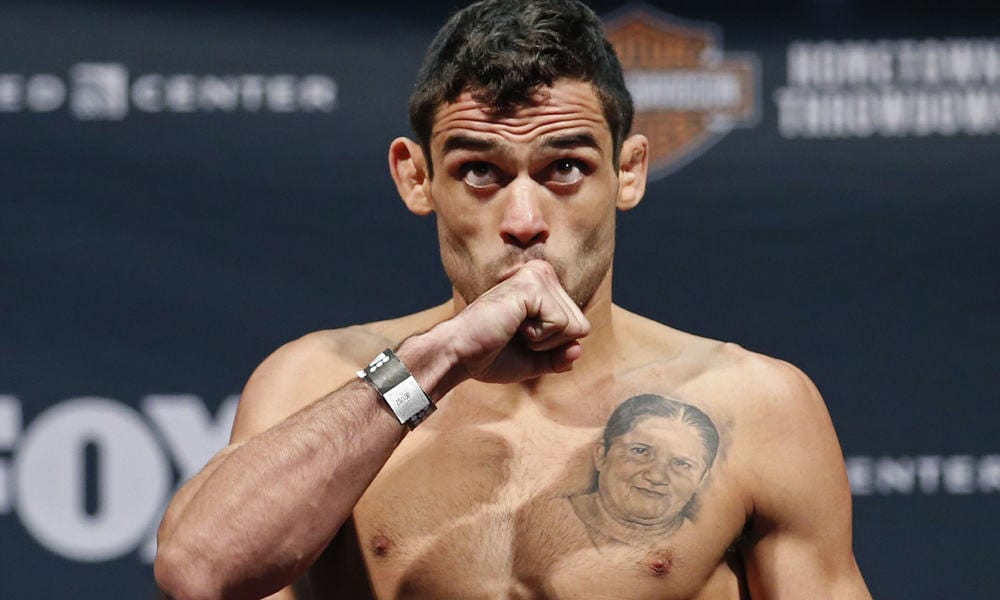 Renan Barao vs. Phillipe Nover:
Mike Drahota:
Much has been made of Barao's demise, and perhaps deservedly so, but if the scorecards were tipped in his favor just a bit against Stephens, we might be talking about a future contender at featherweight. Barao is feeling pressure to perform in his homeland, yet I think the unranked Nover is the perfect opponent to get off his recent snide. He's a sizeable -455 favorite against +360 dog Nover according to BigOnSports, and the line seems about on the money. I think "The Baron" will be able to get this to the ground and use his top-shelf jiu-jitsu skills. Barao by second round submission.
Rory Kernaghan:
Former bantamweight champion Renan Barao has suffered a dip in his form recently. After dropping a decision to the underdog Jeremy Stephens in his featherweight debut, the Brazilian Nova Uniao fighter is in desperate need of a win. In Nover you have a BJJ black belt under 'Soca,' but he is yet to find his feet in the UFC. After winning a close split against Yui Nam, Nover dropped one to Tukhugov, and I don't see him rebounding against the highest caliber opponent of his career. Barao will simply be too much, too fast and too powerful in my opinion. I'm picking 'The Baron' for a first round TKO.
Mike Henken:
In my opinion, Barao isn't the fighter he once was. It's clear that he has hit some rough times since the days when he was considered to be the best pound-for-pound fighter in the world. With that being said, however, he remains not only a very talented fighter, but a very well rounded fighter as well. He's explosive on the feet with a lethal Muay Thai Arsenal, and his ground game is over looked. Nover has lost four of his last five and I expect that trend to continue in Brazil. Barao by unanimous decision.