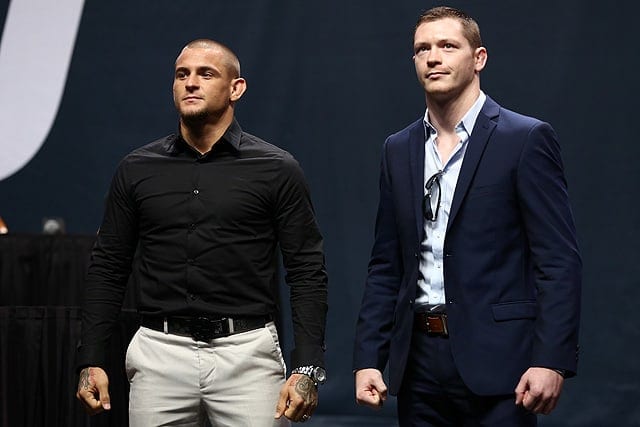 With Dublin currently an absolute hotbed for mixed martial arts (MMA) thanks to native son and interim featherweight champion Conor McGregor, there's apparently another Irish fighter who can draw a crowd in record time.
A report surfaced from Yahoo Sport's Kevin Iole today (Tues., October 13, 2015) that October 24's UFC Fight Night 76 from Dublin's 3Arena, which features 'Irish' Joe Duffy against former McGregor victim Dustin Poirier, sold out in an astonishing one minute, breaking the Irish record of 24 hours set by last year's UFC Fight Night 46: McGregor vs. Brandao.
Dana White confirmed to Iole that UFC Fight Night 76 came in with a final gate of 1.15 million Euros, which translates to .31 million USD. UFC Fight Night 46's gate was 1 million Euros by comparison.
The news is only amplified by the fact that top-ranked heavyweight Stipe Miocic was forced out of his co-main event bout with the surging Ben Rothwell thanks to an undisclosed injury. White proclaimed that the development of MMA in Ireland was simply breathtaking as it's risen to a new level since 2009:
"The first time we ever went to Ireland [in 2009 for UFC 93] when [McGregor] was there in the stands as a fan, it was huge," White said. "But now having good fighters from there is taking it to another level."
Indeed it is taking it to another level, and that's only set to blast through the stratosphere if McGregor can win the belt from champion Jose Aldo if and when they finally square off at UFC 194 in December, which could create the opportunity for a blockbuster title rematch at Dublin's Croke Park Stadium. If that finally happens, Dublin will undoubtedly be on the map as one of the most sordid spots for MMA on the entire planet.