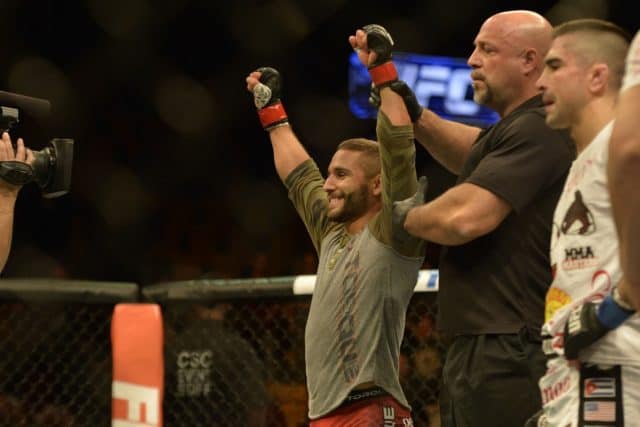 Last Saturday's (April 4, 2015) UFC Fight Night 63 event from the Patriot Center in Fairfax, Virginia, featured a well-rounded mix of fights, finishes, and controversy, capped off by former featherweight title contender Chad Mendes' thunderous first round stoppage of No. 4-ranked Ricardo Lamas in the main event (watch the highlights here).
For his efforts, "Money" took home a befitting payday of $96,000, which included $48,000 to win and $48,000 to show. However, he surprisingly wasn't the top earner of the card.
That honor went to longtime veteran Clay Guida, who earned a total of $100,000 for his punishing wrestling display over featherweight Robbie Peralta. Mendes got the last laugh, though, taking home the first of the card's $50,000 "Performance of the Night" bonuses to pull ahead of Guida.
Dustin Poirier was the card's third place earner, pocketing $68,000 for his first round knockout of Diego Ferreira in his return to lightweight. Many still feel Jorge Masvidal was robbed of an extra $51,000 in the co-main event when he lost a razor thin split decision to Al Iaquinta, who earned $46,000 for his infamous win.
Here is the full disclosed list of UFC Fight Night 63 paydays released today by the Virginia Boxing, MMA and Wrestling Advisory Board via the Virginia Department of Professional and Occupational Regulation.
UFC Fight Night 63 Fighter Salaries:
Chad Mendes ($48,000 + $48,000 = $96,000) def. Ricardo Lamas ($35,000)
Al Iaquinta ($23,000 + $23,000 = $46,000) def. Jorge Masvidal ($51,000)
Michael Chiesa ($24,000 + $24,000 = $48,000) def. Mitch Clarke ($12,000)
Julianna Pena ($15,000 + $15,000 = $30,000) def. Milana Dudieva ($10,000)
Clay Guida ($50,000 + $50,000 = $100,000) def. Robbie Peralta ($18,000)
Dustin Poirier ($34,000 + $34,000 = $68,000) def. Diego Ferreira ($15,000)
Liz Carmouche ($17,000 + $17,000 = $34,000) def. Lauren Murphy ($8,000)
Alexander Yakovlev ($8,000 + $8,000 = $16,000) def. Gray Maynard ($48,000)
Timothy Johnson ($8,000 + $8,000 = $16,000) def. Shamil Abdurakhimov ($12,000)
Ronald Stallings ($10,000 + $10,000 = $20,000) def. Justin Jones ($8,000)
*Disclaimer: These figures do not represent a fighter's total earnings from sources such as sponsorship money, pay-per-view income, and undisclosed post-fight bonuses.
Photo Credit: Tommy Gilligan-USA TODAY Sports
Follow @MikeDrahota
If you enjoyed this story, please share it on social media!