Following by far the best card of the year in last weekend's UFC on FOX 24, the UFC looks to continue building on that momentum with tonight's (Sat., April 22, 2017) UFC Fight Night 108 from the Bridgestone Arena in Nashville, Tennessee.
Like UFC on FOX 24, UFC Fight Night 108 features a bill of talent that while may not be in possession of a ton of star power, nevertheless promises an extremely exciting night of top-to-bottom action for hardcore fight fans.
In the main event, an oddly-booked featherweight bout between top-ranked veteran Cub Swanson and unranked fighter Artem Lobov, who is best known for being a close friend of UFC lightweight champion Conor McGregor, became reality following a Twitter spat between the two polar opposites. With both fighters known for their knockout power, the fight could produce fireworks no matter how it ends.
The co-main event also promises to showcase fireworks at 155 pounds, as longtime fan favorite Diego Sanchez will welcome returning former contender Al Iaquinta back to the octagon. The East Coast-bred "Ragin' Al" has been out of the game for two years since defeating current top welterweight Jorge Masvidal – albeit by a controversial decision – in April 2015.
The rest of the main card features potential slugfests when Ovince St. Preux meets Marcos Rogerio de Lima, John Dodson facing Eddie Wineland, and welterweight power hitters Jake Ellenberger and Mike Perry slated to kick off the main card. Find out who we picked to win at the under-appreciated event right here.
Cub Swanson vs. Artem Lobov:
Hot off of his 2016 "Fight of the Year"-winning bout versus Doo Ho Choi at UFC 206, Swanson has racked up three straight victories to once again re-establish himself as a legitimate top contender in the UFC. Scoring a fourth straight over Lobov will do nothing for his goal of getting a title fight, but Swanson's warrior spirit simply wouldn't let the much less experienced Lobov's callout fly.
And he probably shouldn't have, because with far more technical striking, better scrambling, jiu-jitsu, footwork, speed, and a comparable match in striking power, this is a fight that seems to be a potential show of skill living up to Swanson's "Beautiful Destruction" nickname. "The Russian Hammer" always has a puncher's chance and is most definitely accurate with his counter shots, but with a 14-12 overall record and one of the steepest steps up in opponent we've ever seen in the UFC, this is a mountain that will be ultimately too tough to summit for Lobov. Swanson via TKO, R2.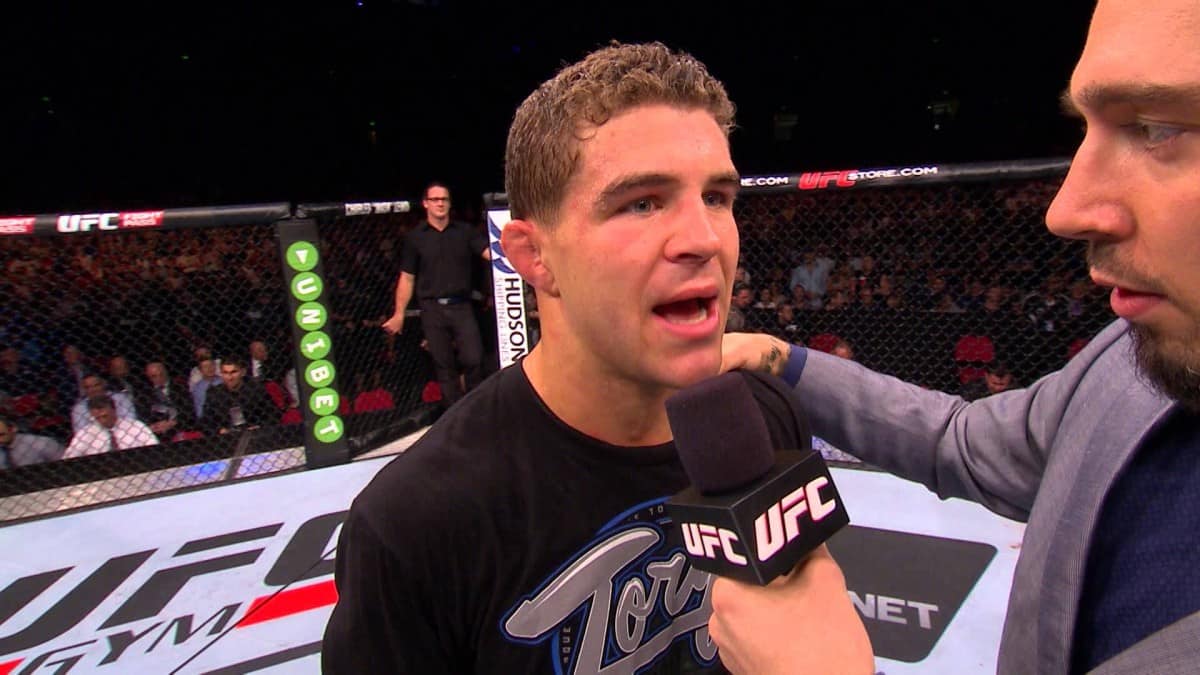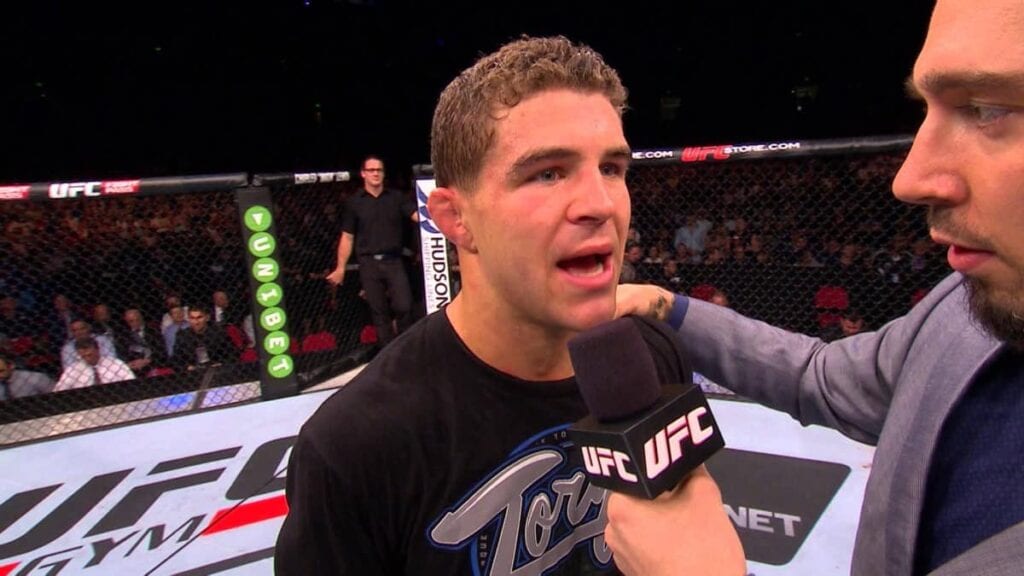 Diego Sanchez vs. Al Iaquinta:
This fight is an intriguing one that could break out into a barrooom brawl atmosphere quickly in Nashville. The tough-as-nails legend Sanchez just won't go away, and he is in incredible shape at 35 years old, winning three out of his last five fights. Iaquinta was one of the deep lightweight division's most promising rising talents when he left on his hiatus of two years, but now there are question marks about his fire for the notoriously brutal fight game.
If he's on, this fight should be "Ragin' Al's" to win, as he's a slightly more technical, younger version of Sanchez with more evolved boxing and better wrestling. "Nightmare" may have the jiu-jitsu edge, but with these two fighters' propensity for throwing down in a phone booth, this bout has "Fight of the Night" written all over it. I'm picking Iaquinta by unanimous decision.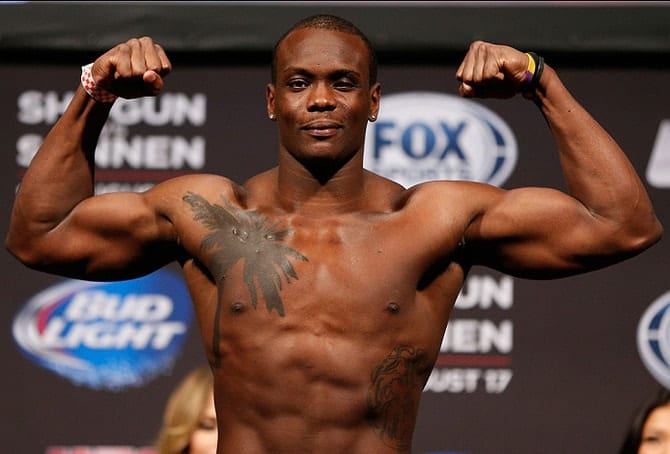 Ovince St. Preux vs. Marcos Rogerio de Lima:
This fight in the absolutely barren 205-pound arena presents an amazing opportunity for the lesser-known de Lima and a must-win for the sputtering St. Preux. De Lima came in a whopping four pounds overweight, so much of the bout's outcome could rest on whether or not he's drained from cutting weight or just bringing a size and weight advantage to the fight. The longer this fight lasts, the more de Lima could potentially fade, but his fight-ending power is a serious factor early on. The odds and experience favor St. Preux, but I'm not sure he can realize his full potential until he goes to a true top-level camp. That's why I'm taking de Lima with the upset by R1 TKO.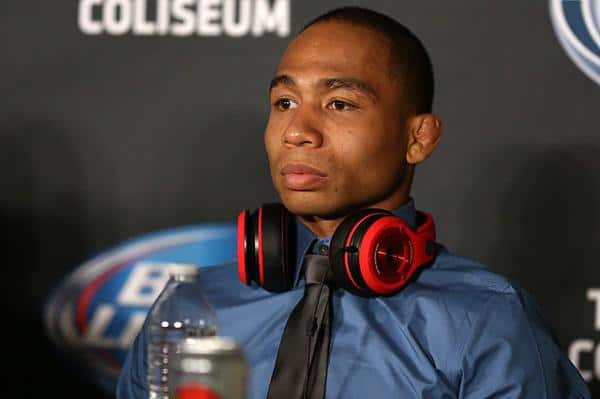 John Dodson vs.Eddie Wineland:
This bout between two of bantamweight's best knockout strikers is yet another bout with fireworks written all over it despite that starting to sound cliche for this hardly-promoted event. Regardless, both men have a lot to prove tonight, as Dodson will look to rebound from a close split decision loss to John Lineker while Wineland will hunt for a third straight stoppage win. Dodson obviously possesses the speed edge on almost any fighter in MMA, and Wineland has legitimate one-punch stopping power at only 135 pounds. Like Sanchez and Iaquinta, they should both also be willing to throw caution to the wind and engage in a technical brawl. That favors "The Magician" in my eyes, and he shines in match-ups such as these. Dodson by TKO in R2.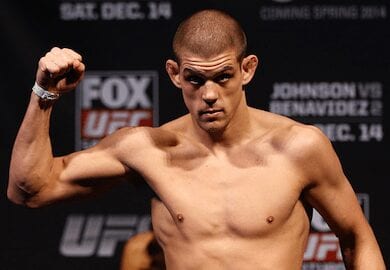 Joe Lauzon vs. Stevie Ray:
The well-worn cliche of fights that could turn into war is growing old by now (if that's even that such a thing in MMA), and a big part of that is this lightweight tilt that is just the latest match-up promising to get the crowd riled up. Much of that is due to Lauzon's simple presence, as the Boston-based "J Lau" is one of the most exciting fighters in UFC history with his well-known collection of bonuses. Scotland's Ray is one of lightweight's least-hyped prospects, so this showcase bout with a legend like Lauzon is his biggest-ever UFC bout by far.
I think Lauzon will pressure Ray early on, and this could turn into a chess match of sorts based on how well-rounded both fighters are. But I think we saw Lauzon start to decline ever so slightly in his extremely controversial win over Marcin Held in his last bout, a fight even he admitted he thought he lost, and Ray presents an even more dangerous challenge. Ray by TKO in R3.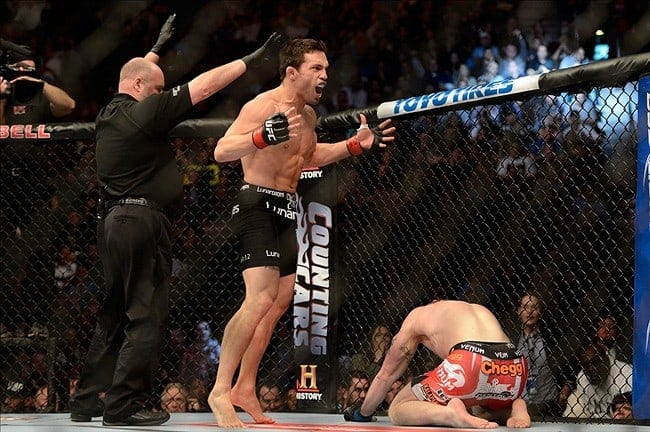 Jake Ellenberger vs. Mike Perry:
Yet another and our last potential slobberknocker is the welterweight curtain-jerker between two power sluggers who are at opposite ends of their careers. That difference stops in their shared need to pick up a win, however, as Ellenberger has lost three out of his last four fights and six of his last eight, while Perry is looking to rebound from his first MMA loss to Alan Jouban.
Ellenberger has absolutely faced better competition, as he's met only the best welterweights in the world during his lengthy MMA tenure. But he's also showing the wear of his 43 fights as well, and this is more of a must-win bout for him than it is for the still-developing Perry. After hopping from camp to camp without a ton of success, I do believe Rafael Cordeiro has greatly refined "The Juggernaut's" game at King's MMA, but I believe the speed, athleticism, and power of the younger Perry will put Ellenberger on the defensive where he's never been effective. "Platinum" by KO, R1.