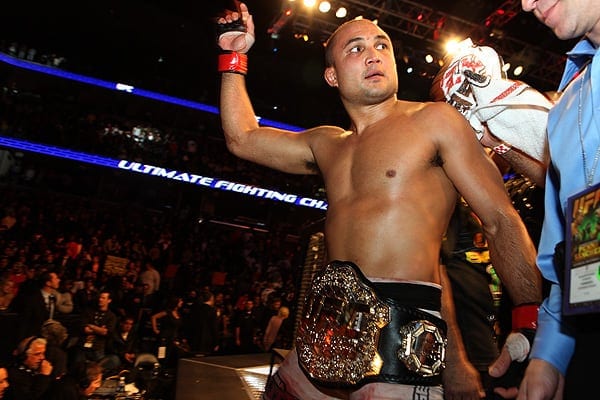 Tomorrow night (Sun., January 15, 2017) the UFC will return in a high-profile time slot with UFC Fight Night 103 from Talking Stick Resort in Phoenix, Arizona. The card itself may not live up to the billing of a MMA event set to follow FOX's NFL playoff broadcast, but it does feature the return of former welterweight and lightweight titleholder BJ Penn, who will look to begin a new chapter of his storied career against rising potential star Yair Rodriguez, who will look to use "The Prodigy" as his biggest win to date.
The card offers somewhat little name value aside from the main event, with Joe Lauzon vs. Marcin Held squaring off in the lightweight co-main event. Find out who we picked to win the two main bouts here:
BJ Penn vs. Yair Rodriguez:
Mike Drahota:
While "The Prodigy" has no doubt had one of the more historic and prominent careers in UFC history, it remains to be seen if his comeback attempt can bear any fruit. Since it was announced last year, Penn's return has been blocked by seemingly endless injuries, a USADA suspension, and even a set of disturbing allegations that ultimately didn't result in criminal charges. That makes me wonder if it was doomed before it began.
Predicting the future based on the past is at times a tough undertaking, however, so we can only focus on the facts we have. In that area, Penn simply has a massive challenge before him in the form of Rodriguez, arguably the UFC's best rising star after the recent falls of Paige VanZant and Sage Northcutt. "El Pantera" is fast, powerful, and well rounded, and he also possesses quite possibly the most dynamic and unorthodox striking skills at the featherweight division.
"The Prodigy" has been training with both Greg Jackson and Jason Parillo, and he no doubt has the all-around game to pull off a big win. But with five losses in his last seven bouts, I just don't see it in such a difficult fight. Penn could certainly shock the world, and his best chance to do so is probably on the ground with his world-class submission game. I just tend to believe Rodriguez's length, speed, and accuracy will enable him to outclass Penn on the feet. Yair Rodriguez by unanimous decision.
Mike Henken:
As big of a fan of Penn as I am, I feel as if "The Prodigy" has quite a tough fight in front of him. Not only has he not won a fight since 2010, but he also hasn't competed since being brutally stopped by Frankie Edgar in 2014. He will now attempt to make his return at 38 years of age against the red-hot prospect Rodriguez. The former TUF: Latin America winner has compiled a 5-0 record inside of the Octagon using his long and rangy striking style that includes a wide variety of spinning and jumping attacks.
Rodriguez also possesses somewhat solid wrestling and a seemingly solid ground game, although he prefers to strike. However, the Mexican can get wild at times, leaving open the opportunity for Penn to use his crisp and powerful boxing to land a big shot. Penn should also look to close the distance, as Rodriguez likes to fight from the outside. If the fight ends up on the mat, "The Prodigy" may also have a chance, as his jiu-jitsu is second to none. Now training under the tutelage of legendary trainer Greg Jackson, it'll be interesting to see what form of Penn shows up. While I could see him pulling something off in Phoenix, I feel as if Rodriguez will stick and move on the outside, while picking Penn apart. Rodriguez by fourth-round TKO.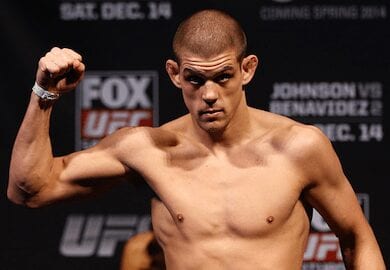 Joe Lauzon vs. Marcin Held:
Mike Drahota:
This possible lightweight barnburner doesn't possess any true ranking implication for the crowded 155-pound division, but it will almost assuredly be a lot of fun. Bonus leader Lauzon has seemingly alternated big performances with ho-hum ones, and he's lost five out of his last nine bouts after dropping a controversial split decision to his longtime foe Jim Miller in his latest bout. Held, on the other hand, is a grappling wiz like Lauzon, but he has a lot more to prove after dropping his UFC debut fight against another longtime veteran in Diego Sanchez. Held has to win to begin living up to the promise he brought, and I think he gets it done here after Lauzon puts him in some dangerous spots. Held by unanimous decision.
Mike Henken:

The co-main event should be an intriguing fight between two entertaining fighters. Lauzon is extremely aggressive, constantly pushing forward with combinations. On the ground, he fights in a similar manner, relentlessly hunting for a finish. Held is also an aggressive fighter, although he tends to push forward looking for a takedown. On the canvas, Held is extremely dangerous with submissions, although Lauzon is a brown belt in Brazilian Jiu-Jitsu and a very strong grappler himself. I see "J-Lau" avoiding a grappling match and landing big shots on the feet. Lauzon by second-round TKO.