This past weekend (Sat. September 28, 2019) at UFC on ESPN+ 18, we had a great night of fights in Copenhagen, Denmark. The event featured 13 fights, seven of which went the distance, with four knockouts, and two submissions.
The event was headlined by top middleweights Jack Hermansson and Jared Cannonier, and it didn't disappoint. After a successful round one of stuffing takedowns for Cannonier, he threw and landed a beautifully timed and placed uppercut early in round two and followed up with more strikes on the ground for the TKO finish.
We at LowKickMMA have compiled a list of five fights to make after their showings. Where do the winners go from here? Where do the losers go from here? Continue reading to see our five matchups:
Marc Diakiese (14-3) vs. Damir Ismagulov (19-1)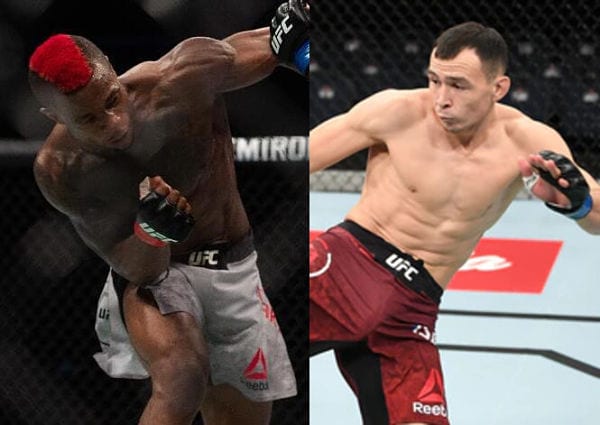 Marc Diakiese has really come into his own recently. Coming into the UFC with a 9-0 record, as well as being a three-time BAMMA lightweight champion, he was a very promising young prospect at just 23-years-old. Right away we saw how flashy his striking is, and also how effective it is. He'd go on to win his first three fights in the UFC with two knockouts before losing for the first time. Diakiese would then lose three straight, going from 12-0 to 12-3 inside of one year's time.
Many of us thought he may have just been another hype train derailed. Of course, he still had all the time in the world to get better considering how young he was, but it's hard to come back after losing three straight fights, especially when you're undefeated beforehand. Diakiese came back this past March and out-classed Joseph Duffy quite handily, before doing the same to Lando Vannata on Saturday. He won all six rounds of those last two fights, and it's very obvious he learned from his losses, which is a great sign to see.
A fight that would be good to see him in next is against Damir Ismagulov, a newer signee that the UFC picked up in December of last year; they've been keeping him busy too, as he's already 3-0 inside the promotion. He's pretty similar to UFC veteran Rashid Magomedov, but he's a bit younger. He, like Magomedov, are both Russian strikers, they both primarily win decisions after out-pointing their opponent with crisp kickboxing, they have similar records given their time and experience in the UFC, both have great takedown defense and good ground games, and both are former M-1 Global lightweight champions that vacated their belts to come to the UFC.
This would be a very fun-to-watch striking battle between two incredibly crisp strikers. Diakiese is a little flashier, Ismagulov has the more original fundamentals, and both are accurate and effective with their hands and kicks. How would this great matchup go between these two?
Ovince Saint Preux (24-13) vs. Khalil Rountree Jr (8-4) 1 NC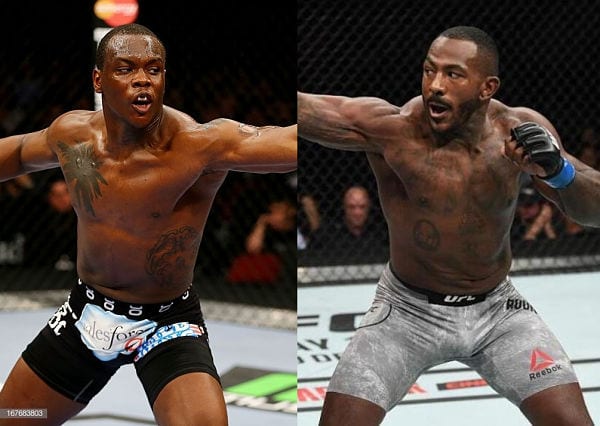 Both of these two fought on Saturday, with "OSP" winning via submission in round two, and Rountree losing via TKO in round one. One thing that's pretty insane about Saint Preux's fight, this was his fourth Von Flue choke victory. There are only six in UFC history, and he has 67% of them. This could be a pretty winnable fight for either guy, it all just depends on which gameplan they'd come in with.
""OSP" came to the UFC from Strikeforce after Strikeforce was purchased by the UFC. He did quite well early on too, going 4-0 in his first four fights, and 6-1 in his first seven. Since then, however, he's gone 6-7. There are a few fights he probably shouldn't have won that he did, and there are probably some losses that he should've won as well. History has shown that it's very hard to bet on "OSP" fights because it's impossible to tell how they'll go.
Khalil Rountree came to the UFC off the set of The Ultimate Fighter 23, where he was a finalist. He lost his first two fights in the UFC, going from 4-0 to 4-2, and has since gone 4-2 (1 NC). Rountree's always been promising, but we really got to see what he's capable of when he fought Eryk Anders in his last fight before last weekend. Going to Thailand to learn Muay Thai really worked out for him, he looked incredible. After losing to Ion Cutelaba, hopefully he still has the confidence to use that, rather than going back to how he fought before.
Gilbert Burns (17-3) vs. Li Jingliang (17-5)
Gilbert Burns has gone 2-0 in a month-and-a-half since moving back up to welterweight, after spending his entire UFC career at lightweight aside from his promotional debut. Not only that, he beat two real studs at 170 pounds. In his return to welterweight in August, he defeated former four-time M-1 Global welterweight champion Alexey Kunchenko, who was also 20-0, before defeating fellow BJJ ace and Goju-Ryu karate black belt Gunnar Nelson over the weekend. Those are two very good fighters. They aren't the very best of the best, but anyone outside of the top 15-20, they have their way with.
A fight with Michael Chiesa would be tons of fun to watch, but as "The Maverick" has stated numerous times since his win over Diego Sanchez, he will not accept a fight outside of the top 15. Therefore, why not a fight against fellow Fight Night winner Li Jingliang? This would be a perfect striker versus grappler matchup, though Burns' striking has improved so immensely, and of course, he's world-class on the ground.
With as hard as Jingliang hits, you can't count him out of any fight at welterweight, and with as solid of a BJJ game as Burns has, he can submit anyone on any given day. Perhaps the winner of this fight could crack the top 15. Who would you take?
Jack Hermansson (20-5) vs. Omari Akhmedov (19-4-1)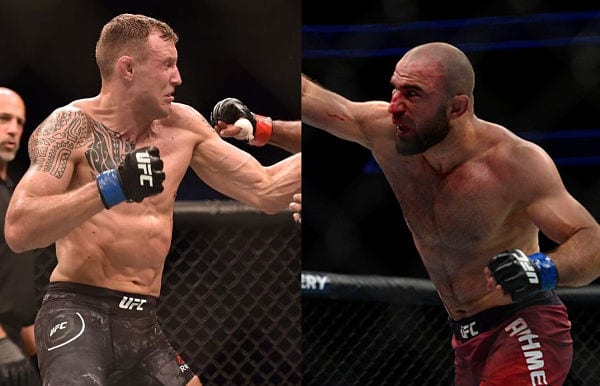 Though Jack Hermansson was ranked at No. 5 before losing to Jared Cannonier and Omari Akhmedov is ranked at No. 15, it's still a good matchup to make. Akhmedov is 4-0-1 in his last five fights, and Hermansson is 4-1 in his last five. Considering Hermansson will fall down a couple of spots in the rankings, it'd be interesting to see how this fight plays out.
Akhmedov just cracked the top 15 with his most recent win over Zak Cummings, and he's looking to continue climbing that ladder, just as Hermansson's going to try and re-climb it. We all know how good Hermansson is at wrestling and how good of a guillotine choke he's accumulated, and Akhmedov's got a great ground game too. Though Akhmedov's been submitted twice, both via guillotine choke, he hasn't been since his first two losses.
Akhmedov is an International Master of Sport in both Combat Sambo and HTHC, which would make the grappling between these two very fun to watch, and we all know this fight would most likely play out largely on the ground. Both are good at striking, but neither are great at it; they both look a little awkward when striking, but that doesn't mean they aren't good at it, they're just both much better on the mat, particularly on top. How does this middleweight matchup play out?
Jared Cannonier (13-4) vs. Derek Brunson (20-7)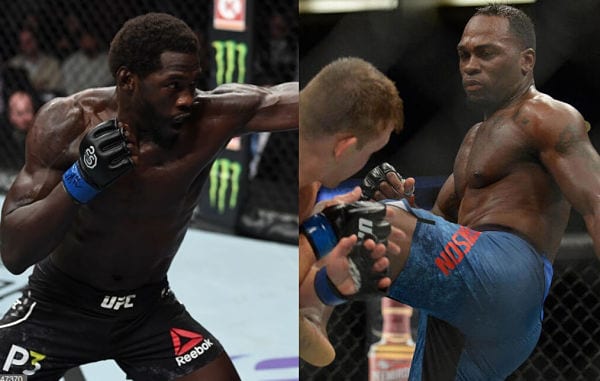 Going into his fight last weekend, Jared Cannonier was ranked at No. 9, and he defeated the No. 5 ranked Jack Hermansson. This means he will climb the ranks a little. Brunson is ranked at No. 8 right now, but this is the fight that makes the most sense for "The Killa Gorilla" at the moment. Ranked ahead of Brunson is Chris Weidman and Jacare Souza, both of which are going to light heavyweight. After that, Hermansson still needs to be bumped down the list, Kelvin Gastelum's fighting Darren Till, then ahead of him is Yoel Romero and Paulo Costa, before our middleweight champions.
Cannonier probably shouldn't fight someone like Romero just yet. Not that he wouldn't beat him, he very well may, but let's not move him too fast. It'd be great to see him have at least one more fight before being thrown literally to the wolves. Middleweight has a lot of incredibly dangerous talents, Cannonier being a new one, having come down from heavyweight and light heavyweight.
After going 7-0 in the Alaskan circuit, Cannonier signed with the UFC. He initially went 3-4 in his first seven, and since dropping to 185 pounds, he's gone 3-0 with three knockouts. He also has knockout wins in all three of those weight classes, which is incredible. If that doesn't show you how good of an athlete he is, and/or how well he can adapt, nothing will. Having not started an MMA career until his late twenties, it's a wonder where he'd be if he started sooner.
What would you like to see be next for Jared "The Killa Gorilla" Cannonier?