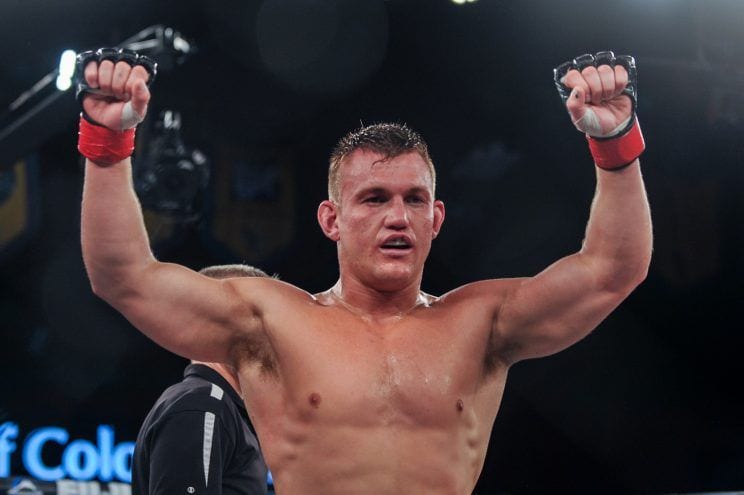 The Octagon touches down in South America for Saturday (Nov 17, 2018) night's UFC Argentina. LowkickMMA has you covered with all the up to the minute results.
UFC Fight Night 140 better known as UFC Argentina offers 12 fights in total to take place at the Luna Park arena in Buenos Aires. This event will be live on Fox Sports 1 if you choose to tune in.
Before Argentina's own Santiago Ponzinibbio makes his way to the Octagon to fight Neil Magny in the evening's main event, eight other fighters make the walk to the cage.
The only middleweight bout of the night will feature Cezar Ferreira taking on Ian Heinisch in an early Fight of the Night contender.
Ferreira (13-6) has won five of his last six outings. He holds a victory over light heavyweight top contender Anthony Smith. A win here for Ferreira could be the opportunity he needs to reach the upper echelon of the middleweight division.
Heinisch (11-1) earned his UFC contract on last season of Dana White's Tuesday Night Contender Series. He will make his official Octagon debut when he meets Ferreira in Argentina. The winner of this fight will no doubt set themselves up with big fights in the future.
Round One
Heinisch throwing a bunch of faints to start the fight. Both fighters exchange kicks, nothing serious. Heinisch is applying forward pressure but Ferreira lands a takedown because of it. Heinisch gets back to the feet and lands a hard elbow. Ferreira lands a leg kick and clinches the fight. Heinisch jumps a guillotine but Ferreira waits it out. The American going for an armbar and nearly gets it as the round ends.
Round Two
Ferreira dives for a takedown to start round two. He lands it but Heinisch immediately starts to scramble. Ferreira repositions and drags him back down. Heinisch gets the fight back to the feet again and looks to be trying to find his rhythm here. Heinisch is definitely pressing the action as he walks forward and looks to land. Ferreira lands another takedown but Heinisch gets back to his feet again. The pace slows with 90 seconds left in the round. Ferreira throws a left hand that the American blocks. Heinisch lands a big right hand that drops Ferreira as the round ends.
Round Three
Ferreira steps on Heinisch's foot and the American stumbles backward. Ferreira goes for another takedown but Heinisch uses the cage and hits a switch on Ferreira. The fighters break and face off in the center of the Octagon. Ferreira clinches and looks to drag Heinisch to the ground but Heinisch lands a head kick that hurts Ferreria. Heinisch is in top control and he is landing some hard punches on Ferreria. Heinisch lets Ferreira up and looks to finish the fight but Ferreria desperately looks for a takedown. 60 seconds left in the fight. Heinisch walks Ferreira down and lands a right hand and a left. The fight ends with Heinisch landing a hard elbow shiver.
  Ian Heinisch defeats Cezar Ferreira via unanimous decision  (30-27, 29-28, 29-28)