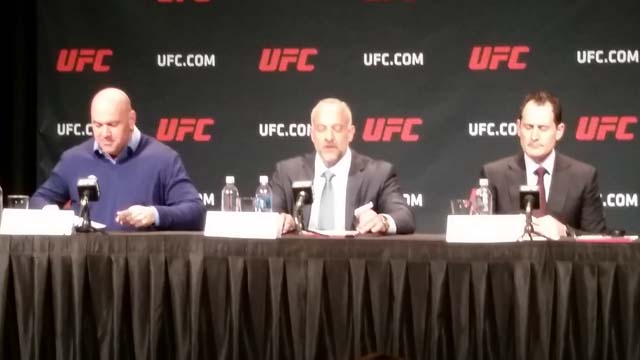 Earlier today (Wed., June 3, 2015) the UFC held a press conference to announce their all-new drug-testing policy to combat the scourge of performance-enhancing drugs (PEDs) that has plagued the sport like never before in recent months due to a series of high-profile drug test failures.
But the presser wasn't focused only on drug testing procedures, as the crucial topic of fighter injuries was also addressed by UFC Chief Operating Officer Lawrence Epstein, who unveiled the company's plans to build an all-new 'UFC Lab' where fighters can rehabilitate and recover from the many nagging injuries and ailments that go along with being a professional fighter. The tentatively titled 'UFC Lab' is set to be part of the all-new UFC 'campus' in Las Vegas, and will be part of a sprawling complex that also features new office space amongst other things.
Epstein elaborated on the new training facility's role within the office complex (quotes transcribed via MMAFighting.com):
"As part of that office facility," Epstein said, "we're building what we call, tentatively, the 'UFC Lab'. That facility is going to be a state-of-the-art facility where all of our athletes can come work out, using cutting-edge training techniques, and, of course, equipment, but also, if there is an injury, come and rehab at our facility."
The focus of the all-new facility is to not only treat and repair injuries, but also to provide training and wellness guidance on an effort to cut down on the devastating injuries that have ruined all too many high-profile events in recent years. To better learn how to enact that admirable goal, Epstein said he took a tip around to various sports facilities of a similar nature, including the famed Manchester United soccer team's recovery center in England:
"I was lucky enough to go and visit some of the great sports facilities around the world. In particular, a few months ago, [I] got to visit the Man City campus in Manchester, England," Epstein noted. "Just to see the facility that they've built there and the incredible thought that went into that, we've taken a lot of the ideas that they've actually put into place in their facility and are going to put that into ours. We're really excited about that."
No more was released about the 'Lab,' which could be deemed something entirely different when it actually debuts. The official release date is unknown, but coupled with the UFC's new focus on combating PEDs in MMA, the sport could be headed in a much healthier and cleaner direction in the very near future.