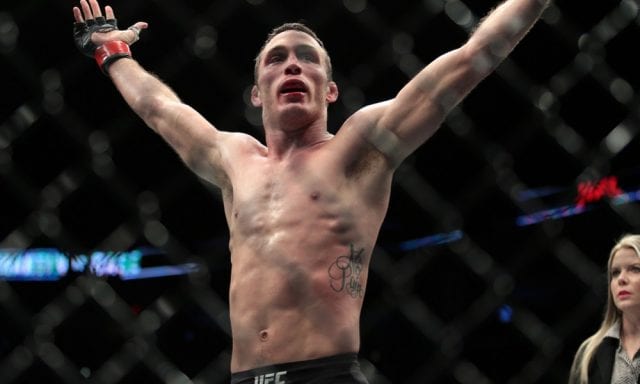 The Octagon touches down in the land down under as UFC Adelaide is upon us. 12 Fights in total on the night and we have you covered will all the results.
The Adelaide Entertainment Center in beautiful Adelaide, South Australia will host the fights. With a healthy dose of local talent and plenty of veterans, UFC Adelaide is a solid card.
A Fight Of The Night (FOTN) contender in the welterweight division is up next. Jake Matthews and Anthony Martin are set to into a good old fashion slobber-knocker.
Yet another Aussie, Matthews has seemingly flipped a switch as of late. He has looked increasingly impressive in each of his last three fights, all wins. He submitted Shinsho Anzai this last June in his last fight.
Martin has a new-found attitude that has sparked his in-cage aggression. He has won five of his last six fights. However, Martin is competing in the welterweight division for only the third time against Matthews.
Round One
The fighters touch gloves. Both guys throw some faints out there to get started. Matthews throws a big overhand right. Not much landing on either side. Martin throws a leg kick and is marching forward. Both guys seem to be finding their rhythm. Matthews lands a right hand that backs up Martin. Matthews spins through a missed leg kick. Martin lands a low calf kick that stings the Aussie. Matthews answers back with a lead left. Both guys open up. Matthews clips Martin and he goes down. Matthews gets a guillotine and its tight. Martin defends nicely. About 45 seconds left in the round. Matthews hits a switch and lands a punch as the round comes to an end.
Round Two
Martin opens up with the low calf kick. Matthews is backing up and looking to land a big punch here in round two. Martin throws a one-two. Matthews lands a hard right hand and followed up with a flying knee that just misses the mark. The fighters trade head kicks. Martin again with a one-two. Martin mixing his striking up well. He pumps the jab and throws a head kick. Matthews is looking tired in round two. Matthews lands a quick lead right hand. Martin fires back with a hard right hand. Martin lands a short right hand but eats a knee for his efforts. The round ends.
Round Three
Martin goes right back to the low right calf kick. Matthews answers back with a push kick. Martin takes center Octagon and lands a right hand that hurts Matthews. The Aussie shoots a weak takedown. Martin locks in an anaconda choke. He just put Matthews to sleep.
 Anthony Rocco Martin defeats Jake Matthews via submission (anaconda choke) at 1:19 of round three
If you enjoyed this story, please share it on social media!