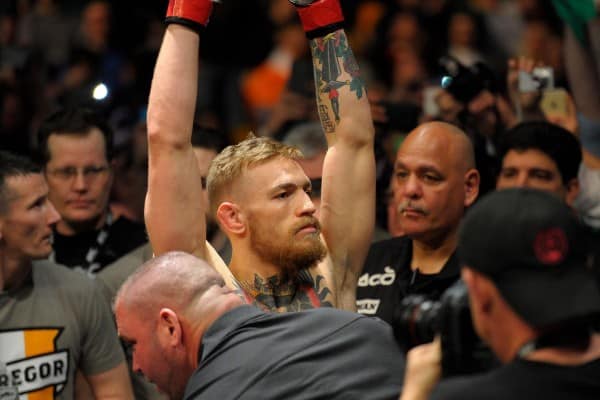 With UFC Fight Night 70 (June 27, 2015) now in the rearview mirror, fans can now look ahead to the highly-anticipated biggest card of the year in the form of UFC 189 which is set to go down on July 11, 2015 from the MGM Grand.
Scheduled for the main event is the biggest fight of the year and arguably the biggest fight in the history of the sport as reigning featherweight king Jose Aldo puts his 145-pound title on the line against Irish trash talking machine, the "Notorious" Conor McGregor, that is if the champion shows up.
Shocking reports surfaced earlier this week that Aldo had suffered a fractured rib, putting the bout in jeopardy. However, it was then reported that it was just a bone bruise, and that Aldo planned on fighting, with the UFC having former title challenger Chad Mendes on standby. The saga continued recently when news once again broke that "Scarface's" rib was indeed fractured, throwing fans for another loop.
As of now, the fight is set to go on, with the UFC not having made any more statements recently. Being one of the biggest fights in history, Aldo would lose quite a bit of money, leading many to believe he will show up. However, he may have his toughest test in front of him in the form of McGregor. The "Notorious" one has risen to the top of the sport faster than anyone ever has before mainly through his brash, outspoken personality, but he has also proved to be a devastating knockout artist in the cage.
Check out where the hype train began in McGregor's UFC debut against Marcus Brimage courtesy of the UFC below:

In the co-main event of the evening, another title is on the line as newly-crowned welterweight champion "Ruthless" Robbie Lawler puts his title on the line for the first time in a rematch against Rory "Red King" MacDonald.
The two first met back in 2013 at UFC 167, with Lawler earning a close, hard-fought split-decision victory. The "Ruthless" one then went on to face Johny Hendricks for the then vacant 170-pound title, losing a unanimous decision in one of the best fights of the year.
From that point on, Lawler strung together two-straight wins to earn a rematch with Hendricks. Watch the two meet again, and Lawler secure the title at UFC 181 courtesy of the UFC below:

Will the titles change hands at UFC 189?