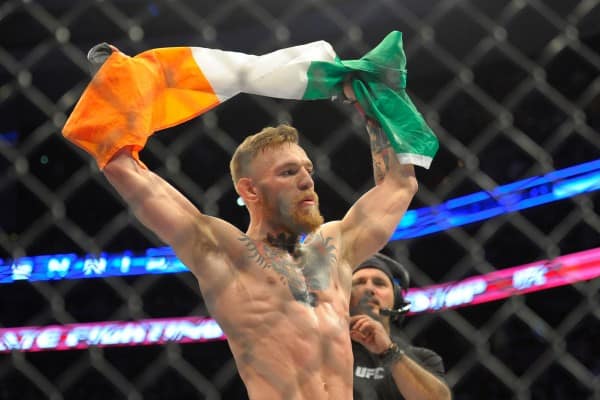 Chad Mendes vs. Conor McGregor:
Mike Drahota:
With both fighters possessing clear advantages that could easily propel them to a victory tomorrow night, this is truly a difficult bout to predict in the fullest sense. Obviously McGregor's size, reach, and striking ability give him the edge standing, and many believe that he'll be able to pick Mendes apart from the outside, battering the smaller 'Money' when he tries to get close for a takedown. McGregor has also been in Las Vegas preparing for this fight for months now, but he hasn't been training for Mendes the whole time. We're going to see if McGregor truly can defeat a top-ranked contender who is well versed in wrestling, his perceived area of weakness.
'Money' is a former NCAA All-American who implements a nonstop pace coupled with devastating power to keep his opponents guessing. He's also got a chin of iron considering some of the all-out bombs Jose Aldo hit him with in their classic rematch at UFC 179. It's going to be tough to get inside on McGregor and take him down, and I think Mendes will eat several big shots to do so. I also think he'll eventually be able to get McGregor to the ground and keep him there long enough to turn the fight in his favor. It's close, but I'm going with Mendes by decision.
Rory Kernaghan:
Chad Mendes and Conor McGregor are an interesting mix of styles; on the one hand we have a world-class wrestler with knockout speed and power, and on the other a well-rounded boxer with precise timing and an adverse skill set. Although 'Money' is coming off a short camp for McGregor, it's well known that the Team Alpha Male squad is in shape year-round for these kind of big fights. 'The Notorious' has an obvious height and reach advantage, but where he lacks experience, at least in octagon action, is against high pedigree wrestlers.
We've seen how Dennis Siver was able to take McGregor to ground, so it's likely that Mendes may have some luck n the takedown department. This really is a tough one to call, and you have to look past the hype train that the UFC has built around McGregor to make a logical pick. If it stays standing, I believe McGregor will get the better of the fight; on the ground Mendes rules this one. I've flip-flopped between picks overnight, I first thought that the aggressive grappling and power from 'Money' would win the day, but I'm going to go against that now, and pick Conor McGregor to win with a second round TKO. Don't take it to the bank though.
Mike Henken:
This is an extremely hard fight to call for me. I agree with everyone saying that Chad Mendes will offer up a tougher challenge to Conor McGregor than Jose Aldo would've because not only is Mendes the best wrestler McGregor's ever faced, but he is simply the best fighter McGregor's ever faced. "Money" has much improved striking as well, as shown in his war with Aldo. If he can get inside and score takedowns and land big shots, the Irishman may be in trouble. However, I believe that McGregor is just too big and too good on the feet. The "Notorious" one is a huge featherweight, and will own a massive eight-inch reach advantage over Mendes. In my opinion, if he can keep the fight on the feet and use his superior striking, I see the hype train rolling on. McGregor by second round TKO.
Robbie Lawler vs. Rory MacDonald:
Mike Drahota:
Here's another extremely close fight in the co-main event in a bout I felt should have been given its own pay-per-view (PPV). It'll play second fiddle to Mendes vs. McGregor, but that doesn't make it any less exciting. This anticipated rematch should be a war fought from a very strategic viewpoint, as both Lawler and MacDonald have sharpened their training camps and gameplans to very high levels from the look and sound of things. Lawler took some much-deserved time off after winning the belt from Johny Hendricks last December, but something tells me that may have been just enough time to lose whatever slight edge he may or may not have had on MacDonald during his insane five-fight barrage from 2013 to 2014.
'The Red King' is motivated to finally win the belt that he's been basically anointed with ever since his UFC debut, and he's in a difference place both mentally and physically compared to his first split decision loss to Lawler at November 2013's UFC 167. MacDonald may be one of the most well rounded competitors in all of MMA, and he brings one of the smartest strategists in TriStar head coach Firas Zahabi. The young phenom should be looking to mix it up and keep Lawler on his toes with unpredictable level changes, yet he also wont be afraid to exchange on the feet. I believe that's enough to edge Lawler in another close and exciting bout. MacDonald by split decision.
Rory Kernaghan:
Robbie Lawler and Rory MacDonald are being clearly overshadowed by the main event here, and rather unfairly so. The fact of the matter is that neither man will really mind flying under the radar for their welterweight title tilt, and it won't impact on the way they perform. What we saw in their first meeting was a more rounded and sharp Lawler than in his previous bouts, and I believe he is being heavily picked against at UFC 189 by the masses, and also that he will be a much better fighter this time around too. Rory MacDonald is a beast no doubt, but I just think 'Ruthless' has his number in all areas. The ATT (American Top Team) champ is hard to take down, and his power striking is so slick nowadays. Again, I'm going to pick Robbie for the win as I did in the first fight, only this time I'm predicting a third round knockout for storied veteran Lawler.
Mike Henken:
Another fight that's extremely hard to predict. The first bout between the two was a very close split decision for Lawler, and both men have improved immensely since. In my opinion, MacDonald is probably the more technical and more well rounded fighter here, but there's just something about the champion that can only be described as "Ruthless." Lawler is an absolute animal inside of the cage, and if he can stay off of his back, I see his relentless and powerful arsenal of strikes overpowering the Canadian's fluidity and technicality. Lawler by unanimous decision.