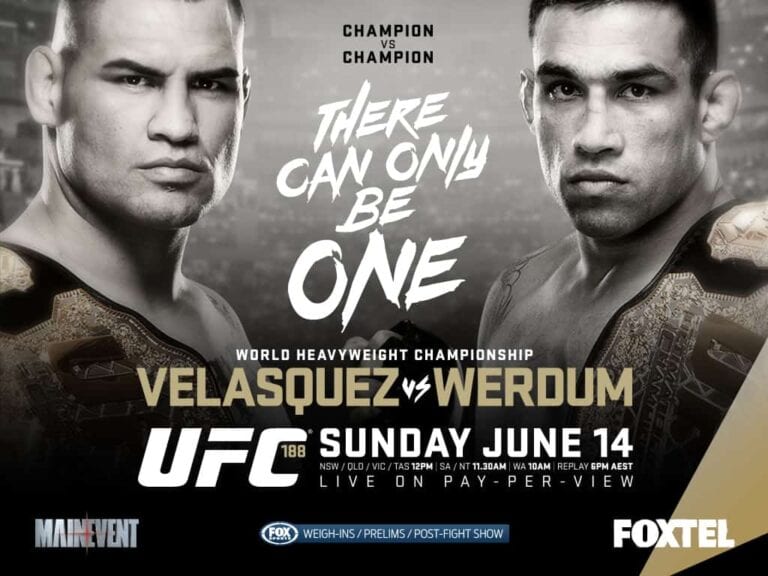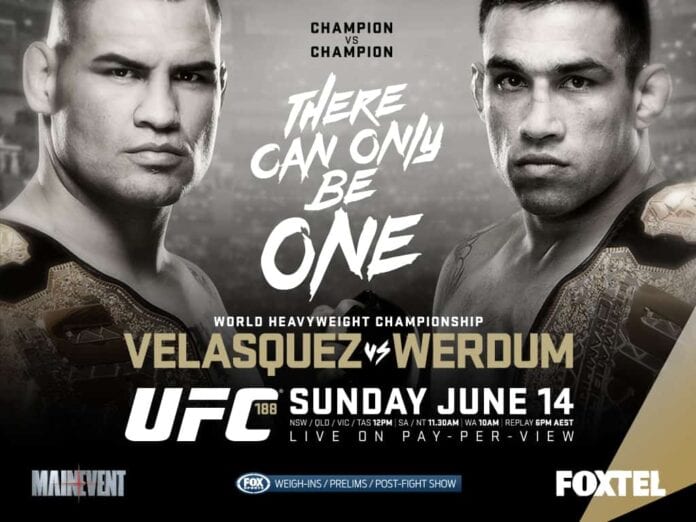 It's once again fight day here at LowKickMMA, and the talent on display tonight (Saturday June 13th, 2015) will come from the Arena Ciudad de México in Mexico City, Mexico, in the form of UFC 188. Headlining the card are heavyweights Cain Velasquez and Fabricio Werdum, but there's a whole bunch of great fights also taking place on the preliminary section of the card.
Closing out the FX preliminary card is a flyweight bout between Henry Cejudo and Chico Camus. In this fight, Cejudo attempted to establish his wrestling, but Camus quickly shut this idea of this happening down. Camus put some great defense up against Cejudo's wrestling, but didn't do much to establish his will on Cejudo. The judges gave the unanimous decision to Henry Cejudo.
Efrain Escudero took little time to get his hand raised in a lightweight bout with Drew Dober as he dropped him with a leg kick that led to him grabbing the neck of Dober and locking in a deep guillotine choke that ended the fight.
Patrick Williams caught everyone off guard (including Alejandro Perez) when he landed an uppercut that rocked Perez, then landed an overhand right that dropped Perez to start the fight. Patrick Williams would go on to capitalize with a sick guillotine choke that put Perez to sleep. He broke the UFC/WEC record with the quickest submission finish in the promotion's history. He finished the fight in 23 seconds.
Johnny Case vs. Frank Trevino in a lightweight bout begins the preliminary portion of this event on FX. The first round, Case was poked in the eye badly that almost put an end to this fight. Case powered through and continued on with the fight. Case dominated the rest of the fight and went onto win the fight by unanimous decision.
Augusto Montano vs. Cathal Pendred finishes off the UFC Fight Pass prelims in what could be called a missable fight. Augusto Montano was way too hesitant in the first-round, which got him a warning by Herb Dean. The second-round was dominated by Cathal Pendred and the third-round was a very close round. The judges gave the win to Cathal Pendred by unanimous decision.
Opening the UFC Fight Pass prelims is a flyweight bout between Clay Collard and Gabriel Benitez. Benitez dropped Collard in the first few seconds with a big straight right hand. He got the back of Collard, but Collard slipped out. Benitez focused his attack on the body, (mainly the right side of Collard's ribs) throughout the fight. While Benitez did a number on Collard's ribs, it wasn't enough for a finish. Benitez won this bout by unanimous decision.
So join us right here at LowKickMMA for UFC 188, kicking off at 6:30 PM ET!
PRELIMINARY CARD (FX/8 p.m. ET)
Flyweight: Henry Cejudo def. Chico Camus via unanimous decision (29-28, 30-27, 30-27)
Lightweight: Efrain Escudero def. Drew Dober via submission (guillotine choke) – Round 1, 0:54
Bantamweight: Patrick Williams def. Alejandro Perez via technical submission (guillotine choke) – Round 1, 0:23
Lightweight: Johnny Case def. Francisco Trevino via unanimous decision (30-27, 30-27, 30-27)
PRELIMINARY CARD (UFC Fight Pass/6:30 p.m. ET)
Welterweight: Cathal Pendred def. Augusto Montano via unanimous decision (29-28, 29-28, 29-28)
Featherweight: Gabriel Benitez def. Clay Collard via unanimous decision (30-27, 30-27, 30-27)