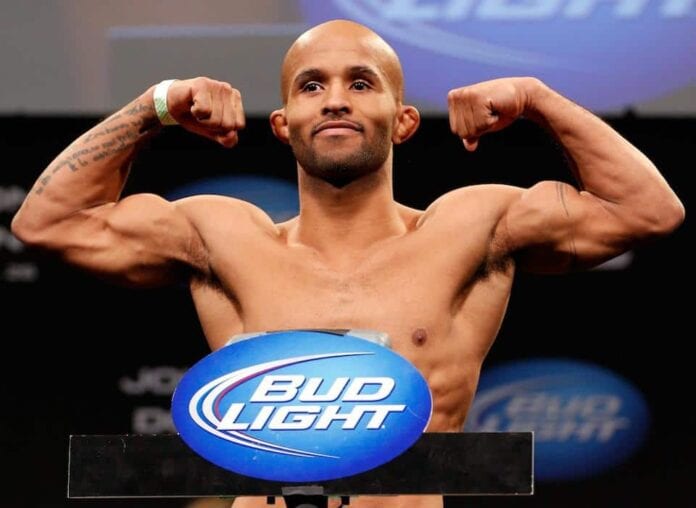 UFC 186 goes down tomorrow (Saurday April 25th, 2015) from the Montreal Bell Centre in Quebec, Canada. LowKickMMA will once again bring you live coverage of the weigh-ins, and we'll update the results for you to check in on right afterwards.
For a card like UFC 186, that has fallen foul to some pretty bad luck, the end result could be much worse. Demetrious "Mighty Mouse" Johnson vs Kyoji Horiguchi is the main event, with the flyweight title on the line. Although not exactly the most popular and revered division, the 120-pounders have proved they can put on great shows in the past.
Quinton "Rampage" Jackson is back in the co-main event slot, and he faces hard-headed Brazilian slugger Fabio Maldonado. Michael Bisping and C.B. Dollaway have unfinished business, there's also John Makdessi vs Shane Campbell, and Yves Jabouin vs Thomas Almeida to look forward to.
Tune in here at LowKickMMA for the live streaming UFC 186 weigh-ins followed by the updated results!
UFC 186 Main Event:
125 lbs.: Demetrious Johnson (124.5) vs. Kyoji Horiguchi (124.5)
UFC 186 Co-Main Event:
215 lbs.: Rampage Jackson (216) vs. Fabio Maldonado (215)
UFC 186 PPV Main Card:
185 lbs.: Michael Bisping (186) vs. C.B. Dollaway (185.5)
160 lbs.: John Makdessi (160) vs. Shane Campbell (161)
135 lbs.: Thomas Almeida (135) vs. Yves Jabouin (136)
UFC 186 FOX Sports 1 Prelims:
170 lbs.: Patrick Cote (171) vs. Joe Riggs (171)
135 lbs.: Sarah Kaufman (136) vs. Alexis Davis (135)
155 lbs.: Bryan Barberena (156) vs. Chad Laprise (156)
155 lbs.: Olivier Aubin-Mercier (155) vs. David Michaud (156)
UFC 186 Fight Pass Prelims:
170 lbs.: Chris Clements (170) vs. Nordine Taleb (170)
115 lbs.: Valerie Letourneau (116) vs. Jessica Rakoczy (115)
115 lbs.: Aisling Daly (116) vs. Randa Markos (116)