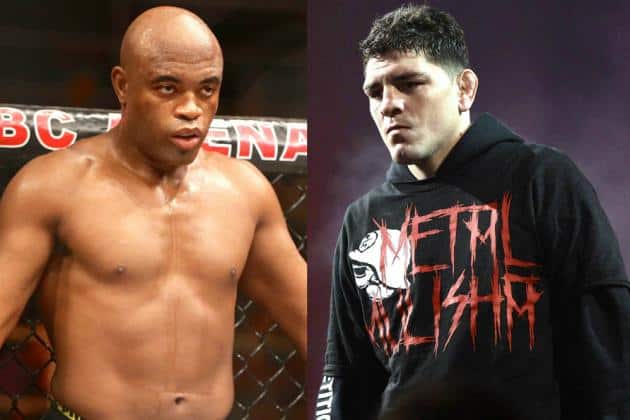 UFC 183 is just days away from going down this Saturday (January 31st, 2015) in the MGM Grand Garden Arena in Las Vegas, Nevada. The headliner is the return of two MMA greats, as former middleweight champion Anderson Silva comes back to the octagon to face controversial former Strikeforce welterweight champ Nick Diaz.
So much is on the line for both legends, and they face the unenviable position of being on a three fight losing skid with a loss. Without further ado, the LowKickMMA Anderson Silva vs Nick Diaz fight breakdown:
Striking
You have to take in to consideration the weight of each man for this bout, as Silva likely comes in to the octagon at around 190-195 and Diaz has fought as low as lightweight before. You could argue that Silva had more power based striking anyway, without a huge weight advantage behind his punches and kicks.
"The Spider" needs opponents to push forwards, he doesn't like a chase. Put him in there with another counter striker or someone moving backwards, like Thales Leites for instance, and you get a five round snoozer. Diaz has a 50% overall knockout rate, and Silva has 20 from 33 at a rate of 60.6%. Silva has a slight reach advantage, but overall a much more refined arsenal with black belts in Taekwondo and Muay Thai, and a yellow rope in Capoeira.
Diaz certainly has some of the best volume-boxing in all of MMA with some significant finishes on his record, but his style just plays right in to Silva's game plan; 70-30 "The Spider"
Takedowns
Again you have to consider size when thinking about the effectiveness of the takedown, not that Diaz is particularly well known for his wrestling prowess, or Silva for that matter. The Stockton bad boy will probably come in well under the mw limit at UFC 183, meaning he'll already have a tough time if he decides to shoot in, which is unlikely.
15 from 40 attempted takedowns are successful for Diaz, a high percentage for Silva but low in total as he takes down three from four attempted. The former middleweight kingpin's defense rate is an impressive 79%, in comparison to Diaz's 63%. It's clear what the gameplan is when you consider neither has scored a takedown n their last five fights. 60-40 Silva
Submissions
Diaz is an excellent submission fighter, coming out of Cesar Gracie's renowned Jiu Jitsu gym. The Stockton native has 8 from 23 by tap or nap/snap, Silva has 6 from 33 by submission. "The Spider" was submitted twice early on in his career, but has since attained a 3rd degree black belt in BJJ under Antonio Rodrigo Nogueira.
Diaz, also a black belt in BJJ, has never been submitted in competition. If it comes to it, Diaz might be able to use his fantastic grappling from his back, but I can't see it happening against such a well versed black belt. All in all, I'm calling it 50-50 on the sub game
So it looks like Diaz may be in a spot of trouble at UFC 183, as he faces a bigger, more powerful and more active Silva. He won't be able to take the former middleweight champion down, although it's not like he wants to, so it's looking like a striking battle. Where will your bets lie at UFC 183?

Follow @Rorylowkick

Follow @LowKick_MMA

Tweet