Tyron Woodley Will Wait For Title Shot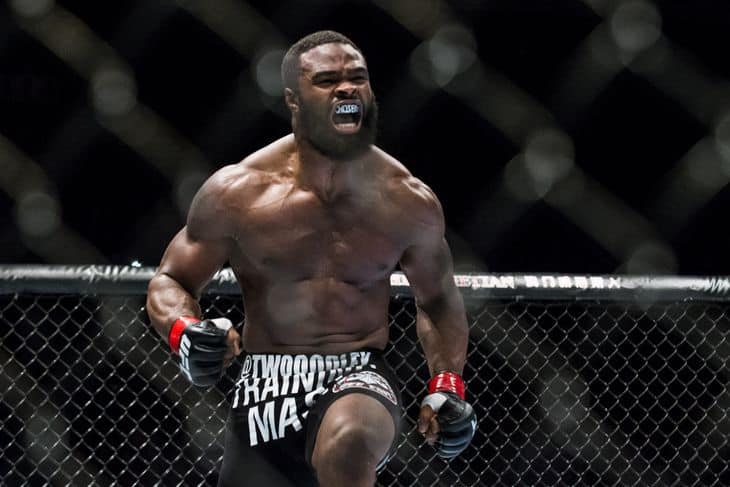 No. 2-ranked UFC welterweight Tyron "The Chosen One" Woodley campaigned long and hard for a chance to share the Octagon with former champion and No. 3-ranked Johny "Bigg Rigg" Hendricks.
He was given that opportunity when the promotion booked the fight as the co-main event of last month's (October 3, 2015) UFC 192 in what was thought to be a title eliminator bout. However, the situation ultimately went south when weight cutting issues caused Hendricks to pull out of the fight just days before.
"The Chosen One" had done nothing wrong, but was essentially screwed out of the biggest fight of his life. He had showed up on weight and was ready to go. That being said, UFC president Dana White, clearly unhappy with Hendricks, announced that Woodley would be next in line for a title shot.
Although that's good news for Woodley, the belt isn't scheduled to be defended until January when current champion "Ruthless" Robbie Lawler takes on Carlos Condit in the main event of UFC 195 from Las Vegas. "The Chosen One" hasn't competed since last January meaning that he will have been out of action for at least a year and a half by the time he fights for the title.
Many fighters enjoy to stay active to avoid ring rust and to earn money, but it looks as if T-Wood is content with waiting for a title shot per UFC Tonight's Ariel Helwani:
Tyron Woodley is waiting for a title shot and has no plans on fighting at the moment unless it's for UFC gold (Per @ArielHelwani)

— UFC Tonight (@UFCTonight) November 5, 2015
Do you agree with this method? Anything can happen in the crazy world of mixed martial arts (MMA) making it a potentially risky move. Despite the long layoff, there's always the possibility of a rematch after title fights, or injuries sustained by the champion that could push the bout even further away.
What would you do if you were in Woodley's shoes?