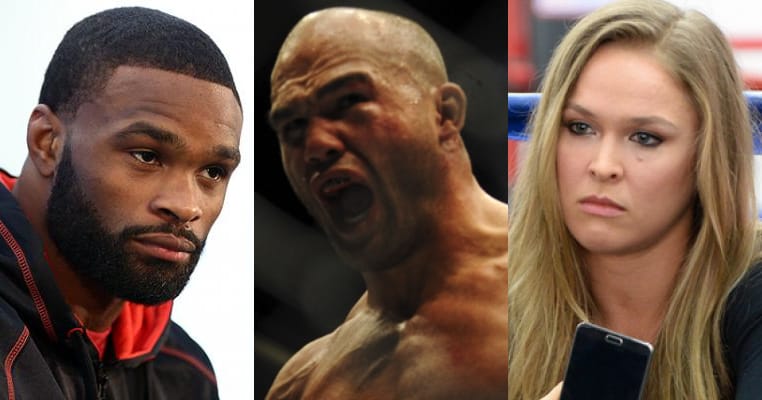 UFC welterweight champion Tyron Woodley has been in several MMA headlines as of late, although it hasn't exactly been for all the right reasons.
The polarizing titleholder was raked over the coals by UFC President Dana White in the moments after his uneventful decision win over Demian Maia in the co-main event of last Saturday's UFC 214, after which White rescinded his prior offer of facing all-time great former champ Georges St-Pierre in his return.
That lead to Woodley demanding a public apology from his boss, or else he would release some dirt White 'didn't want out in the wind.' Soon, UFC welterweight Colby Covington was throwing his name into the fire by stating he had 'dirt that would ruin Woodley's life,' an obvious attempt to get his name out on social media and parlay it into a big fight in the octagon.
But White soon revealed that he and Woodley had spoken and were cool, as "The Chosen One" said he was 'just pissed and didn't mean it.' So with that beef supposedly passed, Woodley can now move on to his next title defense, of which he's had three since winning the title over Robbie Lawler in 2016. There's just one problem, however, and that's the fact that Woodley tore his labrum while facing Maia, an injury that he claims led to his performance leaving much to be desired.
He's going to get a second and third opinion on the injury and hopefully avoid surgery, but the champ told Ariel Helwani on this week's episode of The MMA Hour that if anyone even mentioned the prospect of an interim title – an all-too-often witnessed situation in today's UFC – he was going to lose it:
"I'm going to get a second or third opinion on this shoulder, see what I need to do to get back as fast as I can. And if anybody says, utters, mumbles, accidentally says the word 'interim,' I'm going to lose my sh*t. Because I fought four world title fights in 12 months, and I was prepared to fight five in 18 months coming out in November. So, I dare somebody to say anything about a goddang interim title. I will lose my top, because I've seen athletes injured for years, months, never defended — how many belts has Conor McGregor defended?

"How long has (Michael) Bisping played his freaking [knee] is hurt? Like, be for real. How many months has Carlos Condit been out? Since January of the year before? Why is he still in the rankings? When I beat him, he was in the rankings for 14 months in the top-five with no activity. Let me take three days off — people will be quick to shoot me to the injured reserve list. Let's keep everything consistent, people. Let's keep everything equal, let's keep everything the same. Don't mention an interim title. I am so going to flip a screw."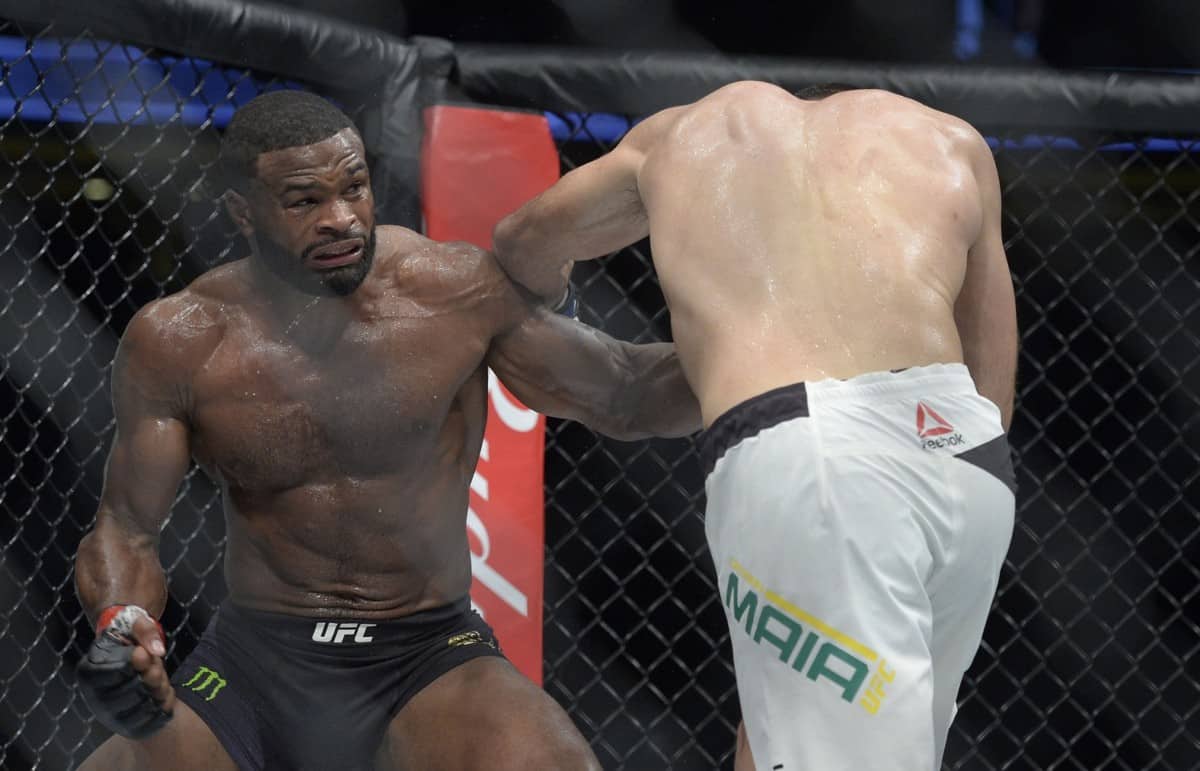 "The Chosen One" is hoping to heal up from the shoulder ailment with only rehab, and when he does, he believes his next rightful contender is unclear. Although No. 3-ranked Lawler got back into the win column with a hard-fought decision win over 'Cowboy' Cerrone at UFC 214 in his first fight back since getting knocked out by Woodley, the champ doesn't believe that qualifies him for a title shot just yet.
And although he claims that he and "Ruthless" are friends from their mutual association with American Top Team (ATT), Woodley blasted his supposed buddy by saying that Lawler doesn't deserve a title shot after taking a year off and going into hiding like former women's champion Ronda Rousey did:
"Why do I fight Lawler? What has he done in this last year besides crawl up in a ball and hide?" Woodley asked. "That's what Ronda Rousey did. He didn't do that when he knocked out everybody else. I didn't do that when I got knocked out. I came back, I shook myself else off, I got myself back up.

"I just don't feel like someone that's taken a year off, as much as I know Dana loves Robbie and the fans love Robbie — I love Robbie, Robbie's a dope fighter, we were friends before that fight, I feel bad that we haven't really communicated that much since then — but I just don't feel as if a fighter who I knocked out in 46 seconds takes a year off, (then) comes back and wins a fight kinda close, and jumps right back into the title picture. So, there's no clear contenders right now."
While the prospect of another Lawler fight may not be an exciting one for the now-healing champ, there could be a few things wrong with this sort of logic. One, Lawler is an action fighter who, while certainly prone to short bouts of inactivity while saving energy for his patented late-round surges, pushes the action and is greatly respected by the fans for it. That could be just the test Woodley needs to get out of his recent funk of playing it absolutely too safe and becoming one of the most hated fighters in the UFC, even if he has beaten the Combat Club member once before.
Two, Woodley has repeatedly asked for a big-money fight with St-Pierre, who has been out of action since November 2013, or long-gone welterweight Nick Diaz, a popular and polarizing personality who has nevertheless not won a fight since October 2011. Blasting 'Ruthless' by comparing his situation to Rousey's well-documented exile while crying out for fights with past big names with years of combined inactivity seems a bit hypocritical, but hey, anything to get that big payday in today's star-driven UFC world.
At this point, it's safe to ask if Woodley should just go full heel and get fans to tune in to hopefully see him lose a la Floyd Mayweather, because he isn't ever going to win over the fans with his constant whining and entitlement coupled with his barely watchable fights as of late.