Tyron Woodley Explains Desire For Superfights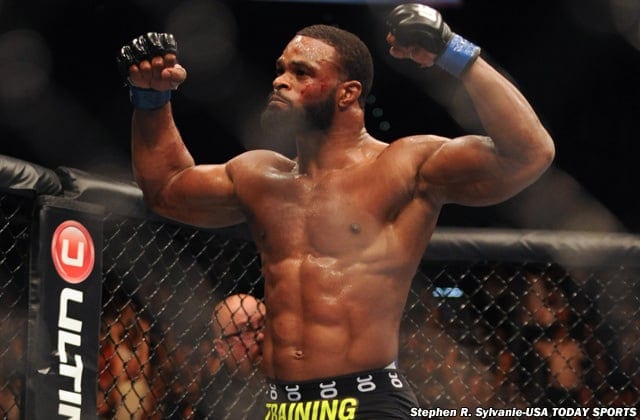 It's no secret that Tyron Woodley is looking for a big money fight.
Following the majority draw decision after his five-round Fight Of The Night worthy contest with Stephen Thompson at UFC 205, Woodley immediately looked for superfights against the likes of Georges St-Pierre, Nick Diaz, and 185-pound champ Michael Bisping.
This sparked much upset amongst UFC fans and 'Wonderboy', who weren't too pleased with 'The Chosen One's' attempt to evade an immediate rematch with Thompson following the draw. Now, however, the two men are slated to run it back again in the main event of UFC 209, but Woodley recently spoke to FOX Sports to explain why those superfights were so important to him:
"Legacy is really important to me," Woodley said. "It's more important than dollars to me. So with that said, I try to find the fights that would solidify my legacy. Beating (Michael) Bisping, winning two belts in two divisions, maybe starting a rivalry and controversy with a fighter and then also knocking off legends like Nick (Diaz) and GSP.

"Those sort of things solidify me and also yeah it puts me in the position to maximize myself as far as being awarded the highest purses. So I'm just trying to kill two birds with one stone."
With rumors continuing to run rampant regarding the return of former welterweight king Georges St-Pierre, Woodley is foaming at the mouth for the opportunity to step into the ring with 'Rush' in attempt to solidify himself as the best 170-pounder to ever step inside the Octagon:
"I'd like to take a crack at being the best welterweight that's ever fought," Woodley said. "A lot of people don't understand my reasoning behind wanting to fight big fights and big names.

"Knocking off these big names in fights really solidifies me as the best welterweight that's ever done it. Fighting Georges St-Pierre really puts the exclamation point at the end of it. It sounds like (GSP) is serious about coming back and I don't think it should be a question of anybody fighting him before me."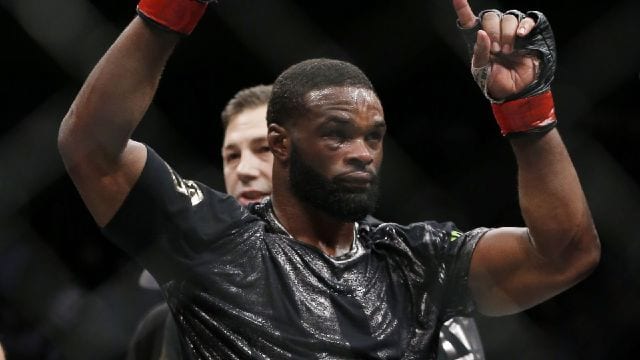 While Woodley has met much criticism after attempting to set up superfights, Woodley is seeing fighters such as UFC lightweight champion Conor McGregor have been cheered on for their efforts. Woodley doesn't hold any animosity towards McGregor for trying to create even more hype behind his name, he understands why their respective situations are so different:
"Just to be blatantly honest, everyone occupies in a different set of rules," Woodley said. "Ronda Rousey operates in a different set of rules than Conor McGregor. Conor McGregor operates under a different set of rules that Jon Jones. There's something about somebody who does something special in the UFC that they're allotted certain freedoms and wiggle room around the rules.

"I'm just not in that category. So if I want to fight Georges St-Pierre or Nick Diaz or Nate Diaz then it's all the hooplah and all the talk about it."
Would you like to see Woodley step into the Octagon against the likes of 'GSP' or Diaz?