Twitter Reacts To Chris Weidman's Electric Submission Win In Long Island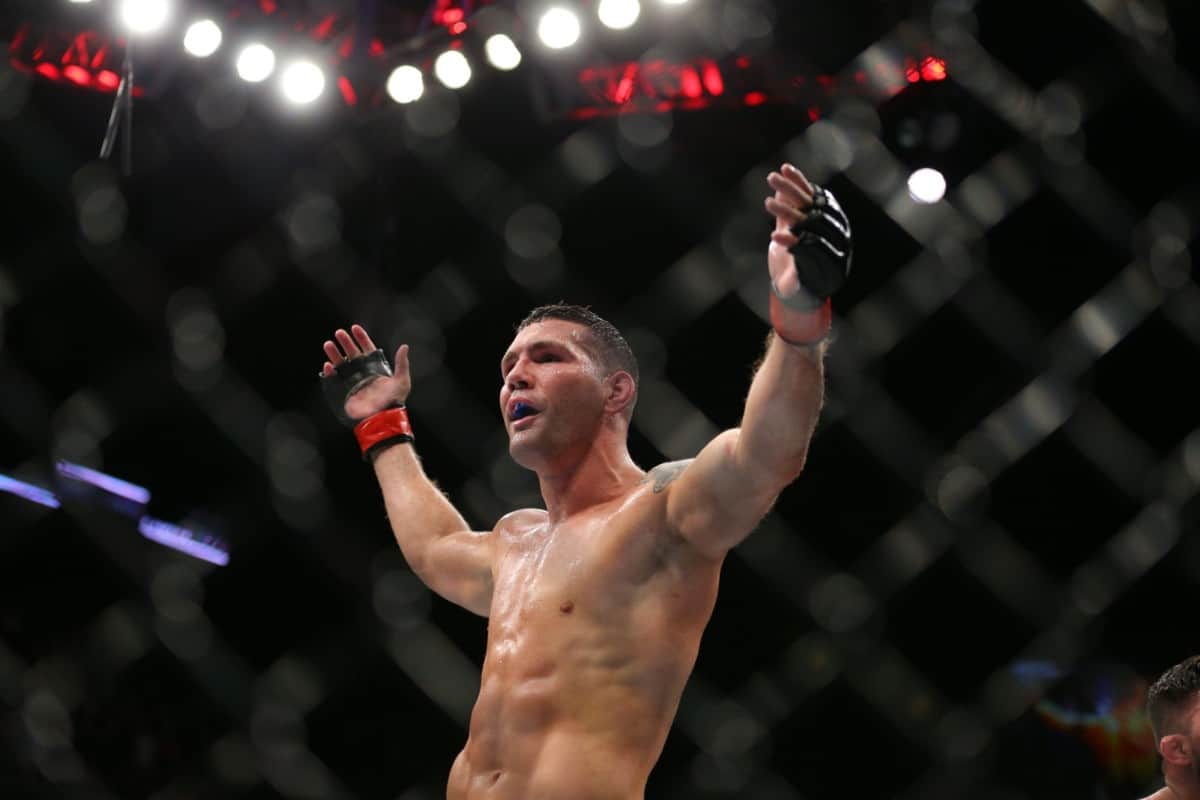 UFC on Fox 25 went down from the Nassau Veterans Memorial Coliseum in Uniondale, New York tonight (Saturday, July 22, 2017). The show was headlined by a middleweight clash between contenders Kelvin Gastelum and former champion Chris Weidman.
Weidman was able to halt his three-fight losing streak in rousing, come-from-behind fashion with an arm-triangle choke finish in the third. After controlling most of the first round with kicks and takedowns, Gastelum dropped the former middleweight king with a flush left hand at the very end of the round. Weidman surged back in the second frame, though, utilizing takedowns, a kimura attempt, and near back-takes to even the scorecards. He picked up where he left off in the third, cinching up the fight-ending choke as Gastelum fought to keep Weidman off his back.
The co-main event pit two hard-nosed featherweight wrestlers against each other. The back and forth fight saw plenty of takedowns, scrambles, and wild striking exchanges. Bermudez was thought to hold most of the advantages going in, but it was Elkins who was able to score several key takedowns in the opening frame. The second round was extremely close and turned out to be the decisive round, as Bermudez came out very aggressive and soundly took the third. In the end, "The Damage" was awarded a split decision victory. It was Elkins' fifth straight win and his second straight as a big underdog.
See how MMA Twitter reacted to these exciting battles below:
LI has been taking L's all night. Does the trend continue

— caposa (@Grabaka_Hitman) July 23, 2017
Main event time. Who you got? #Weidman or #Gastelum #UFCLongIsland

— Dan Hardy (@danhardymma) July 23, 2017
Come on Weidman… #UFCLongIsland pic.twitter.com/yXTZM1daj9

— MMA GOSSiP (@MMAxGossip) July 23, 2017
Last two UFC cards showing there's no such thing as a home side in MMA

— smoogy (@smoogymma) July 23, 2017
I feel that Weidman is more live than most, as Gastelum's propensity to turtle-out and stand may cost him. If not, it's KG by TKO. https://t.co/VHBQv6Cb7Y

— Dan Tom (@DanTomMMA) July 23, 2017
Weidman-Gastelum is next. A monumentally important moment in the former champion's career. Risky to take this fight. Let's see if it works.

— Luke Thomas🏋️‍♀️ (@lthomasnews) July 23, 2017
Must win situation here for Chris Weidman. He's fighting another killer.

— MMA History Today (@MMAHistoryToday) July 23, 2017
Weidman's recent tendency to exhaust himself with his own successful offense is incredibly concerning against a workhorse like Gastelum

— Phil Mackenzie (@EvilGregJackson) July 23, 2017
WEIDMAN CHANGED HIS WALKOUT?!?! 😭😭😭 #UFCLongIsland

— Jee (@yellowpwerrngr) July 23, 2017
Weidman's corner = Wonderboy, Serra, Longo, Danaher. That's one hell of a lineup.

— Luke Thomas🏋️‍♀️ (@lthomasnews) July 23, 2017
Chris Weidman has to feel all sorts of things right about now. Want to see how he uses his size against Gastelum. Could determine outcome.

— Josh Gross (@yay_yee) July 23, 2017
Weidman needs this W. Hope he gets it.

— caposa (@Grabaka_Hitman) July 23, 2017
https://twitter.com/MMA_Jim/status/888943183131951105
Weidman is mauling Gastelum early.#UFCLongIsland

— Mike Sloan (@MikeSloan19) July 23, 2017
This best version of Chris Weidman beat Gastelum 7+/10 times. If a broken version of him shows up he losses 99/100

— The Thugjitsu Master (@thugjitsumaster) July 23, 2017
https://twitter.com/123midnite/status/888944874858307585
https://twitter.com/iainkidd/status/888944970652147713
Similar to his last 5-round fight, Gastelum starting slow and lackadaisically.

— Dan Tom (@DanTomMMA) July 23, 2017
"TAKE YOUR TIIIIIIMMMMMEEE"

"KIMURA A HOLE THROUGH HIS FUCKING CHEST, CHRIS!" #UFCLongIsland

— Tommy Toe Hold (@TommyToeHold) July 23, 2017
That defended submission may have triggered some doubt in Weidman's mind. This is where you cornermen become an asset or a liability.

— The Thugjitsu Master (@thugjitsumaster) July 23, 2017
https://twitter.com/ZPGIFs/status/888946601057767424
I know Weidman's cardio is a ticking time bomb, but I don't know that Gastelum's coasting here is a good idea. Maybe down 2-0.

— Bleacher Report MMA (@BR_MMA) July 23, 2017
Gastelum has mastered the 'I don't even care that you're beating me up' face.

— Ben Fowlkes (@benfowlkesMMA) July 23, 2017
Gastelum looks like the weight of Weidman is draining him some.

— Luke Thomas🏋️‍♀️ (@lthomasnews) July 23, 2017
Kelvin has an amazing chin & finished R1 well but Chris Weidman had a fantastic round 2 and submission to get the job done. HUGE win!

— Kenny Florian (@kennyflorian) July 23, 2017
Beautiful. 👏🏼#UFCLongIsland

— Dan Hardy (@danhardymma) July 23, 2017
Chris Weidman IS BACK! A big submission victory over a game Kelvin Gastelum in round three! #UFCLongIsland https://t.co/5jelU8uvVZ

— FOX Sports: UFC (@UFCONFOX) July 23, 2017
THAT'S MY BOY!!!!!!!!!!!!!!!!!!!!!! #UFCLongsIsland

— MMA GOSSiP (@MMAxGossip) July 23, 2017
HE'S STILL MY BOY

— Seán Sheehan (@SeanSheehanBA) July 23, 2017
THAT'S IT!!!!! @ChrisWeidmanUFC gets the tap in round 3!!!! WHAT A WIN FOR THE ALL-AMERICAN!! #UFCLongIsland pic.twitter.com/xkctd2ptTs

— UFC (@ufc) July 23, 2017
Can't imagine what he's feeling. Three-fight losing streak officially snapped.

Credit to Gastelum. Just a great fight by both men.

— Ariel Helwani (@arielhelwani) July 23, 2017
Weidman looks like Wediman of old. Great bounce back from 0-3 and to do it in his hometown thats got to feel amazing.

— Will Brooks (@ILLxWillBrooks) July 23, 2017
No one in Long Island partying harder than Weidman's dad tonight. Take that to the bank.

— Chad Dundas (@chaddundas) July 23, 2017
THATS ALL I NEEDED BABY!!!! IT'S MY TURN!!!!#UFCLongIsland!!#UFC214!!

— Aljamain Sterling (@funkmasterMMA) July 23, 2017
https://twitter.com/NickBaldwinMMA/status/888949333156126720
https://twitter.com/FlyinBrianJ/status/888949366953615361
https://twitter.com/iainkidd/status/888949706038095872
I've never seen @ChrisWeidmanUFC this fired up ever before. #UFCLongIsland pic.twitter.com/W5UtA5tAHb

— Mark La Monica (@LaMonicaMark) July 23, 2017
https://twitter.com/LegKickTKO/status/888950727145652224
Say my name bitch! @ChrisWeidmanUFC

— michael (@bisping) July 23, 2017
Ultimately, Elkins ultimatey troubles guys who have suspect grappling or cardio, neither of which the negative of Bermudez's game. https://t.co/0ktvZAP1uN

— Dan Tom (@DanTomMMA) July 23, 2017
https://twitter.com/FlyinBrianJ/status/888934084017311744
Dennis Bermudez fighting a very Dennis Bermudez fight. Get taken down with a counter-double? SUPERMAN PUNCH TIME.

— Phil Mackenzie (@EvilGregJackson) July 23, 2017
Elkins is pretty exceptional at finding every conceivable opportunity to worm into control positions.

— Luke Thomas🏋️‍♀️ (@lthomasnews) July 23, 2017
Stann lathered at the thought of the force multiplication he could apply to today's urban combat environment with an army of Darren Elkinses

— smoogy (@smoogymma) July 23, 2017
Such a fun fight to watch. Hard, hard work by Elkins and Bermudez. Infighting and countering is A+.

— Josh Gross (@yay_yee) July 23, 2017
Bermudez could learn from Elkins. Maybe he is. #UFCLongIsland

— Bleacher Report MMA (@BR_MMA) July 23, 2017
I have it 29-28 Elkins but i won't mind if Bermudez wins. #CloseFight #UFCLongIsland

— Stephie Haynes (@CrooklynMMA) July 23, 2017
I'm a bit biased here, but I lean 29-28 Bermudez, clearly taking the third and edging out the 2nd as it will likely come down to that round.

— Dan Tom (@DanTomMMA) July 23, 2017
R2 was very close though. Split incoming?

— caposa (@Grabaka_Hitman) July 23, 2017
Darren Elkins deserves the title shot more than Frankie Edgar and if you disagree you're just a punk ass MARK.

— Seán Sheehan (@SeanSheehanBA) July 23, 2017
Darren Elkins gets his 12th UFC featherweight victory, the 2nd most in company history behind Max Holloway (13). #UFCLongIsland

— Mike Bohn (@MikeBohn) July 23, 2017
The DAMAGE!!

— James Vick (@JamesVickMMA) July 23, 2017
There is something inherently criminal about a split decision coming down to Douglas Crosby.

— Dave Meltzer (@davemeltzerWON) July 23, 2017
I just think that when you have to exist in life with a chest tattoo like that, the universe owes you nice things.

— Fernanda Prates (@NandaPrates_) July 23, 2017
Hey, the tattoo didn't get there by accident. Choices were made. https://t.co/gxPoGbzdo7

— Ben Fowlkes (@benfowlkesMMA) July 23, 2017
Congrats to Darren Elkins on the W! @UFC_CA #UFCLongIsland pic.twitter.com/DtptIqUvvh

— The Mane Event™ (@EliasTheodorou) July 23, 2017
Time @JustinBuchholz and @lastcall155 get their due as coaches: they have done an amazing job with Elkins, in addition to others at TAM.

— Ariel Helwani (@arielhelwani) July 23, 2017