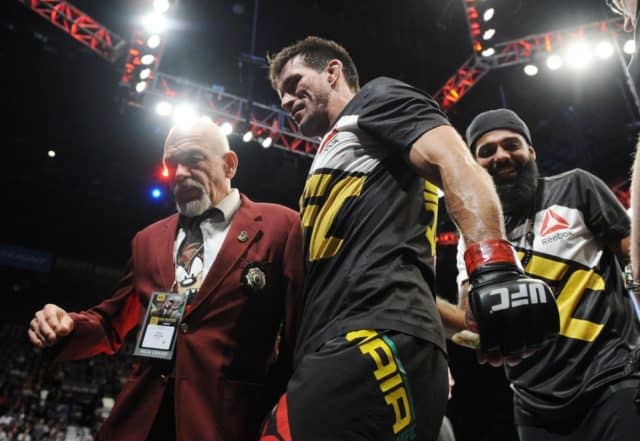 UFC on FOX 21 went down tonight (August 27, 2016) from the Rogers Center in Vancouver, British Columbia, Canada. In a welterweight showcase between action-fighter extraordinaire Carlos Condit and grappling savant Demian Maia, it was the unstoppable jiu-jitsu of the Brazilian that won out.
Maia succeeded on his first takedown attempt inside the first minute and went to work methodically advancing to Condit's back. From there, Maia made the finish look like a foregone conclusion. He cinched up the rear-naked choke to tap Condit for the first time since 2006. The grappling whiz looks to be next in line for the winner of Tyron Woodley vs. Stephen 'Wonderboy' Thompson.
In the co-main event, former lightweight champion Anthony "Showtime" Pettis sought to right the ship after three straight losses. Making his featherweight debut against #6 ranked submission machine Charles "Do Bronx" Oliveira, Pettis got back on the winning track. Generally getting the better of the standup, Pettis held his own in the grappling exchanges as well, reversing to top position on several occasions. Ultimately, Pettis caught the Brazilian in a tight third-round guillotine, adding another talented grappler's scalp to his trophy case.
And in her first fight since receiving a hellacious beatdown at the hands of Rose Namajunas, Paige VanZant shocked and impressed. A puzzling performance in round one featuring lots of lateral movement but not a lot of action gave way to a scintillating knockout in round two. The former Dancing With The Stars competitor dropped foe Bec Rawlings with a jumping switch kick and finished it with punches on the ground.
Check out Twitter's reaction to this excellent card.
1 bad ass motherfucker pic.twitter.com/k0qKORz2Xp

— Daniel (@Danielmmafan) August 28, 2016
To be honest, I have a feeling that this isn't going to go very well.

I hope I'm wrong. Carlos still my bae.

— Suzanne Davis (@SoozieCuzie) August 28, 2016
Maia with the first round finish hooooooly crap!

— Megan Olivi (@MeganOlivi) August 28, 2016
— RJ Clifford (@RJcliffordMMA) August 28, 2016
That jiu-jitsu though. So strong. #UFCVancouver

— Tommy Toe Hold (@TommyToeHold) August 28, 2016
ZOINKS!

— Spilled Bag of Ice (@spilledbagofice) August 28, 2016
Demian Maia is a monster. Pure monster.

— Bleacher Report MMA (@BR_MMA) August 28, 2016
Freakin Maia man! I strive to be like him mixed with Matt Serra on the mat! STRAIGHT SAVAGES!!! #ProtectYaNeck ???? #UFCVancouver

— Aljamain Sterling (@FunkMaster_UFC) August 28, 2016
Brian Stann just said Greg Jackson's gameplan for Condit here is to "not waste any energy getting up".

RIP Carlos Condit.

— The Naked Gambler (@NakedGambling) August 28, 2016
For Maia, that was pic.twitter.com/TLujtcY7Vz

— midnite (@123midnite) August 28, 2016
That's incredible. https://t.co/bWMgdO5YHx

— Shaheen Al-Shatti (@shaunalshatti) August 28, 2016
Maia says he'll wait for the Woodley-Wonderboy winner. He should. Wonderful ambassador for BJJ and Brazil.

— Josh Gross (@yay_yee) August 28, 2016
Pettis's body kicks. Just fuuuuuuuckkk that. Fuck that. #UFCVancouover

— Tommy Toe Hold (@TommyToeHold) August 28, 2016
"Being in Oliveira's guard is like playing with fire Mike. It's really fun, and ends well most of the time."

— The Naked Gambler (@NakedGambling) August 28, 2016
Violent Pettis is a lot more fun than flashy Pettis.

— Suzanne Davis (@SoozieCuzie) August 28, 2016
Pettis gambled playing in the kitchen but avoided getting burned. 10-9 Pettis #UFCVancouver

— MixedMartialAnalyst (@TheMMAnalyst) August 28, 2016
Looks like Pettis is fading… Maybe the weight cut is kicking in on him.

— Will Brooks (@illwillbrooks86) August 28, 2016
Pettis wins via guillotine in the 3rd. Beautiful finish.

— Ariel Helwani (@arielhelwani) August 28, 2016
I guess you could say Pettis…..ate his Wheaties. #UFCVancouover pic.twitter.com/dNSZIhnewi

— Tommy Toe Hold (@TommyToeHold) August 28, 2016
A wild "WEC Anthony Pettis" has appeared!!! #UFCVancouver pic.twitter.com/RsjRxOBfMv

— The Tommy Messano (@ULTMMA) August 28, 2016
Wow. Pettis just tapped the taper. I'm confused, but so happy for Pettis. Congrats, Mr. Show Time! #UFCVancouver

— The Spartan (@EliasTheodorou) August 28, 2016
Wow! Hoping they get a bonus as well as the Miller vs Lauzon #UFCVancouver

— Angela Hill (@AngieOverkill) August 28, 2016
Probably won't happen any time soon but I would love love love to see @TheNotoriousMMA vs @Showtimepettis

— Matt Brown (@IamTheImmortal) August 28, 2016
Very nice. I had my doubts about him cutting to 145lbs, some of which I still have. That's a great start to his new campaign though.

— Dan Hardy (@danhardymma) August 28, 2016
She really has to stop throwing those wild kWHAAAAAT

— Bleacher Report MMA (@BR_MMA) August 28, 2016
GOT DAMN #UFCVancouver

— Bloody Elbow (@BloodyElbow) August 28, 2016
Wow. Surprise POWER shot from PVZ!! #UFCVancouver

— Yellow Power Ranger (@Sugarhigh5me) August 28, 2016
Paige VanZant just karate kid kicked her against all odds. She is Tim Tebow of MMA.

— Bleacher Report MMA (@BR_MMA) August 28, 2016
"She's still really green and has to rely solely on …. HOLY JESUS BALLZZZZZZ!!!!"

— RJ Clifford (@RJcliffordMMA) August 28, 2016
SHE ROCKED HER!!!!! @PaigeVanZantUFC #UFCVancouver https://t.co/ap4DixEDLn

— UFC (@ufc) August 28, 2016
Wow. PVZ with an incredible finish early in the 2nd. That will be replayed over and over again. Beautiful kick. The star continues to shine.

— Ariel Helwani (@arielhelwani) August 28, 2016
Sending my lads for dance lessons

— Coach Kavanagh (@John_Kavanagh) August 28, 2016
That jumping switch kick had me like… #UFCVancouver @PaigeVanzantUFC pic.twitter.com/xMGwPnTS90

— Champions MMA (@ChampionsFight) August 28, 2016
PVZ!!!

— Matt Brown (@IamTheImmortal) August 28, 2016
— Dann Stupp (@DannStupp) August 28, 2016
Now that was cool. Looking like el pantera! #UFCVancouver Now her commercial comes on ???? #WINNING!

— Aljamain Sterling (@FunkMaster_UFC) August 28, 2016
Paging @SportsCenter Top 10 …

— Brett Okamoto (@bokamotoESPN) August 28, 2016
Well, seems I'm joining DWTS for my next camp. #UFCVancouver

— The Spartan (@EliasTheodorou) August 28, 2016
The backlash to the UFC's big, premature push of VanZant disguised the fact that yeah, she's actually pretty fucking talented. #UFCVancouver

— Patrick Wyman (@Patrick_Wyman) August 28, 2016
LOL holy shiz…didn't see that coming! ????????????????

— Lauren Murphy (@LaurenMurphyMMA) August 28, 2016
Highlight-reel headkick KO for @PaigeVanzantUFC. 4-1 in the UFC now w/ three finishes. 22 years old. Not too shabby. #PVZ #UFCVancouver

— Jon Anik (@Jon_Anik) August 28, 2016
Are you kidding me?! That double-kick! @PaigeVanzantUFC dang girl! #UFCVancouver

— Kenny Florian (@kennyflorian) August 28, 2016
UFC has to be insanely happy that an attractive blonde knocked someone out on a huge platform.

— Suzanne Davis (@SoozieCuzie) August 28, 2016
I'll fight @PaigeVanzantUFC in December in Sacramento since you guys scooped up my last opponent. #UFCVancouver @seanshelby @danawhite

— Angela Hill (@AngieOverkill) August 28, 2016
Sign me up…. I'm looking to fight @PaigeVanzantUFC Huge Win… lets exchange some Karate Kicks in NY???????????? @seanshelby @danawhite @ufc

— Tecia Torres (@TeciaTorres) August 28, 2016