Twitter Reacts To The Ultimate Fighter 25 Finale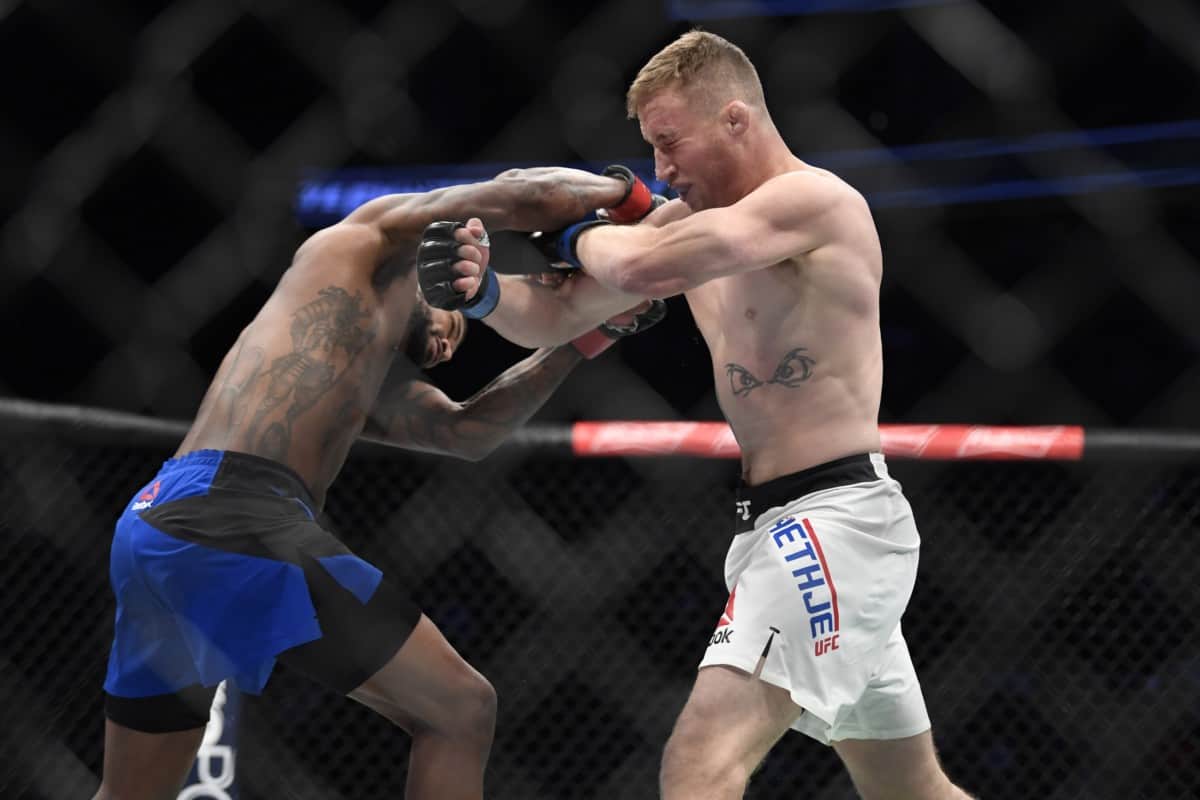 The Ultimate Fighter Season 25 Finale (TUF 25 Finale) has wrapped up and what an amazing night of fights it was. In the co-main event of the night, we saw a new Ultimate Fighter winner crowned as Jesse Taylor defeated Dhiego Lima via second round submission to win the grand prize.
Our main event of the evening saw former World Series Of Fighting (WSOF) lightweight champion Justin Gaethje win his UFC debut in amazing fashion, as he downed No. 5-ranked 155-pounder Michael Johnson via second round knockout.
You can check out how the fight universe reacted to the amazing night of fights on Twitter here:
OHHHHHHH @DHLimaMMA catches Taylor to open the 2nd round!!! #TUFFinale pic.twitter.com/Klgyz5jUBE

— UFC (@ufc) July 8, 2017
IT IS ALL OVER! JESSE TAYLOR IS YOUR #TUFREDEMPTION CHAMPION!

— FOX Sports: UFC (@UFCONFOX) July 8, 2017
https://twitter.com/FrontRowBrian/status/883528657154838528
JT Money gets the tap! Redemption! #TUF25Finale

— MMA Fighting (@MMAFighting) July 8, 2017
https://twitter.com/mikedyce/status/883528686523174912
Good for Jesse fuckin Taylor what a great come around story!

— Anthony Birchak (@abirchakMMA) July 8, 2017
https://twitter.com/JESnowden/status/883528736829841408
And just like that, Jesse Taylor gets the UFC victory that eluded him for nearly 10 years. Incredible.

— Shaheen Al-Shatti (@shaunalshatti) July 8, 2017
Redemption for @JTMoneyMMA! Submission victory in round 2. Well done sir. @DhLimaMMA fought it off as long as he could. #TUFFinale #TUF25

— Karyn Bryant (@KarynBryant) July 8, 2017
WOW. Good for Taylor. Crazy after that shot he took. #TUF25Finale

— Tommy Toe Hold (@TommyToeHold) July 8, 2017
https://twitter.com/ScottHarrisMMA/status/883529036370243584
https://twitter.com/ChuckMindenhall/status/883529054946828289
9 years later!!! Wow!! What a finish, and what a way to change the fortunes of his life!! #TuffFinale

— Aljamain Sterling (@funkmasterMMA) July 8, 2017
Jesse Taylor wins TUF Redemption … fittingly so if you know his story. And moments after being hurt in the second round. Pretty rad.

— Brett Okamoto (@bokamotoESPN) July 8, 2017
Jesse Taylor wins TUF Redemption … fittingly so if you know his story. And moments after being hurt in the second round. Pretty rad.

— Brett Okamoto (@bokamotoESPN) July 8, 2017
Redemption for Jesse Taylor. Gotta respect that

— Randy Brown (@TouchNgo_) July 8, 2017
Jesse Taylor is handed a giant check, $290,000. He's overwhelmed by the moment.

— Shaheen Al-Shatti (@shaunalshatti) July 8, 2017
Dana White, afterwards: "Jesse, congratulations. You are finally the ultimate fighter."

Well put, Dana.

— Ariel Helwani (@arielhelwani) July 8, 2017
Dana: You are finally….The Ultimate Fighter 😂😂😂😂😂

— #Dizz (@TalkMMA) July 8, 2017
https://twitter.com/ScottHarrisMMA/status/883529568216383488
Taylor: This goes out to all the people who messed up. Keep going. Just keep going.

(Terry Funk esque post-fight interview.)

— Ariel Helwani (@arielhelwani) July 8, 2017
Congrats @JTMoneyMMA you earned that and everything you have coming your way @ufc

— Neil Magny (@NeilMagny) July 8, 2017
Taylor looking at the cheque: is this fucking real?

(This is amazing.)

— Ariel Helwani (@arielhelwani) July 8, 2017
Jesse Taylor is the happiest man in the world right now. Walking around the Octagon in daze, the biggest smile plastered on his face.

— Shaheen Al-Shatti (@shaunalshatti) July 8, 2017
Jesse Taylor's story is truly inspiring. He screwed up, but he came back via the long road. What a tale of perseverance and persistence! pic.twitter.com/kUyCFeRyoL

— Submission Radio (@SubmissionRadio) July 8, 2017
Jesse Taylor is the TUF 25 Ultimate Fighter 🙌🏽🙌🏽 #tuf25finale

— Tatiana Suarez (@tatianaufc) July 8, 2017
Jesse Taylor is the TUF 25 Ultimate Fighter 🙌🏽🙌🏽 #tuf25finale

— Tatiana Suarez (@tatianaufc) July 8, 2017
Jesus Christ #ufctuf25finale

— éS (@EricSpicely) July 8, 2017
SAVED BY THE BELL! #TUFFINALE

— Derek Brunson (@DerekBrunson) July 8, 2017
Holy wow.

— Adam Hill (@AdamHillLVRJ) July 8, 2017
Fucking sickkk first round. #ufctuffinale

— Chris Wade (@CWadeMMA) July 8, 2017
Thank you Fight Gods.

— Heidi Fang (@HeidiFang) July 8, 2017
Ummmm this fight is 🍌🍌🍌🍌#Gaethje v #Johnson #TUF25

— Kenny Florian (@kennyflorian) July 8, 2017
Ummmm this fight is 🍌🍌🍌🍌#Gaethje v #Johnson #TUF25

— Kenny Florian (@kennyflorian) July 8, 2017
WOW!!! What a 1st round. Justin Gaethje is real deal. So tough. Johnson with a flurry at end of the round. Dont't know how JG is standing

— Matt Parrino (@MattParrino) July 8, 2017
WHAT IS GOING ON

FJLAJS;FJKASF!@R!$%!RTJFOJSOFSF #TUFFINALE pic.twitter.com/G7LCvOwRvm

— UFC (@ufc) July 8, 2017
Yo Gaethje is a fucking zombie! What heart! #unreal

— Randy Brown (@TouchNgo_) July 8, 2017
Gaethjhe just about fell over. Dude is still fighting hard through it. #TUFFinale

— Bloody Elbow (@BloodyElbow) July 8, 2017
For the people who don't know @Justin_Gaethje he is like this in every fight and he is still unbeaten 😳 so fun to watch unless your his mum

— Brad Pickett (@One_Punch) July 8, 2017
Smart body work by Johnson.

— Luke Thomas🏋️‍♀️ (@lthomasnews) July 8, 2017
What a round. #TUF25Finale. Going on a limb but win or lose Gaethje is going to be a fan favorite in the @UFC

— Ian McCall (@Unclecreepymma) July 8, 2017
Justin Gaethje is a machine. Input opponent. Output violence. Zero margin for anything else.

— Eric Jackman (@NewYorkRic) July 8, 2017
MADNESS!!!!

— MMA Fighting (@MMAFighting) July 8, 2017
https://twitter.com/FrontRowBrian/status/883535761601163264
https://twitter.com/jagatt/status/883535770543435776
My gosh what a fight

— Junior Dos Santos (@junior_cigano) July 8, 2017
Gaethje and Boetsch are the kings of dirty boxing.

— Luke Thomas🏋️‍♀️ (@lthomasnews) July 8, 2017
https://twitter.com/FrontRowBrian/status/883535883647037441
Johnson's corner needs to save him

— Adam Hill (@AdamHillLVRJ) July 8, 2017
Wow. This is nuts. #TUF25Finale

— Tommy Toe Hold (@TommyToeHold) July 8, 2017
WOOWWWWWWWW!

— FOX Sports: UFC (@UFCONFOX) July 8, 2017
https://twitter.com/JESnowden/status/883535988605190144
JUSTIN FUCKING GAETHJE!!

— #Dizz (@TalkMMA) July 8, 2017
Dude what I dont even

— Shaheen Al-Shatti (@shaunalshatti) July 8, 2017
GAETHJE!! Holy CRAP!!! #TUFFinale

— Karyn Bryant (@KarynBryant) July 8, 2017
Gaethje just might be the most exciting fighter in combat sports. #savage #TUF25finale

— Kenny Florian (@kennyflorian) July 8, 2017
https://twitter.com/mikedyce/status/883536038894870529
Your fight of the year is happening right NOW! #TUF25Finale #Gaethje

— Brendan Schaub (@BrendanSchaub) July 8, 2017
MY GOD.

— John Morgan (@JohnMorgan_MMA) July 8, 2017
Gaethje's a monster, sent from Ares. He does his signature backflip of the cage. I have no idea how. What an electrifying fighter he is.

— Heidi Fang (@HeidiFang) July 8, 2017
Johnson fell over and Gaethje waves him up. #TUFFInale

— Bloody Elbow (@BloodyElbow) July 8, 2017
Well, they didn't need to. McCarthy finally steps in and Gaethje is your winner

— Adam Hill (@AdamHillLVRJ) July 8, 2017
OH MY GOD! I don't know how to even explain what I just saw!

— Matt Parrino (@MattParrino) July 8, 2017
Justin Gaethje does it. Somehow. 2nd round TKO. Fight of the year. Rounds of the year. Simply amazing.

— Ariel Helwani (@arielhelwani) July 8, 2017
What a FIGHT!!!! #TUF25Finale

— 👊🏻 Las Vegas Fight Shop 👊🏻 (@LVFightShop) July 8, 2017
I'm losing control of my body right now.

— Shaheen Al-Shatti (@shaunalshatti) July 8, 2017
Gaethje is a nut! 👏🏾#TUFFINALE

— Derek Brunson (@DerekBrunson) July 8, 2017
Jesus!! That was insane.

— Chuck Mindenhall (@ChuckMindenhall) July 8, 2017
My Lord! What a great great fight! WOW. Justin Gaethje KOs Michael Johnson in the 2nd — Is that Fight of the Year? Amazing battle

— Kevin Iole (@KevinI) July 8, 2017
Gaethje climbs on the cage, falls and hits his head. But he gets back up, climbs again and hits a back flip to the canvas. What?!

— MMA Fighting (@MMAFighting) July 8, 2017
Holy piss!!! How's that for a first night in the big show? @Justin_Gaethje = ANIMAL. #TUF25Finale

— Jon Anik (@Jon_Anik) July 8, 2017
What a fight. Gotti-Ward-esque.

— Luke Thomas🏋️‍♀️ (@lthomasnews) July 8, 2017
My god. What a fun little carnival of pain that was.

— Ben Fowlkes (@benfowlkesMMA) July 8, 2017
Ladies and gentlemen, Justin Gaethje

— Adam Hill (@AdamHillLVRJ) July 8, 2017
Justin Geathje is superhuman.

— Shaheen Al-Shatti (@shaunalshatti) July 8, 2017
Gaethje finished Michael Johnson by TKO and then about knocked himself out on the top of the Octagon trying to jump up to do backflip.

— Matt Parrino (@MattParrino) July 8, 2017
Jeebus, Fight of the Year, put it in ink, it's over.

— Mike Chiappetta MMA (@MikeChiappetta) July 8, 2017
Gaethje is violence personified. What breathtaking savagery. #TUF25Finale

— MMA Fighting (@MMAFighting) July 8, 2017
Holy shit #tuf25

— Louis Smolka (@LouisSmolkaMMA) July 8, 2017
Wow! That's a @ufc main event 😀😮👏

— Neil Magny (@NeilMagny) July 8, 2017
That was a hell of a fight!!! Hats off to both warriors! 👏🏾 #TUFFinale

— Aljamain Sterling (@funkmasterMMA) July 8, 2017