Twitter Reacts To Frankie Edgar's Huge KO Against Chad Mendes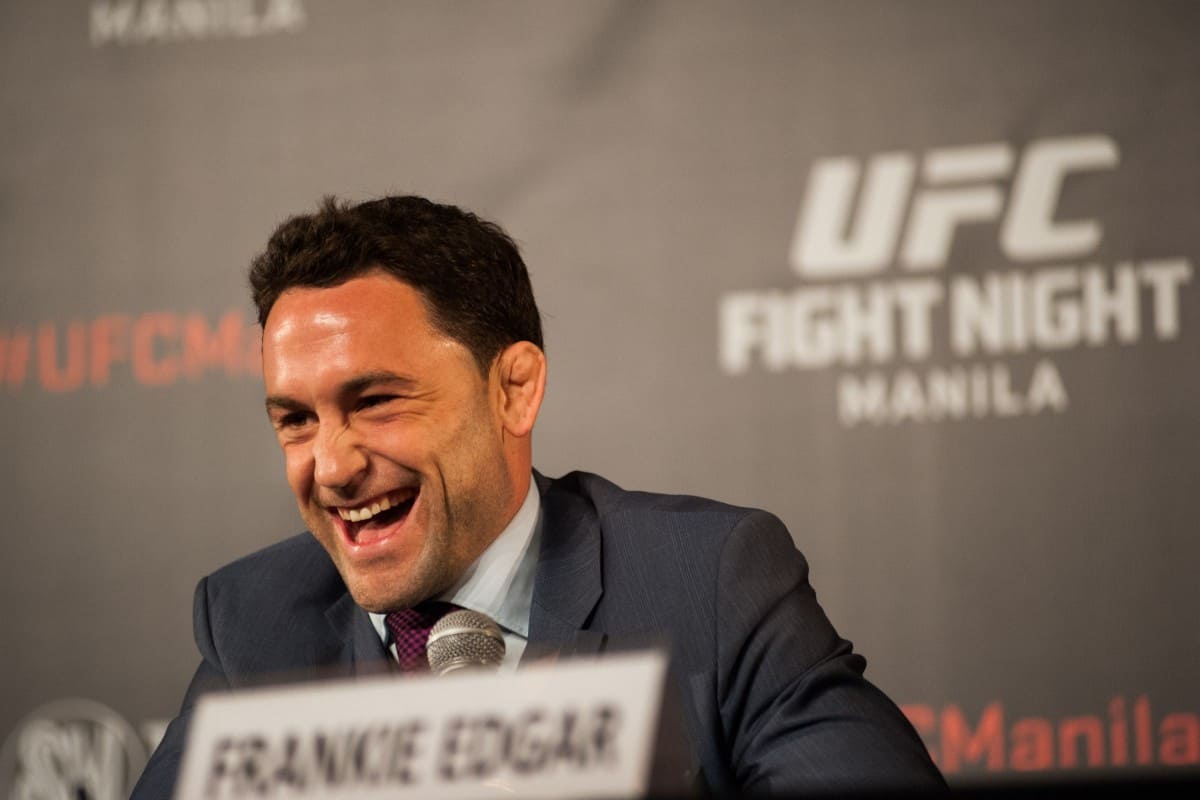 Frankie Edgar just punched his ticket to the winner of Jose Aldo vs. Conor McGregor. He did it with a monster first round knockout against Chad Mendes….
Former lightweight champion Frankie Edgar faced Chad Mendes at The Ultimate Fighter 22 finals tonight (Friday December 11, 2015) as part of the mega three day stint of UFC events. With Jose Aldo and Conor McGregor set to square off in the main event of UFC 194 tomorrow, 'The Answer' and 'Money' had a chance to stake their claim at the winner of the unification match in Vegas.
In the end, it was Edgar who put the fight to bed, taking just minutes to do so. Check out how Twitter reacted to the huge knockout for Frankie Edgar over Chad Mendes:
Frankie Edgar KO's Chad Mendes with a savage left hook! #TUFFinale https://t.co/eusHavhTxM

— FOX Sports: UFC (@UFCONFOX) December 12, 2015
Idk… I think Big John should have let it continue. Safety first but look at Kongo Barry and the Edgar Maynard trilogy…

— Dana Black (@BlackDanaUFC) December 12, 2015
I have always said, Edgar beats McGregor after McGregor beats Jose. https://t.co/147irJmt7T

— #TheKing (@Izi_Garcia) December 12, 2015
Edgar has taken some epic beatings in his career. Bet he's still fresh and strong at 34 because of how little weight he cuts.

— Marc Raimondi (@marc_raimondi) December 12, 2015
Dear @ufc there should be zero doubts that Frankie Edgar is the number 1 contender he made a huge statement tonight #TUFFinale

— ♚ ƗֆƦ∆ΣᏝ ♚ ™ (@LiLIzZo1) December 12, 2015
Edgar is damn near a legend at this point. At least in the lighter weights. Been winning at the top level of the sport going on 9 years now

— caposa (@GrabakaHitman) December 12, 2015
Oliveira, Penn, Swanson, Faber, Mendes. Impressive 5-fight win streak for Frankie Edgar. Stunning 1st-round KO vs Mendes #UFC

— Christopher Kamka (@ckamka) December 12, 2015
Frankie Edgar at 145 since a loss to Aldo has beat Oliveira, Swanson, Penn, Faber and Mendes and none of those fights were close.

— Adam Martin (@MMAdamMartin) December 12, 2015
Jose Aldo just texted Edgar. "Can you cover for me tomorrow?" #UFC194

— #TheKing (@Izi_Garcia) December 12, 2015
Edgar taking a shot at Dana for leaving before his fight. Wow. #TUFFinale

— Bloody Elbow (@BloodyElbow) December 12, 2015
If Edgar doesn't get the next title shot, we riot

— caposa (@GrabakaHitman) December 12, 2015